A portent of things to come.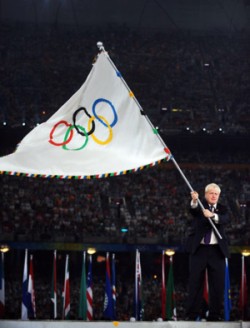 At times, this moniker I've chosen doesn't seem quite right. For someone who apparently thinks of this isle as septic, I seem remarkably unconcerned about its current state. After all, I repeatedly argue that despite the claims of the Conservatives and the tabloids that our society, for all its faults and deficiencies,
is not broken
. I never fail to marvel that those predisposed to empty, shallow patriotism actually seem to hate this country far more than those constantly accused of betraying it and bringing it to where it is now. My own pointless, self-serving, delusional rage is directed at other targets, for better or worse.
The Olympics ought to have been everything I've been institutionally designed to loathe. Orwell effortlessly exposed the essential pointlessness of the ranking of one person better than another at some insufferable activity in his
Sporting Spirit
essay. What he would have made of the obscenity which is the Premier League - where one player who can kick a ball into a net slightly more accurately than another and is in return paid more than some people will ever earn in a lifetime for less than two hours' work - is difficult to imagine. 16 days of this garbage, at immense, unimaginable cost, courtesy of one of the most despicable regimes on the planet - and that's just the
IOC
, never mind China - should have been over two weeks to forget.
And yet, you couldn't help but be overwhelmed by the show which the Chinese put on at both the opening and closing ceremonies. Yes, this was undoubtedly something which only the most vile dictatorship could both organise and justify, where a slightly less attractive child was elbowed aside lest anyone be horrified by her slightly not straight teeth, where the "Great Leap Forward" was strangely absent from the presented version of Chinese history, and where the contemptible idea of "protest zones"
actually resulted in two old women being sentenced to re-education through labour
, but you could simply not object to the Chinese having the right to put on such a show. It would have been great to have seen some more protests, especially from athletes themselves, putting further to shame those who criticised those who attempted to stop the torch relay, but when they were such onerous potential punishments for those who did, you can't blame them either for not doing so.
For those of us who went against the grain and wanted the Olympics here as much as we'd like to spend the rest of our lives in the company of Tessa Jowell, it sets a challenge, as does the success of our athletes. Somehow, whether we like it or not, or want to or not, we have to at least put on something which if not equal to the last couple of weeks, at least doesn't embarrass us by comparison.
The problem therefore is that we have such complete incompetents, morons and nonentities in charge at the moment. Behold our 8 minutes yesterday at the closing ceremony. It was never going to be great, let's face it, but it would have been nice if it hadn't been the unmitigated disaster that it was. Uncomfortably, it also has to be admitted that this is not the result of the aforementioned individuals in charge. This was British "culture" writ large, or at least the popular side of it: a double-decker bus, which for some unfathomable reason unfolded itself; a winner of a fucking talent contest; an old man playing a song from the 70s, badly; the most overrated and unaccountably famous man to have ever walked on a pair of legs, kicking a football to no one or to nowhere in particular; a dance troupe performing the worst routine the world has seen since the Black and White Minstrel Show was cancelled; oh, and who could possibly forget the smug, rotund twat that couldn't even wave a flag properly?
This, world, is our island nation. In fairness, Marina Hyde says
that she watched the last few handovers
and that they were no better than our meagre effort. The funniest thing though is that Boris Johnson and Downing Street were so flabbergasted by the "mistake" of the video which accompanied our 8 minutes of madness
featuring Marcus Harvey's child hand-print painting of Myra Hindley
. Out of the entirety of our show, that could quite easily be classified as the finest moment, a genuine work of art, going against public opinion which annoyed all the right people.
That ought to be what we base our own games' ceremonies around. Not puerile, semi-ironic stereotypical nonsense which just shows the West as a whole to be completely out of ideas and beholden only to the cult of worthless celebrity, but genuinely innovatory and potentially avant-garde politicking which ignores the advice of those who have already brought us so low. This is where those in charge will fail us; would any other country on the planet put in charge of the games a woman who can't remember little things like whether her husband was taking out a new mortgage,
or a man who could rival Tory Boy himself for wit and intellect
? A taster for what's to come, apart from in China itself, was presented outside Buckingham Palace. This was the
"Visa 2012 handover party"
, just to prove that the curse of sponsorship will not just be confined to the games themselves. And what a line-up they put on! Not content with just one unspeakably awful band being involved, they chose three just to be sure: The Feeling, Scouting for Girls and McFly. You know that something has gone terribly, horrifically, child-murderingly wrong when the best artist on the bill is Katherine Jenkins; and one opera performer wasn't enough either, as she just had to be joined by Il Divo. And all around,
that 2012 logo
, so brilliantly conceived at immense cost by Wolff Olins, set to haunt our nightmares for the next four years and beyond.
If you think that things are bad now, it's worth remembering that within 2 years it'll be the new Blairite Conservative party that'll be in charge. David Cameron, in his past life spent his time defending the shit on a stick served up by Carlton, so at least he'll be handy when it comes to the abortion to follow. As for his taste in music, he informed Dylan Jones that he had purchased albums by both Lily Allen and Amy Winehouse and couldn't choose between them. Alongside him will be the snot-nosed cocaine-hoovering Gideon Osborne, with a face so punchable that by then the entire country would choose to have him become Team GB's newest and least trained boxing sensation. You can imagine it already, can't you? The countries parading to the strains of "She's so Lovely", followed by the main event, where the corpse of Winehouse is re-animated for her last ever gig. Septic isle indeed.
Labels: China, cynicism, London 2012, Olympics, we're all doomed