Spin? Under Brown? Say it ain't so.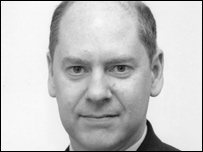 If we were still suffering under the burden of Blairism, you can bet that the Tories and Lib Dems might have made a little more out of the fact that Jonathan Evans, the new head of MI5, not only delivered the
latest speech on the "threat" in front of the society of newspaper editors
, ensuring that they knew in no uncertain terms the horror that could be unleashed at a moment's notice on our nation, but that it also came the day before the Queen's speech, where the government was preparing to unveil its latest proposals on how to beat back the extremist scourge. As it turns out, the most controversial measure, the extension from 28 days to 56 days pre-charge detention for "terrorist suspects", which has been long trailed, wasn't unambiguously set out by Brenda,
the government preferring to still pretend that it's making its mind up while seeking "consensus"
. It's hard to believe though that the speech was anything other than a warning, from both the security services and the government, for the press which previously and continues to object to what more or less amounts to the reinstatement of internment.
Most of what Evans sets out is of little difference to Eliza Manningham-Buller's speech of last year
. He considers the current "threat" to be the most "immediate and acute [in] peacetime" in the 98-year history of MI5. It's unclear whether he counts the cold war as an actual war, as I somehow find the threat of being vaporised by nuclear weapons more menacing than that from terrorists armed with patio gas canisters and cans of petrol, but that like so much else, doesn't really matter. The current day threat, whatever it is, is always the most deadly and insidious which we have ever faced. The National Union of Mineworkers during the strike in 84/85 was opposed to democracy and wanted to overthrow the Thatcher government. Saddam Hussein in the early 90s was the justification, with Russia descending into the chaos of the Yeltsin years to keep defence spending high.
Predictably, what the papers' picked up on was Evans's claim that
As I speak, terrorists are methodically and intentionally targeting young people and children in this country. They are radicalising, indoctrinating and grooming young, vulnerable people to carry out acts of terrorism.
which the Express
distorted into suicide bombers in our schools
. This isn't a new message either; last year
John Reid warned Muslim parents to look out for the "telltale" signs of radicalisation
, and even go so far as to spy on them. Evans's evidence that this is happening is the number of young people now being linked into networks, with
Abdul Patel
, linked to last year's "liquid bombs" plot being the favourite example. He was found to have a manual meant for the use of American bomb disposal units, which the prosecuting counsel said that "in the wrong hands, the information contained in this manual can have catastrophic consequences, including causing explosions of the most terrifying kind in the UK and abroad." The jury agreed that he was guilty of having the document,
but the judge in sentencing him to six months said he was not a "radicalised or politicised Islamist"
as the prosecution had claimed.
The young are always going to be targeted; but it's also true that the young are also those who are inevitably going to be the most potentially radical anyway. The inexperience and rebelliousness of youth is going to be a motivating factor, but the evidence is not overwhelming that the young are being systematically radicalised or "brainwashed" as Evans appears to be claiming. Those most likely to be involved in radical takfirist Salafism are usually well-educated, from respectable backgrounds and far removed from poverty. Two of the 7/7 bombers were relatively young, but again they don't fit the profile of coming under the wing of any particular radical preacher or influence. Strangely, unlike the news reports covering Evans's speech, he didn't mention the internet in being a major factor in radicalisation, when we know that it plays an incredibly important role. Most of those becoming radicalised don't gain their knowledge through radical preachers, the favoured bogeyman, but from the internet through their own research. While English language jihadi websites are few and far between,
the number of Arabic forums dedicated to discussing the conflicts around the world and the posting of videos by the groups fighting is ever growing
.
The other major talking point was the numbers game, with Evans now letting us know that there are 2,000 individuals that MI5 consider a "direct threat to national security and public safety, because of their support for terrorism," up 400 from Buller's speech last year. In addition, he estimates there's enough 2,000 that the service doesn't know about of similar thinking. Like with Buller, he doesn't distinguish between those that are prepared to become suicide bombers and those that are likely to have a role in the funding of such attacks, or those who support the insurgency in Iraq say, but not bombings back home. It doesn't really tell us anything except provide us with a number which seems massive in order to cause concern. If there are after all 2,000 individuals actively supporting terrorism, and if even a quarter of that number were willing to launch either suicide attacks or a bombing campaign, why are the number of plots so apparently low? Isn't Evans slightly contradicted by how
Sir Ian Blair recently suggested that the number of active investigations into plots is now lower than previously
? Is it that the threat, despite what they're saying, is receding somewhat, or that there are plans being made that we don't know about?
Also questionable was this statement:



"And it is important that we recognise an uncomfortable truth: terrorist attacks we have seen against the UK are not simply random plots by disparate and fragmented groups."
Which seems to indulge the myth that the hand of al-Qaida can be found behind nearly every terrorist plot there is. Was al-Qaida really responsible for the laughable "suicide bombing" at Glasgow airport or the bombs which were "potentially viable" in London? If so, their recruits are getting even weaker and more obsessed with plots next to impossible to pull off but look spectacular and terrifying on paper than ever before.
Was al-Qaida involved in the alleged beheading of a British soldier back in Febuary?
We know for a fact al-Qaida
wasn't involved in the "ricin plot"
. The danger is that we see al-Qaida as some kind of multi-layered organisation driven from the top down, when the reality is that al-Qaida as it existed in 2001 could collapse entirely tomorrow and we'd still be facing much the same problem of extremist Islamists.
The trial of those involved in the Madrid attacks
set out where the threat is most likely to come from: those with radical views that need little help from those holed up in Pakistan or wherever but who are influenced by the ideals and ideology behind bin Laden enough to carry out their own attacks in the name of al-Qaida. Evans does sort of recognise this, as he does mention
the spread of the al-Qaida brand
: the first suicide bombing in Algeria
coming after the GSPC pledged allegiance to al-Qaida
, changing its name to al-Qaida in the Islamic Maghreb. al-Qaida might be conducting a deliberate campaign against us, as Evans says, but those with no real connection to the organisation are doing so also.
Have you noticed however what Evans notably doesn't pay much attention to? Iraq garners just two mentions - to note that al-Qaida in Iraq "aspires to promote terrorist attacks outside Iraq". Nothing about Iraq's undoubted role in helping with the radicalisation process, even if it isn't the only cause, or that the threat is likely to increase once those who've gone to fight in Iraq return,
from what the leader of al-Qaida in Iraq has himself described as the "university of terrorism."
It's probably true that al-Qaida in Iraq has designs on exporting terrorism, but the state of the insurgency in Iraq has shifted in a remarkably short time.
al-Qaida's media wing in Iraq has now not released a new video of its activities for going on a month
- an extraordinary length of time signifying
how the infighting amongst the insurgency
has escalated to such a scale that what happened in
Algeria to the Islamic groups there is routinely mentioned
. At the moment the emphasis is certainly on what is going on within Iraq itself rather than attacking anywhere else.
One thing Evans certainly does get right is that



"Anything which enables it to claim to be representative of Islam; anything which gives a spurious legitimacy to its twisting of theology will only play into its hands."
As will furthering the victimhood factor by extending the detention without charge period. The one thing this speech seems to have been intended to influence is one of the things that will do most to damage the fight against extremism. How's that for irony?
Labels: 56 days, 90 days, al-Qaida, Jonathan Evans, MI5, scaremongering, spin, terror, terrorism