Scum-watch: Encouraging cynicism and other tales.
Whenever public cynicism in politics is discussed, it's always the politicians themselves that get the majority of the blame. Some of it is quite rightly deserved, whether because of the lack of difference between the main parties, the spin and lies of the Blair era, or inability to almost ever answer a straight question with a straight response.
The media also though has to cop some of the blame. A perfect example of how newspapers wrongly claim that ministers have deliberately misled or lied to the public is today's Sun leader:
LABOUR'S shabby deceit over immigration exploded spectacularly last night as red-faced ministers queued to apologise for "misleading" the nation.

First they claimed 800,000 migrants had come to work in Britain since 1997. Then they admitted the statistics were out by 300,000 — and the real figure was 1.1million.

Now we learn there are at least 1.5million — almost DOUBLE the original estimate of only a few days earlier.
Rather than the wrong figures given by the government being down to simple mistakes, the Sun is claiming that this was a "shabby deceit", with the government's apology for misleading being sneered at. It's worth noting that not even the Conservatives, hardly slow to capitalise on such woeful inaccuracies,
have attempted to suggest that the government deliberately fiddled the figures
. In addition to this, the 1.5 million figure now being liberally bandied (originally put into the mix by the Tories) about is similarly misleading, as it includes the children of those who previously emigrated, as well as those who have gone on to take British citizenship.
But why should we be surprised? Labour tried to tell us only 13,000 migrants would come to Britain from eight new EU states.

The true figure was nearer 500,000.
The government's prediction was based on the other European nations not imposing limits like we have now on the Romanians and Bulgarians, when they in fact did.
As a result, only Britain, Ireland and Sweden fully opened their borders
, resulting in the vast numbers we've seen.
Fiddling figures is a Labour trademark. They fiddle public spending estimates, exam results, NHS targets, prison numbers, you name it.
Just how do you "fiddle" exam results or prison numbers? It isn't possible. The Sun is simply talking rubbish.



The government's embarrassment is all the greater because this shambles was unveiled not by the Tories but by Frank Field, one of Labour's most respected MPs.
Frank Field is about as respected as the Tory turncoats are. The poor mite has never got over being dumped out on his backside after his welfare reforms were rejected by Brown back during Labour's first term, and he's beared a grudge ever since, something he freely admits. He's since dedicated his time to proving he was right all along,
whilst failing miserably
.
Gordon Brown must be thanking his lucky stars he scrapped the election which he had planned for tomorrow.

But with our population forecast to grow by 5million in nine years, immigration will still be the issue haunting Labour whenever polling day finally rolls round.
Possibly, especially when the biggest selling newspaper in the country tells its readers that the politicians are lying to them when they most certainly weren't.
Elsewhere today in the Scum, the Sun's readers are being told how marvellous they are as usual:
Of course. Perhaps their tip-offs might have helped towards
only 1 in 400 searches under the Terrorism Act resulting in an arrest
. In all there were 44,543 stops under the notorious section 44, a 34% rise over the previous year.
The interview is mostly the usual amount of garbage about the terrorist threat, with West now claiming it will take 30 years to combat the "terrorists intent on mass slaughter." He also says:
"We need to go to the root of it. Having English-speaking Imams in this country is extremely important.

"We are getting more and more Muslim youngsters who all speak English. Yet in some mosques, services given by radical Islamists are not in English.
As yesterday's rather good
Policy Exchange report (PDF)
(for a right-wing thinktank) made clear, the notion that extremism is all the fault of Imams, especially those who give their sermons in languages other than English is deeply misguided. The only reason the government is so concerned about those who don't speak English is that it means they can't easily monitor exactly what is being said. Abu Hamza gave his sermons in English.
Sheikh Faisal
gave them in English. Those caught in Channel 4's Undercover Mosque programme spoke English. Invariably, those involved in extremism tend to be able to speak good English, are decently educated and from a middle-class or stable background, while they come under the influence of extremism through their own research or discovery, not through listening to the speaker at the local mosque.
This however is the most hilarious statement in the whole piece:
We have wonderful civil liberties, something The Sun drives home all the time.
How true. This would be the same Sun that called those who opposed 90 days without charge
"traitors"
, the same Sun which routinely ridicules the
"civil liberties brigade"
, the one that supports ID cards,
ev
ery police request for more powers
and supports
the notion of zero tolerance
. Those wonderful civil liberties are no thanks to anything the Sun has ever done.
Moving on, here's a story to keep an eye on:



A SCHOOL was yesterday accused of MAKING teachers dress up as Asians for a day – to celebrate a Muslim festival.

Sally Bloomer, head of Rufford primary school in Lye, West Midlands, insisted: "I have not heard of any complaints.
The only other place this story seems to have spread to
is the Mail
, which illustrates the point with a photograph of a woman in a niqab, so the accuracy or otherwise of the report is currently up in the air. Might know more once it does become more widely reported.
Finally, the Sun treats its readers to another thinly veiled attack on Facebook:
A RANDY geek on the helpline at Tesco's cheap internet access arm sent a saucy photo to a shocked mum – after using her personal details to track her down on Facebook.

Furious Tania Roberts, 24, received the snap of technician Jamie Piper wearing only a green towel just moments after he dealt with her query.

Fuming mum-of-two Tania – who complained to his bosses – last night claimed she was living in fear in case he was a stalker. She said: "I'm terrified of this nutcase coming round to my house.
All, naturally, without any mention that the Sun's owner also owns Facebook's rival, MySpace. As one of the wags in the comments says:
Oh dear. This sort of thing would never happen on MySpace!
P.S.
Heather Mills this morning attacked the media over the withering coverage she's received
. Whether she mentioned
that the Sun calls her "Mucca"
after it
"exposed" the fact she had taken part in a sex manual I don't know
, but she might have mentioned the same newspaper is currently running a
sordid competition encouraging the women of Britain to get their tits out for a woefully small prize
. The Sun's response to her claims: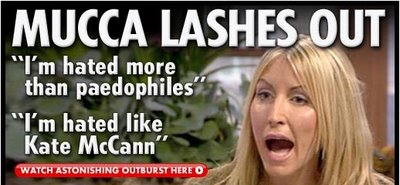 When someone rightly accuses you of disgusting journalism, make sure you select a grab with the person responsible with her mouth wide open.
Labels: Alan West, cynicism, Facebook, immigration figures, MurdochSpace, Scum-watch, Sun-watch, tackling extremism, war against bullshit