Pass the sick bags.
It's hard to judge just who is the most nauseating in the continuing battle over the selling by some of the 15 hostages of their stories to the tabloids.
The Grauniad leader gets it mostly right by saying that nobody comes out of it well
. It was always to be expected that a few days' long civil war would break out between the newspapers that were successful in getting the "exclusives" and those that weren't; it happens every time a big story like this comes along - remember how Paul Burrell was attacked after selling his story to the Mirror? Even by the usual low standards of our press though this is an abysmal trough.
If the hostages had told us anything, absolutely anything slightly interesting or insightful about their brief imprisonment, then maybe the obscene payouts would have been at least somewhat justified. As it happens, they've told us even less than was revealed at the staged MoD press conference last Friday. The closest Turney has come to telling us something new
was that she supposedly had a more charged conversation with

Ahmadinejad
than that which appeared on the news. The treatment which they received, while not pleasant, was certainly not anything which they shouldn't have perhaps expected if they were to have been captured. The staged photographs on the front page of the Sun this morning, mother and daughter kissing, happy to be reunited, meant to make you feel pleased at the outcome of this whole sorry affair, instead leave a sour taste in the mouth. Some of the details just make you wince - that Turney will be keeping a doll given to her in the "goody bags" they received from the Iranians, but only after it was checked for explosives, as you can never be too sure about those extremist suicide bombing plastic Islamic warriors.
The Sun has then set about attempting to defend itself. Turney makes clear that the money is not going to be spent on her -
it's instead going into a trust fund for her daughter
, with some going to the HMS Cornwall benevolent fund, although she predictably doesn't reveal how much.
It also launches an attack on two ex-army figures
who went public with their concerns whom apparently received fees themselves for doing so, enlisting Andy McNab, who obviously won't be getting any money for his own appearance to denounce them. That the fees given to them will have been next to negligible, while Turney will be receiving a quoted £100,000 through her deal with the Sun and Tonight with Trevor McDonald, doesn't affect the Sun's righteous outrage.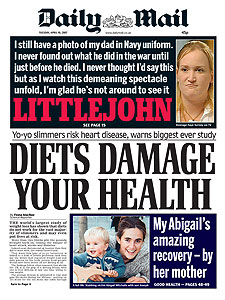 All this said, it's hard to not feel somewhat sorry for Turney when you read the disgusting bilious reaction of everyone's favourite blowhard, Richard Littlejohn. Almost half the front page of the Daily Hate is given over to advertising his attack on Turney and the others, liberally sprinkling in insults about Blair and Labour in general, as if the Tories would have handled things differently if they'd been in power. I mean, does Turney really deserve this revolting passage from Littlejohn?
How long before the ludicrous Faye Turney pops up on Celebrity Fat Club? I bet they didn't let her get in the dinghy first. This is a woman who is capable of capsizing the Ark Royal if she shifts her weight to the wrong cheek.
Take that, you dumb overweight bitch! In fact, the whole of Littlejohn's piece sets out to belittle the whole incident. He doesn't criticise them for the contents of their interviews, except to make fun of Batchelor for being a "wimp", as if Littlejohn himself would dare to go out to Iraq in the first place, but for the whole selling of the story and their conduct while in captivity. If Turney had sold her story to the Daily Mail, then the boot would be on the other foot. As it is, Littlejohn is more than happy to oblige in attacking Turney for making the wrong choice.
That the Mail was at the forefront of the why-oh-whying about Turney even being out in the disputed waters in the first place
doesn't seem to have made them reflect on why she rejected them.
Littlejohn does have a point about emotion and drama being used and abused more than ever. This isn't the fault of the sailors, but the sensationalist media which Littlejohn himself works for which has created that very culture. He often makes mocking references to the cult which surrounded the death of Princess Diana, but the Mail was one of the chief culprits in elevating her from a flawed, ordinary woman who married a member of the royal family into a modern day saint purely because of her untimely death.
As a result, every news story has to be ever more hard-hitting, every death is always an avoidable tragedy, every mourning mother needs to have her anguish documented, otherwise no one will care. Turney's time in an Iranian jail is therefore an ordeal, her 13 days mental agony, or even torture. Words, as we know, are weapons.
Simon Jenkins wonders
, quite legitimately, how all this hate being directed towards Tehran is going to affect the chances of the only solution to their alleged pursuit of a nuclear weapons program, a diplomatic one.
Does Turney then deserve a medal, as the Sun's discussion board rather optimistically asks
? Does she deserve to be called a fat ass by a man known disparagingly for the alleged shortness of his own appendage? It's hard not to reflect that this whole outbreak of mass idiocy wouldn't have occurred if we hadn't already dealt with the equal stupidity of staying in southern Iraq for no particular reason. Until then, I think I'm going to go sit in the corner with a sick bag over my head, just in case.

Labels: chequebook whores, Daily Mail-watch, Faye Turney, Iran captures sailors, Richard Littlejohn, Scum-watch, Sun-watch, tabloid feuds