Is anyone thinking anything at all?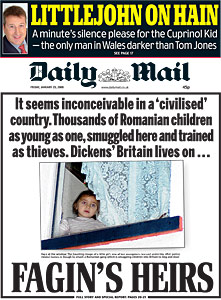 The mid-market tabloids seem to be attempting to out-do themselves this week in the nastiness and disingenuousness stakes. You probably didn't hear about it, but yesterday saw the release of t
he latest police and British Crime Survey figures (PDF)
. After spending around the last couple of years stabilising after falling for the best part of a decade, both figures show that crime is once again down, and going down at an increasingly rapid rate. The police figures show a 9% drop in recorded crime, while the British Crime Survey found a 4% drop. More significantly, the BCS also showed that the chance of being a victim of crime had dropped by a further 1% compared to the year previously, down now to 23%, the lowest level since the survey began in 1981. The only real rises were in the police figures, which showed a 4% in gun crime, were they were used to threaten rather than harm, and in drug offences, up 21%, mainly down to cannabis being reclassified at Class C and officers issuing on-the-spot warnings and confiscation rather than arresting and prosecuting. Jacqui Smith might not feel safe walking around London at night, and nor may the general public, as the fear of crime is still high, but neither of the main indicators of crime suggest that we should be panicking by any means over the current level of offending.
Reading the front pages of the tabloids today you'd get a completely different story. Both the Mail and Express go with emotive and indeed startling arrests made yesterday by police in Slough and Berkshire, arresting 25 and taking 10 children care. The arrests were on the basis that gangs from Romania were using children to take part in street crime in London, mainly pickpocketing, opportunistic thefts from those using cashpoints and stealing mobile phones/iPods/etc. It is indeed a matter of concern, especially if the children are being kidnapped, although that doesn't seem to be the case.
It's not very often that the Express front page is less hysterical than the Daily Mail's, but it seems that the paper's subs were last night slacking off. It goes only with "Crime by migrants soars 530%". This is based on figures in the article towards the end:
Before the eastern European country joined the EU, its nationals were associated with 146 crimes over six months in Britain.

A year after it joined – over a second six-month period – that figure leapt to 922, a 530 per cent rise.
Well, that's hardly a surprise, is it? Considering that up to 20,000 Romanians and Bulgarians were given permission to apply for work here last year, the crime rate was always going to go up. Rather more applicable figures to this case are provided by the Guardian:
Allen said that between April and December 2006, 12 Romanian nationals were arrested for theft. A year later that number was 214.
Which is also going to contain those who have been caught shoplifting for example, or stealing from work. Again, because of the rise of those given permission to come here to work, the rise seems both eminently explainable and hardly overwhelming.
The Express does however use the same figure of the numbers estimated to have been trafficked here as the Mail does in rather more expansive and sensationalistic terms. According to the Romanian authorities, up to 2,000 children might have been involved. The police don't agree though, if the Grauniad article is anything to go by:
Police say that since Romania joined the EU in 2007 there has been a sharp rise in children being brought to London by modern-day "Fagin's gangs". Up to 200 Romanian children have been forced into crime in London and can generate up to £20m a year for gangs controlling them.
The Express and Guardian also differ over how much this "crime wave" is worth to those behind it; the Express suggests £1bn, while the Guardian suggests up to £100,000 can be made by each child. Even if there were 2,000 children making such an amount in a year, that doesn't get close to £1bn. As for the Mail article, it seems to have disappeared into the ether, but there is
a "revealed" article
which claims that impoverished Romanian villages are being transformed into "palaces" thanks to the money swirling back. Oh, and it's all down to the Roma, or rather the "gipsies", who the Mail and other newspapers call what are more widely known as gypsies so they can't be accused of racism, instead of the organised criminal gangs which usually aren't anything to do with the Roma. Interestingly, the article is by Sue Reid, who you might remember was
behind the Mail's attempt to prove that Polish migrants could drive around London without paying the congestion charge
, which was going to involve paying a Polish couple to err, break the law.
All of which help enormously in putting the crime figures down the news agenda.
The Mail's article on them
doesn't so much as mention that the police figures show a 9% fall in crime, and instead focuses on the rise in drug offences because of its own agenda on cannabis, while saying only that crime in general has remained "stable" while it has in fact fallen, and also picks up on the statistically insignificant slight rise in burglaries, even though on the whole "household acquisitive" crime has fallen by 2%.
The Express doesn't seem to even bothered printing an article
, with the only piece on its site un-bylined and dated yesterday. This though has always been how they've operated, or at least have operated against the Labour government; if the statistics don't fit with their own prejudices of how things are, they're shoved down the news, distorted and helpfully replaced with something more fitting with their own views.
It's the same approach they've used previously over the immigration figures
. In a similar fashion, the Sun hasn't even seemingly bothered to report the figures at all, despite its demands at the beginning of the week to
"get tough NOW"
, and yesterday's online report also only focused on the gun crime figures.

(Correction: the Sun did cover the figures here, and sexed it up somewhat by claiming that the figures mean there are now the equivalent of 30 crimes involving guns taking place a day. Remarkably, the Sun's report is probably the most accurate and honest of the three.)

Elsewhere, Richard Littlejohn comments on the goth couple that were not allowed on a bus in Dewsbury:


My Geordie mate, Black Mike, would take one look at her in her absurd "Goth" outfit and remark: "Gi' us a stick and I'll kill it."
Normally, ignoring Littlejohn is the best policy. For the most part, his rants tend to fisk themselves, so flimsy as they usually are to see through. This, however, is simply vile, as his views on why the bus driver was perfectly within his rights to not allow on them bus are:


Let's hope she's housetrained. But just as it's their prerogative to play One Man and His Dog, so the driver should have the right to decide whom he wants, and doesn't want, on his bus.
Presumably Littlejohn would agree if it was the bus driver's policy not to allow black, brown, or indeed, white people on his bus. Just as Littlejohn thinks it's perfectly OK for the bus driver to say "We don't let freaks and dogs like you on" to them, he'll not be offended if I ever meet him and get the opportunity to call him a fat, poisonous, bumptious, heartless cunt.
Labels: British crime survey, crime figures, Daily Mail-watch, Express-watch, immigration, Mail-watch, migrants, Richard Littlejohn, Romanian gangs