The Graun vs News International: fight!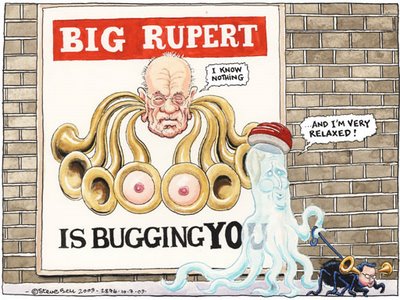 Battle then has finally been joined in what could turn out to be a titanic struggle between News International and the Guardian. After two days of silence and not bothering to dispute any of the Nick Davies' initial report,
Rebekah Wade released a letter written to the head of the Commons Media Select Committee, John Wittingdale
(PDF), and News International as a whole has
released a point by point supposed refutation of the Guardian's claims
.
To go from denying almost nothing to denying everything is quite a step change, and one which could yet turn out to be disastrous for News International. Wade's letter is especially laughable, and further evidence perhaps of why she has long been shielded from the public eye, something she won't be able to do once she becomes chief executive. Notably, Wade informs Wittingdale that Colin Myler, Andy Coulson's replacement as editor of the NotW and Tom Crone, the paper's longstanding legal counsel will appear before his committee, and not just to give evidence but "refute" the Guardian's allegations that voicemail hacking was endemic at the paper. The fact that Myler hadn't been working at the paper prior to his appointment as editor doesn't inspire confidence that he'll be an any better witness than Les Hinton was previously. As for Tom Crone, if his presence is meant to inspire dread in the committee, they should remember that it was he
who advised Mazher Mahmood to pursue George Galloway for publishing his image on the net
following his failure to entrap him, while his performance at the Max Mosley trial
as the paper's counsel helped the paper to its defeat
. Myler himself also gave evidence that hardly helped the paper's case.
Wade goes on to claim that the Guardian has "substantially and likely deliberately misled the British public". That is a very serious allegation to make, and one which Wade provides no evidence to back up. It's also rather hilarious, making you wonder whether News International is so peeved because that's their job. Even those of us who are severe critics of tabloid journalism as a whole, and especially Wade's work, would baulk at alleging that she has deliberately misled readers on stories such as that involving
Alfie Patten
. The hypocrisy and irony also keeps on coming, as Wade complains that the Guardian is "repeating allegations by such sources as unnamed Met officers". If it wasn't for unnamed police sources, the Sun wouldn't have published such brilliant exclusives as the claim
that Rochelle Holness was dismembered while alive
, which
is unbelievably still uncorrected on their website
, or
that Janet Hossain was found dead wearing S&M gear
, both of which were untrue and hurtful beyond belief to the relatives who were trying to come to terms with their loss.
Next, she claims that both the Guardian and television coverage of Nick Davies' initial report has "deliberately or recklessly" combined references to the Peter Taylor and Prince William voicemail hacking with the revelations in the Information Commissioner's two reports, and that there is no connection between the two. This is inaccurate on both points: most of the references made to the ICO reports have been clear, while even if there is no direct connection between the two separate cases, the work of
Steve Whittamore
is an example of just what the tabloids and some broadsheets have been up to, and undermines the claims made by the NotW that Clive Goodman was just one bad apple,
when at least 19 separate NotW hacks
made use of Whittamore.
The News International statement is rather more robust,
although still full of holes and in places deliberately pulls its punches
. It also seems as if the NotW itself was kept well abreast of the police investigation, and robustly claims that it's the police that confirm that the Guardian's allegations are inaccurate. Even tonight though it has began to fall apart, following further responses from the Graun. The statement claims:
Apart from matters raised in the Mulcaire and Goodman proceedings, the only other evidence connecting News of the World reporters to information gained as a result of accessing a person's voicemail emerged in April 2008, during the course of the Gordon Taylor litigation. Neither this information nor any story arising from it was ever published. Once senior executives became aware of this, immediate steps were taken to resolve Mr Taylor's complaint.





From our own investigation, but more importantly that of the police, we can state with confidence that, apart from the matters referred to above, there is not and never has been evidence to support allegations that:

News of the World journalists have accessed the voicemails of any individual.

News of the World or its journalists have instructed private investigators or other third parties to access the voicemails of any individuals.

There was systemic corporate illegality by News International to suppress evidence.
Yet tomorrow
the Guardian reveals that one of the others that News International settled with was Jo Armstrong
, a legal adviser at the PFA, who also had her voicemail hacked into. If she isn't being included along with Peter Taylor, then that's another case which the organisation has conveniently forgotten about. The statement goes on:
It goes without saying that had the police uncovered such evidence, charges would have been brought against other News of the World personnel. Not only have there been no such charges, but the police have not considered it necessary to arrest or question any other member of News of the World staff.
Considering then the NotW admits that Peter Taylor's voicemail was illegally accessed, why weren't the journalists involved in the tapping of Peter Taylor's phone considered for prosecution as Mulcaire was, when Goodman had no involvement in it? Is it because he informed them that he intended to take his own legal action and so they left it at that or otherwise? The situation remains that News International's relationship with the police is incredibly cosy. The fact also that it took far longer for NI to look through the evidence before making their statement than it did for Yates of the Yard furthers the suspicion that the police have no intention of endangering that relationship unless forced to.
Based on the above, we can state categorically in relation to the following allegations which have been made primarily by the Guardian and widely reported as fact by Sky News, BBC, ITN and others this week:

It is untrue that officers found evidence of News Group staff, either themselves or using private investigators, hacking into "thousands" of mobile phones.

It is untrue that apart from Goodman, officers found evidence that other members of News Group staff hacked into mobile phones or accessed individuals' voicemails.

It is untrue that there is evidence that News Group reporters, or indeed anyone, hacked into the telephone voicemails of John Prescott.

It is untrue that "Murdoch journalists" used private investigators to illegally hack into the mobile phone messages of numerous public figures to gain unlawful access to confidential personal data, including: tax records, social security files, bank statements and itemised phone bills.

It is untrue that News Group reporters have hacked into telephone voicemail services of various footballers, politicians and celebrities named in reports this week.

It is untrue that News of the World executives knowingly sanctioned payment for illegal phone intercepts.
This is instructive as much by how it words each denial as the denial is itself. It is perhaps untrue that "thousands" of phones were hacked into; maybe it was only hundreds and the Guardian's source exaggerated slightly. It might be that there were
attempts
to hack into thousands of phones, rather than that thousands were successfully compromised. It also might be untrue that journalists personally hacked into mobile phones; after all, they had Mulcaire and doubtless others paid handsomely to do that for them. What exactly was Mulcaire doing other than blagging and hacking
which made him worth £2,000 a week
, with extra for specific work? No hack other than star columnists and the executive staff themselves would earn such massive remuneration. Similarly, if John Prescott's voicemail wasn't hacked into, or wasn't even attempted to be hacked into, how did the Guardian know specifically which month it was said to have been done, unless their source was expert at covering his tracks? The next denial is the most remarkable of all. No one claimed that the NotW hacked into voicemail messages in order to get access to personal data; they had other private detectives who blagged their way in to do that.
All of this is potentially setting NI up for a massive fall. They must be pretty damn certain that the Met's investigation doesn't contradict their denials, and that the investigation is not going to enter the public domain, because if it does, one imagines that the Guardian will do a rerun of their Jonathan Aitken front page, except with the headline changed from "He lied and lied and lied" to "They lied and lied and lied". Instead, they must be incredibly confident that all that's going to come of this is some further legal claims by those named, in which they will only pay out again in return for silence and confidentiality.
The statement then rehashes Wade's comments about the ICO investigations:
The report concerned the activities of a private investigator who, between April 2001 and March 2003, supplied information to 32 newspapers and magazines including, incidentally, the Guardian's sister newspaper, The Observer, which according to the Information Commissioner was ninth worst "offender" out of the 32. The information supplied was deemed to be in breach of the Data Protection Act 1998.
The Guardian though made no attempt to hide the fact that the Observer had featured on Richard Thomas's list, unlike the Sun, which unsurprisingly didn't so much as mention the IC's revelations.
The Times meanwhile printed part of the list
, while making no mention of the fact that its parent company also owned the Sunday Times and News of the World, while snipping the list so that the Sun didn't feature on it.
Perhaps the most revealing part of the statement is left until near the end:
Since February 2007, News International has continued to work with its journalists and its industry partners to ensure that its journalists fully comply with both the relevant legislation and the rigorous requirements of the PCC's Code of Conduct.
Since Feburary 2007. In other words, NI is making no attempt to defend Andy Coulson, who isn't so much as mentioned. If there was funny business going on, it was his fault and no one else's, and our executives are blameless. Speaking of which:
Finally, we would like to make it clear that despite the Guardian suggesting otherwise, the departure of Managing Editor Stuart Kuttner has no connection whatsoever with the events referred to above. The Guardian were informed of this position from the outset and chose to mislead the British public.
Except the Guardian did no such thing. The closest it came to a
lleging any connection was this article by James Robinson
.
In the end, it might come down to who you're more likely to believe. Is it News International and the News of the World, which we now know repeatedly did what it previously denied it, and attempted through cosy confidentiality to deny the public and other potential victims from knowing about its payouts, or is it the Guardian, whose original report has at least partially now been fully vindicated by NI themselves? I know what my choice is.
Labels: abuses by tabloids, Andy Coulson, celebrities, Clive Goodman, dark arts, databases, Flat Earth News, Glenn Mulcaire, journalism, News International, Nick Davies, Stephen Whittamore, the fourth estate