Your new overlord.
In line with
Jamie's decision to enter his dog as a Conservative candidate for the next election
, as a response to David Cameron's call for those who shares his values
but who are not robots or necessarily Tories to join his party and become prospective MPs
, I have decided that Stumpy the gerbil is the sensible candidate for these sensible times.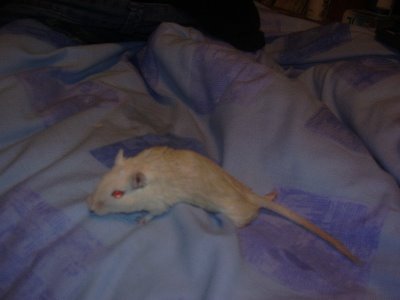 Stumpy is everything a modern Conservative should be: he may be hideously white, but his red eyes certainly make him stand out from the crowd. Despite suffering an accident while in a wheel which resulted in him losing the use of his back legs, which he then chewed down to stumps in frustration at his predicament, he still believes in standing on his own two (front) feet, and has more than overcame his adversity through nothing more than pure hard work. He might not have had a job prior to becoming a Conservative candidate, but he very rarely bites, and his food allowance will be negligible. He will fight for disability rights, which are very close to his heart, but he has no truck with the equality agenda of Harriet Harperson, who seeks to discriminate against white gerbils for no other reason than a fanatical feminist agenda. That, and he's unlikely to ever get his end away, which considering the past of the Tory party is also another evident bonus. He's also unlikely to live long enough to serve a full parliament, so if anyone subsequently regrets voting for a gerbil, it won't be too long before they'll be able to elect in an actual Conservative, although probably one with even less intellect.
Labels: Conservatives, David Cameron, expenses, mockery, MPs expenses, politics, the new Tories