Spinelessness beyond belief.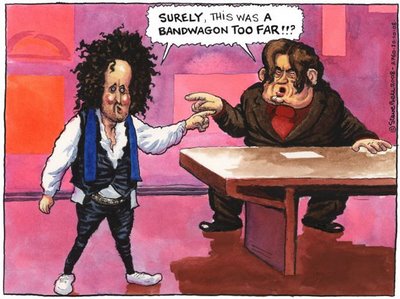 Yesterday I wrote that this mind-blowing farce
was beyond our finest satirists
. You can actually probably go far further: this is now even beyond the most absurdist brainstorms of cartoonists, such is the ridiculousness not just of the entire situation, but the sight, yet again, of the BBC donning the sackcloth and ashes, down on its knees pleading for forgiveness whilst, as Aaron so vividly describes it, the
"collective tabloid media buggers it silly with its enormous cock of hypocrisy".
It's really difficult to even begin to get your head around the cant we are talking about going on here. The young woman at the heart of this, the one so deeply offended and betrayed by Russell Brand's bringing up of the fact that he had a sexual relationship with her, has not just sold her story to the Sun for what is reportedly a six figure sum, via the auspices of Max Clifford,
but gone even further into exactly what she did with Brand
. There I was imagining that this was partially about a grandfather being humiliated by two overgrown teenagers with tales of sexual shenanigans involving a dear relative, something that very few would want to be informed of. Well, unless Mr Sachs is now staying in bed with the covers over his head to escape from this outbreak of hysteria, he's been informed via the front page of the nation's biggest selling newspaper that whilst pounding his granddaughter Brand shouted out a few of his most well known character's famous lines. Or, at least that's if you believe it, which I certainly don't. Still, at least Brand, according to Ms Georgina Baillie, is a crap lover. So crap in fact that she had sex with him three times just to make sure, as she also regales the positively salivating Sun hacks. This self-same newspaper, and I use that word in the loosest possible sense, then in its leader column attacks
the BBC for daring to allow such filth to be broadcast
.
Nothing though can exonerate the sheer supineness of the BBC's response. It's being criticised for reacting slowly, for not nipping it in the bud immediately as soon as the issue came apparent, but why on earth should the BBC act within moments of a newspaper deciding that something it has broadcasted simply isn't acceptable? It's really difficult to remember that not so long back the organisation stood up defiantly and in the face of really quite bitter pressure,
went ahead and showed Jerry Springer: The Opera
. The comparison with that majestic piece of theatre is partly why it's so difficult to defend the absolute opposite this time round, but the persecutors then are more or less the exact same ones as now. You can it seems thoroughly satirise religion and trash culture and get away with it, but instead play a prank call on a man who was due to appear on a radio show, who then gave the OK to the show going out as long as some of it was toned down, and the blood and contrition simply don't cease to flow.
Lesley Douglas, the head of Radio 2
has then resigned
, but it seems impossible to imagine she would have gone if she hadn't been about to be either severely criticised or pushed out after today's BBC Trust meeting, or as it might as well have been, a kangaroo court upon which the full glare of the tabloid media was on. Brand's resignation was nowhere near enough they had decreed. These self-same moral arbiters, the ones that every single day authorise the effective stalking of celebrities via the paparazzi, who invade the privacy of others for their own short-term gain, who routinely find themselves
having to apologise to completely blameless individuals
whose grief they have either mocked
or interfered with
, as the records of the Press Complaints Commission routinely show, who just this year
have had to apologise to Robert Murat
for accusing him of being involved in the abduction of Madeleine McCann
(and let's not even begin on the Express's payouts to the McCanns themselves and the Tapas seven) suddenly found themselves as judge, jury and executioner, with the supposed moral outrage of the public firmly behind them as cover, and they wanted the heads to roll, with them duly handed them.
The real one they wanted though was Ross's, and that's the one that they have as yet not got. Judging by tomorrow morning's front pages, their lust for blood may well have been sated, as they do not seem to be, on the first appearances, calling for his complete banishment.
The suspension for twelve weeks though is no real solution
, and Ross himself really ought to simply resign, with his apparent so far decision not to do so perhaps suggesting a deal has been made. He has been left high and dry by a management unwilling to throw back a single of the brickbats directed at it, and whilst it is very very difficult to feel sympathy for such a man, it's his salary that has been the scapegoat, and it was the management that decided he was worth £18m,
when both ITV and Channel 4 had made clear they were prepared to pay £15m
or more over three years for his signature. He will be left by this bizarre sudden disregard for perspective as an emasculated figure, no longer able to do the things that his contract says he is supposed to. What therefore is the point of him?
The real fire though deserves to be aimed at the politicians who decided that this was a bandwagon worth jumping on.
The sheer lunacy of the Tories demanding a debate on the subject
, just as the news emerges
that this year's parliamentary session will amount to just 128-days is indicative
of the lack of reality which currently afflicts both the main parties, not just the Conservatives. The bile in my throat had not really risen however until I noticed that Jack Straw's ghost-writer
had felt that Ross and Brand were a suitable topic for his regular Lancashire Telegraph column
. Here is a man at the heart of our current government's decision to go to war in Iraq, who has spent our collective blood and treasure decimating a country which is only now beginning to get back on its feet,
a man that has lied about our country's role in the abduction and torture of "terrorist suspects"
, and a man that thinks
we ought to completely ignore penal reformers in preference to the opinions of our nation's finest tabloid newspapers
, and now here he is, asking completely without any apparent irony or self-awareness whether we agree with him that Jonathan Ross has "underwhelming skills". Yes Jack, he does; that however doesn't affect the fact that compared to you he's an absolute fucking renaissance man. Ross and Brand insulted someone; you pissed on our heads and had the audacity to tell us that it was only raining.
This invented scandal has in fact been a real boon for both politicians and the media. There we were
last weekend still talking over the fact that both our main parties were looking as sleazy as usual
, the economy going down the tubes,
oil supplies likely to peak between either 2011 and 2013,
with no contingency plan whatsoever for that occurring, a new US president to be elected who will almost certainly be someone who puts our equivalents to absolute shame, questions being asked about Rupert Murdoch's involvement with them again, and up pops something completely irrelevant which for the last three days has been the only story in town, and what's more, one which they can jump on and grab plaudits for from the other press. It is of course directly in this government's interests for the BBC to be as weak, forlorn and unquestioning as possible, and this will directly affect that as well as on general decency standards. For those who haven't forgotten Hutton and still have a grudge to settle, what a fantastic opportunity when everyone else is already aiming the kicks at the corporation's stricken body! For those who want to be able to object to the slightest thing that might offend them or someone else, when better then to strike out for censorship than now, with the BBC itself more or less asking for it?
After all, just how many friends does the corporation now have left?
Only the Independent tomorrow has a sympathetic front page
, and the Guardian seems to have completely abandoned anything even resembling a kind word,
with Peter Tatchell about the only person to have mounted something approaching a defence
, and a poor one at that. The Mail's is so vile, so hypocritical, so completely beyond parody that it literally must have emerged from out of Paul Dacre's steaming arsehole.
THE BBC WAKES UP TO DECENCY it screams
, when the immoral paper wouldn't know decency if it came up and happy-slapped it. Above that, Richard Littlejohn calls it a "stunning victory over self-appointed, self-obsessed metropolitan narcissists who control so much of our public life." You really couldn't make it up. These are the people declaring victory, looking forward to be able to point out every single slightest thing that they don't like, comfortable in the knowledge that for a long time they are going to have a free ride to attack, attack and attack. Already on Newsnight Mark Thompson was asked by Emily Maitlis about a joke involving the Queen which was made on Mock the Week; you can only imagine the mileage that will be got out of everything similar.
What then should the BBC have done? Simple: by yesterday they should have said that the phone calls were out of line, apologised to everyone involved, immediately declared that there will not be a recurrence and that much stricter rules will be put in place before such content is authorised for broadcast. Both Ross and Brand would be reprimanded, told that they were on their last chance, and that their salaries would likely fall as a result. It also though would have additionally made clear that they would not give in to a witch-hunt conducted by a sickeningly unaccountable media, that standards in general would not be changing just because of two men going over the line, and that its commitment to pushing the boundaries, producing challenging programming and confronting those who need to be would undiminished, and that it would be saying no more on the matter. The press may have continued to scream until it was sick, but it would have tired of it eventually. Instead what we have is an organisation once again conducting an act of self-harm in front of the nation as a baying mob looks on, delighted by what it's achieved. It knows full well that self-harm comes before suicide, and they will be looking for every opportunity to provide the noose. And yet again, the BBC can blame no one but itself.
Labels: "Sachsgate", Andrew Sachs, BBC, BBC bashing, Daily Mail, Daily Mail-watch, Georgina Baillie, Jack Straw, Jonathan Ross, media coverage, media hysteria, Russell Brand, Scum-watch, Sun-watch