Scum-watch: Katy Perry condones spoon crime!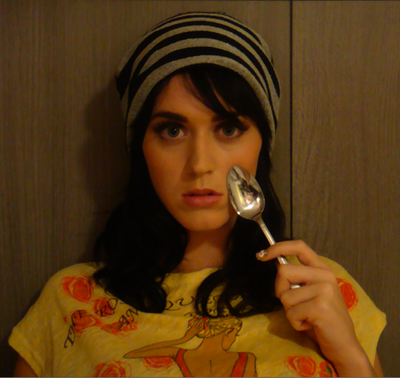 Katy Perry (or at least her publicists) has provided a master class in how to take on the tabloids and win: don't apologise, and do it with humour. Perry has posted the above picture on her blog along with:
…But I DO condone eating ice cream with a very large spoon.

You deserve a time out. Your "journalistic" approach has half the soul of the National Enquirer. Shame on you.
Naturally, the Sun itself doesn't know when to give up. While failing to reproduce Perry's wounding second sentence, it has instead got straight on the phone to all the recent relatives of murder victims, which is getting really tiresome:
Furious Richard Taylor, 59, whose son Damilola, ten, was murdered, raged: "She has lost all integrity by this."
Ah yes, a young woman singing a song about kissing girls and liking it,
while mocking "metrosexual" young men on another, whilst formerly being a gospel singer
; she had and has integrity by the bucketload.
"It would have been better for her to have apologised. Youngsters would have seen that and taken it as something positive. Instead she has decided to challenge us."
Yes, quite: how dare someone challenge the apparently perpetually grieving, those who can never let go, those who have apparently sold their own integrity in order to be available a provide an outraged quote whenever a newspaper invents a scandal. That's the real outrage here, not Perry's posing with a knife, but her refusal to take it lying down.
Paul Bowman, 45, dad of murdered model Sally Anne Bowman, 18, said: "MTV should pull this woman off air. She shouldn't be rewarded with an appearance before billions of youngsters. She's a bad role model."
Indeed, they should probably get Snoop Dogg to do it again,
like he did last year
. He's never done anything bad.
Sylvia Lancaster, 52, whose daughter Sophie, 20, was killed in Bacup, Lancs, for being a Goth said: "It's tasteless. She shouldn't be allowed to perform in Liverpool considering that poor lad was stabbed to death only a few days ago."
The idea that the Sun or its pages will ever have any influence in any case on
what goes on in Liverpool again is laughable in the extreme
, but hey, it's got to keep up appearances.
Note to Russell Brand: this is how you're meant to do it.
Labels: broken society bullshit, how journalism works, Katy Perry, knife crime, media hysteria, Scum-watch, Sun-watch