On the media's response to Davis and the Sun's entering of the fray.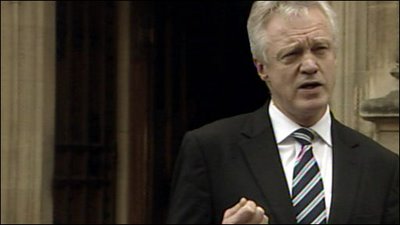 The overwhelming response of the media to David Davis's decision to resign and fight a by-election on 42 days and civil liberties seems only confirm the increasing disconnect, not just between politicians and the public, but also between the media and the country outside the Westminster village. Almost universally, Davis has been insulted, slurred, accused in some cases of succumbing to mental illness, and disparaged. The Guardian, while being sympathetic to his decision, variously throughout its pages calls him an
"oddball"
,
"egotistical"
and a "loner", suggests his campaign may turn "quixotic" and has "Sir" Michael White saying that
"such unpredictability unsettles the trade"
. At the other end of the spectrum, the Sun is even more vitriolic, headlining its leader
"Crazy Davis"
, asking rhetorically whether he's "gone stark raving mad", and then goes on to declare that his stepping down was an act of "treachery", that he's a second-rate politician, serially disloyal which "provides further evidence of a deranged mind", that this is "petulant grandstanding" and finally, that he's "loopy". And this is before it's even launched its likely campaign for Kelvin MacKenzie.
All of this would be very well if the fourth estate was only catering for the Westminster village; this is almost undoubtedly exactly what they think of Davis and his very different to Ron Davies' moment of madness. The bloody man's resigned over a principle! We can't have that sort of thing going on here! The Conservative front-benchers have been completely flummoxed because they can't get their heads round how someone could do something that so endangers his actual career prospects. When you're as focused and ambitious as some of the filth that passes for the next generation, like Michael Gove and George Osborne, to potentially ruin your chances of getting your hands on the power to run the country seems akin to stripping naked, smothering yourself in butter and running around the houses of parliament with a gag in your mouth and a hedgehog up your backside. They're agog and aghast at the embarrassment and most of all, the difference to what is routinely expected of them. Forget 42 days and terrorists, to them this seems a far more dangerous outbreak of independent thinking and action.
Outside of that prism, even if they don't necessarily agree with Davis over 42 days, most ordinary people seem to respect him just because his decision was both so unexpected and outside of the norm. The online response to it seems to have been mostly positive, apart
from those who have voiced
their
more than valid concerns that Davis is a social conservative rather than a true libertarian
, which dulls his stance to an extent. This though seems to me to miss the point. For all those who have suggested that it'll turn into farce, today's coverage does generally seemed to have towards the issues itself rather than the personalities involved, and Davis, pledging to make the case and attempt to turn public opinion over 42 days in a way in which the wider political class has failed to do so is more than admirable, it's essential. At the moment we're stuck in the rut of this being framed as a vital measure that is needed by the police just in case; what it actually is just the most vivid example of the slow dilution of essential liberties which have in some cases, but not in all, been taken away without the slightest of comment and consultation, or where there has been, under the pretence that it's needed because our security demands it and not to do so is to be either irresponsible or "soft" on either crime or terror.
This view could be not more crystallised by the quite brilliant decision by Rupert Murdoch, Rebekah Wade and Kelvin MacKenzie to involve themselves. Never before has there been such a great opportunity to puncture the Sun's claimed stranglehold on the public mood and to make clear that rather than speaking for the people, it tells them what to think in coalition with whichever current politician has made a pact with the Prince of Darkness himself. The Sun doesn't represent the traditionally small-c conservative view on liberty, or the liberal-statist view on liberty as espoused by the Guardian, it represents the chuckleheaded, moronic, complacent and acquiescent view of it. Witness the great oaf of a man,
who still can't bring himself to apologise to the people of Liverpool
for publishing the most vicious of lies about how they behaved in the aftermath of the worst football tragedy this country has ever seen, telling everyone that he doesn't care whether terrorist suspects are locked up for 420 days, about CCTV cameras or ID cards, not because he actually believes they will make things any better, but because he simply is Kelvin MacKenzie. It doesn't affect him because no one's going to accuse him of terrorism, or follow his movements and spy on him, or attempt to steal his identity, because he's a middle-class opinion-former that's more than comfortably off and has the ear of one of the richest and most powerful men in the world. He doesn't have anything to hide because he couldn't really do anything lower than he's already managed in his tabloid career.
Here's the paradox of the Sun's position on civil liberties and the state. Murdoch and his papers believe in the smallest state achievable, the lowest taxes and the most business friendly environment for himself. When it comes to the actual power of the state over the citizen rather than faceless corporations, then he and his papers are all in favour of it. Give the police what they want! Constant CCTV surveillance! A DNA database containing everyone's fingerprints and blood samples! As tough on crime and thugs and yobs, regardless of the consequences as feasible! You only have to read the shopping list of demands
that the Sun drew up in co-operation with the "mothers in arms"
to get an inkling of what the paper in its wildest dreams would like the state of civil liberties in this country to look like: everyone a suspect, everyone assumed guilty until proved innocent, and you being strung up in public by the knackers for looking at a kid the wrong way. I exaggerate slightly, but only slightly, as it doesn't support capital punishment; castration of paedophiles, well, that's another matter.
The Sun's arrogance was exposed on Question Time last night. The paper's political editor, George Pascoe-Watson, was going through the usual routine of rather than giving his personal opinion instead using every opportunity to give the paper's view, and to plug it at the same time. Hence he made much of the Sun's "help for heroes" campaign, but came unstuck on one of the later questions when he began with something along the lines of "Well, as you know we on the Sun..." to which David Dimbleby interrupted with "Not everyone reads the Sun, you know", to which the audience heartily applauded. The Question Time audience is hardly representative, but what it did show was that the Sun's positioning is nowhere near as popular as it imagines, even among its readers which devour the sport and the celebrity but couldn't care less about its atrocious politics. This is exactly what Davis's campaign should pick up upon if Kelvin MacKenzie does stand, which will be incredibly interesting purely because of where his funding will come from, considering Murdoch is barred from donating as he's not a British citizen. No doubt some convoluted structure will be found that will be allowed. Instead of listening to people, what the Sun does is decide upon a line and then dictate it, regardless of what anyone else says, and if anyone suitably outspoken comes along and challenges it, then the smearing commences. Its cynical use of those that don't support it, such as the head of the British Muslim Forum,
who said the opposite of what the Sun said he had on 42 days
, and
the completely misleading interpretation of MI5's statement
are prime examples.
For if Davis's decision to contest a by-election on 42 days is vanity, then the Murdoch decision to oppose him is a potential disaster for both them and the Labour party. If Labour doesn't stand a candidate, and despite all the nonsense, if the Liberal Democrats aren't standing then Labour's chances will be greatly improved, MacKenzie will be in effect their candidate, making their arguments in an even more inarticulate way than they've managed in parliament, and by God, that's saying something.
Gordon Brown can call it a stunt turned into a farce all he likes
, but if his party refuses to stand, then it only shows them up as doing what the Sun does: taking the public completely for granted and not seeking their opinion at all, instead telling them what their opinion should be. Even if MacKenzie decides against standing and Davis is up only against a Monster Raving Loony, he's still made his point, and what's more, it just shows the contempt that those who are above the law for the civil liberties of the majority. The more I think about it, the more Davis's stand gives us an opportunity and a chance that we previously didn't have: to make the case for the rolling back of the state's authoritarian but completely ineffective incursion on the daily life of the citizen. When our opponents are either this
pipsqueak
or the worst the Sun has to offer, it really will be impossible not to force at the least a pause in the slow but consistent momentum towards something resembling a police state.
Labels: 42 days, by-elections, civil liberties, David Davis, Kelvin MacKenzie, Labour arrogance, media analysis, no compromise on 42 days, Scum-watch, Sun-watch