Same old Tories, always spinning.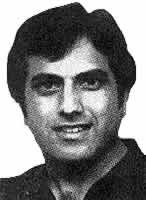 Remember how David Cameron claimed that he wanted to put an end to "Punch and Judy" politics? How the Tories have decried spin for years? We knew only too well that it was mood music, designed mainly to point out the difference between how the new caring, sharing, happy shining Conservative party would listen to the public while the mean old nasty Labour party would continue to govern by decree, legislate on the back of a fag packet and change its mind with the swing of each Sun leader, but just how vacuous and lacking in substance those messages were is confirmed by
Cameron's appointment
of Andy Coulson, ex-News of the Screws editor and a Murdoch protege as "director of communications", the latest euphemism for spin doctor.
The instant comparison has been with Alastair Campbell, who before he became Blair's liar-in-chief was the Daily Mirror's political editor, as well as having a stint in the same slot at Murdoch's doomed attempt at a "left" tabloid, Today. The difference however is that Campbell never had the full reins over either paper, something that Coulson most certainly did. After taking over at the Screws from Rebekah Wade, he plowed much the same furrow as she did; hysterical campaigns against paedophiles, alarmingly right-wing commentary from the likes of Lord Stevens, and the occasional investigative entrapment dispatch from a man described in court as
"dangerously deceitful, ruthless, exploitative and corrupt"
, namely one Mazher Mahmood. The Grauniad's Diary provides a brief summary of some of Coulson's greatest hits:
How very reassuring that the chap charged with making sure the Broon gets a good press is a career civil servant and top Treasury policy wonk, while the one doing exactly the same job for the boy Cameron is an ex-editor of Britain's biggest-selling newspaper who exposed Becks's affair with Becca and Mark Oaten's adventures with rent boys, accused Wayne of slapping Coleen and Ashley of enjoying "gay orgies", paid witnesses at Posh's kidnap trial, and finally resigned after one of his correspondents was found guilty of bugging mobile phones belonging to members of the royal family.
Coulson was additionally fully behind the attempts by
Mazher Mahmood to gag blogs such as this one
which had republished his photograph after his failed attempt to entrap George Galloway, enlisting the royal family's favoured solicitors, Farrer & Co, to gain an injunction, which ultimately failed due to their own incompetence and flagrant hypocrisy.
Also worth mentioning is his publishing of the smear job perpetuated against the Koyair brothers
- accusing one of them of shooting the other, something proven by the IPCC report to be completely untrue,
then publishing the additional lies about one having child pornography
; the failure of the "red mercury" trial, another Mahmood special; and finally, although it appeared in the Scottish Screws,
the smears on Tommy Sheridan
after he won his case against the paper.
Coulson was recently cleared
by the toothless PCC of having any involvement in Clive Goodman and Glenn Mulcaire's conspiracy
to hack or bug mobile phones, including those of Prince William, which raised a number of eyebrows. Coulson himself, because he resigned on the day the two were sentenced, was not called to give evidence: instead his replacement, Colin Myler did. Mulcaire was being paid over £100,000 a year by the Screws, a vast sum within the Murdoch empire for someone outside the top rungs. The paper claimed to the PCC that it was unaware of the work that Mulcaire was additionally doing for Goodman, and that his wage was based on the "legal and legitimate" work he did, mainly lower level searches and investigation through databases, and certainly not anything to do with the underhand methods which he also practiced,
which involved hacking into the phones of Simon Hughes, Rebekah Wade and possibly even Max Clifford and David Blunkett
. Mulcaire's work was in fact just the tip of the iceberg when it came to the Screws' and other Sunday newspapers reliance on private investigators for the dirt they print week after week;
figures released by the Information Commissioner showed that 19 journalists from the paper had used the services of one who had his property raided
. Coulson of course knew nothing of any of this.
Not that Coulson is even on that friendly terms with some within the Tory party. During the heat of the argument about Cameron's alleged drug use, the paper splashed with allegations that George Osbourne, Cameron's best mate and fellow Etonian, had used cocaine in the company of prostitutes, something he decried as "completely untrue" and "a smear campaign".
We shouldn't really be all that surprised though. Cameron is no longer being subtle about where he wants to take the party: as the grammar school rebel Graham Brady alleged, he's obsessed with Blairism, the route that he's decided will win them the next election, modelling themselves as the true heirs to 10 years of wars and spin by err, putting the country through God knows how many more years of much the same. In order to bring such a miserable future ever nearer, Cameron has to win over the Scum, which has been highly sniffy of Cameron's efforts so far. Who better to do that than Coulson, someone formerly on a direct line to Murdoch and a friend of Rebekah Wade? As noted yesterday, the Scum's still clearly in love with Blair, but unsure of just how Brown's going to govern, despite his attempts at gaining Wade's undying affection by regularly lunching with her. With Coulson at the helm for the Tories, Murdoch might just be persuaded to change sides. As for the rest of us, fed up with Blairism and of a Tory party which offers nothing other than more of the same, we may as well go swing.
Labels: Andy Coulson, Mazher Mahmood, News of the Screws, spin, Tories