Trial by Fleet Street part deux.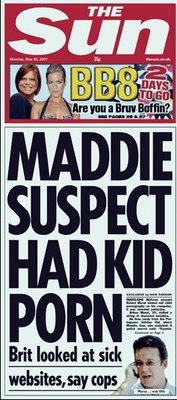 Isn't it strange how the
Portuguese police, who up till now have been loath to reveal almost any details about the case at all, have apparently leaked that Robert Murat, the only "suspect" in the investigation into the disappearance of Madeleine McCann, had child pornography on his computer? It's also odd, at least in a coincidental sense, that his ex-wife when questioned yesterday by the Sunday Moron about whether he'd indulged in the use of online pornography said that she'd never caught him looking at it.

Don't read too much into that though, because the Scum has some other source material for you to consider in the hunt for a witch. According to Murat's ex-boss, he was "a huge porn fan, addicted to women." Not only that, but he apparently terrified a fellow female employee by stalking her, and all the women hated him. Oh, and he suspected he had an "unhealthy" interest in children. No doubt he had al-Qaida sympathies as well. Last but not least, the Scum reveals that his website viewing included sites containing bestiality. Whether he's additionally into scat, hentai or page3.com is sadly not forthcoming.

But wait! Does your child look anything at all like Madeleine? Then you too can probably get into the tabloid of your choice! One family contacted the Scum after their daughter was nearly snatched:


Portuguese Lina Santos said: "When I saw Maddie's photo I shivered. She is so similar to my daughter Carolina. They are like doubles."
Except err, her daughter has very dark blonde hair, and doesn't looking anything like Madeleine at all. Apart from that, they are indeed like identical twins! Coming back to Murat's ex-wife, the Sunday Moron also seems a remarkable resemblance:

THE startling likeness between Madeleine McCann and Robert Murat's daughter hits you at once.

As little Sofia Murat stares into the camera wearing a yellow "Madeleine ribbon", she bears a haunting resemblance to the missing four-year-old.
As the photograph clearly demonstrates:
I bet no one's ever seen them in the same room, right?
Meanwhile, the News of the World is embarking on an advertising campaign across Europe
, which also happens to mention Madeleine, or rather Maddie, as only the newspapers have ever referred to her.
The whole point of every aspect of the search for Madeleine escapes me. She's now been missing for over three weeks, and any sightings have completely and predictably dried up. Rather than helping to find her, it has to be considered if the high profile campaign has in fact made certain that whomever's taken her will never let her out of wherever it is she's being held, if she isn't already dead. If you were plastered over every billboard in the country with wanted signs, and being talked about in newspapers and media across an entire continent, the obvious thing would be to lay low for a while. Still though the torrent of coverage pours forth, with a DVD being played at the Championship play-off match for reasons known only to the organisers, and some sad lonely individual setting up a meeting point for other sad lonely individuals on Second Life to pretend to pray about a girl in the real world who's disappeared.
To begin with,
the coverage was the equivalent of emotional pornography
, voyeurism dressed up as empathy or concern that this could happen to any one of us. Now it's simply coverage for coverage sake, still designed primarily to benefit the sales of newspapers and viewing figures, but without the pretense of offering any kind of support, like a relationship in which the romance and lust have been replaced by familiarity and the slow gnawing feeling of tedium. All that's left is to speculate, draw conclusions and slowly but surely forget.

Update: Seeing as this page is being linked to again by BriansPredictions.com, here's an repost of a post I've already made on his amazing "psychic ability":

This blog has had the dubious honour of being featured on BriansPrediction.com's page devoted to Madeleine McCann. Much like Diane Lazarus, Brian is a fraud, a liar and a charlatan, preying on the distraught relatives of missing people's vulnerability and desire to believe someone who says they can help them. An example of how he makes it look as if he's predicted something before it's happened is explained here and here. He is additionally debunked here, and allegations of how he has cheated people out of money are here. Finally, he's let have it by various posters on the James Randi forums over his lies about Madeleine.
Labels: emotional pornography, Madeleine McCann, paedophilia hysteria, Robert Murat, Scum-watch, Sun-watch