Blaming everyone except themselves.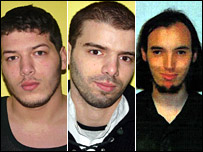 Beneath the initial embarrassment for the government of 3 further "terrorism suspects" breaching their control orders and going on the run, there must almost certainly be a degree of relief and even delight. How else could
those dead dogs
,
Reid and Blair
,
with their lickspittles still sniffing and even licking their fetid, decomposing backsides
have otherwise managed to come out with yet another attack on judges, the opposition and the "hated" Human Rights Act?
Despite the attempts by the gruesome twosome and "Sir" Michael White to pin the blame elsewhere, the real reason control orders have both failed and been illiberal in equal measure is because they were designed to do just that. Unwilling to introduce wiretap evidence because the security services are worried it might expose their techniques, despite the fact that intercept evidence is admissible in nearly every other European country and in the United States, it's instead left some of those who were initially detained illegally in Belmarsh living a Kafkaesque nightmare in which they're heavily restricted in what they can do, yet they can't be told the reasons for why such conditions have been imposed upon them in the first place. While this is abuse of power at one end, at the other end has been the apparent refusal to prosecute those who aren't considered a direct threat to this country, but who just might have designs on going to fight in others. This is presumably for the same reasons as the former, except because there is no apparent risk of them hurting the public in this country the control order system is instead only applied much more lightly, giving those on them more than enough opportunity to go on the run and avoid the tedium of having to go through a daily ritual of having to go to a police station or phone a private monitoring company.
Lord Carlile, in his role of monitoring the affects of anti-terrorism acts, has been doing a tour of studios suggesting that the intelligence against the three men is "solid". It's apparently not so solid though that they know just what country the three were apparently intending to go and fight in; everyone has been suitably vague about that, which raises the question of whether they're not letting on for security reasons, or the possibility that the intercepted conversations, whether they took place online or over the telephone were similarly short on details. That they weren't even considered dangerous enough to be electronically tagged ought to be enough to tell you that they might not have been as deadly as we're being told.
For the government to now turn around and blame everyone other than itself for the difficulties is hypocrisy of the highest order. When control orders were first mooted, they were warned by the opposition parties, judges and Liberty that they were likely to be found incompatible with the ECHR, and lo and behold, some of them have been. The government approach since September the 11th has not been to work within the boundaries of the law, which it knows all too well about, but to breach them and hope it gets away with it.
This has resulted in it losing judicial reviews time and time again
, which incidentally if the government really wanted to challenge it could just ignore, as they are not binding, and then blaming the judges for simply doing the job they were appointed to do. They and the Human Rights Act make for convenient whipping boys, covering up for their own breaches of the laws they put into place and the arrogance with which they have broken them.
Even when a judge suggested that one of those being restricted by a control order should be prosecuted
, John Reid ignored the ruling entirely and imposed another order which was slightly less restrictive. One has to wonder if this is because they fear having the subsequent trials end in acquittal and humiliation, ala the non-existent ricin case.
The government's solution to all this then isn't to recognise that the "light touch" control orders are useless and that those on them should be prosecuted, but rather to impose ever tougher measures and potentially tear up the HRA in the process. This might involve "derogating", in other words becoming the only country in Europe to be so authoritarian and illiberal that it needs to step outside of a convention that has worked for 57 years, and continues to protect both the weak and the voiceless, or, as the BBC puts it:
But he added he would prefer to develop "an understanding" across Europe to "build on" the European Convention of Human Rights to reflect the current problems.
Except there's no chance of reaching an understanding when everyone apart from us is managing to stay within the bounds of the ECHR, and by "build on" Reid means gut.
He recently argued that human rights law needs to be rewritten
to protect people from terrorists, when what he really wanted to say was that human rights law needs to be rewritten so people can be locked up for 24 hours a day on his say so on the back of the same kind of intelligence which told us there were weapons of mass destruction in Iraq and a cyanide bomb in a house in Forest Gate.
Everyone's a winner then baby, except for, oh, all of us other than the government. Three men that might just be a threat to British troops somewhere on the planet go missing, the government gets to blame everyone that's ever so much as raised a squeak against their attacks on civil liberties, Gordon Brown gets an opportunity to be "tough on terror", which should play well with the Sun, and the pesky human rights law which have so affected the fight against extremism might well get thrown out the window. Not a bad day's work for a home secretary on his way out, leaving us with a legacy just as bad as that of his master and political soul mate.

Related posts:
Blairwatch - Michael White talks rubbish
Craig Murray - More Right Wing Guardian propaganda

Labels: control orders, human rights act, John Reid, war against bullshit