Sun-watch: Cowardly naming and shaming, and burying yet more bad news.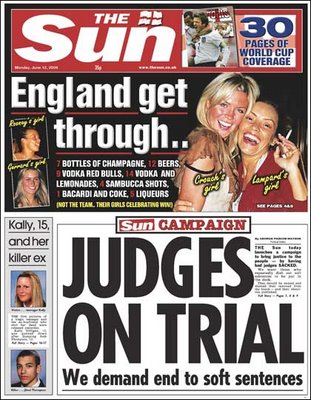 One thing Obsolete cannot claim to have experienced is what it must feel like to go through a trial, then watch the perpetrator get what you think is an unreasonably light sentence. Such a thing must be shocking and even more damaging on top of the original pain caused by the crime. Today the Sun, in yet another campaign against what it sees as madness in the criminal justice system names and shames judges which it says have been unduly lenient in passing sentences.
For anyone who doubts how much power the tabloids have over the government of any day, let alone this one, the Sun's campaign has already reaped a result.
John Reid, the Home Secretary has announced that he intends to request the Attorney General refer a case involving a man indecently assaulting a three-year-old girl to the court of appeal.
The man was sentenced to life imprisonment, but could possibly be freed on parole after five years, even though the judge said that this would be "unlikely". He was also placed on the sex offenders register for life. The family called the sentence "an insult".
The Sun's campaign was developed after a similar case.
Alan Webster was also sentenced to life imprisonment
, but was given a minimum sentence of six years, after which he would eligible for parole. He was jailed for raping a 12-week-old baby, and photographing himself while in the act. He had previously also indecently assaulted a teenager. The attorney general sent the case to the court of appeal, especially after the Sun fumed at the short sentence. They demanded that life mean life, but the man's sentence was only extended to a minimum of eight years. The chance of him being released after those eight years are still small, as those crimes which gather a lot of public attention often result in the convicted serving a longer sentence, especially if the tabloids were following the case with interest to begin with.
The sad thing about the
Sun's campaign
is that it has some excellent and correct points which should be adopted, but it overshadows all of them by its use of such emotive and angry language, and Rebekah Wade's favourite method of doing things, which is the name and shame. The Sun names and prints the photographs of the
ten judges
which it alleges have given overly lenient sentences.
There a number of problems with the Sun's inflammatory attack. The first is that judges cannot respond and give their side of the story. They are barred from doing so, and can only reply once they have retired. As a result, the Sun's naming and shaming is cowardly, as they know full well that judges cannot respond to its ferocious attack. The second is that it seems unlikely to achieve anything; for the government to now act against the judges would be seen as appeasing the Sun over matters which it has no right to interfere in. The criminal justice system is separate from the legislator for obvious and numerous reasons. The third is that unless the Sun has had a reporter at each of the cases which they point to, they have not heard the whole of the evidence. Only the judge, the barristers, the accused, the jury and those in the public gallery have. The only other way they could have seen all the evidence and countering arguments, as well as the judge's summing up and sentencing if they didn't have a reporter is if they have read the full transcripts. It's unlikely that the Sun has done that in all of the cases it mentions. The judge sits through it all, abides by the decision of the jury and then decides on the sentence. There is no problem with criticising judges, and it's quite right that newspapers should be allowed to do so, but it's something that politicians should not, and the newspapers should also acknowledge that they may not have all the facts behind the case. The judge does.
One of the judges who the Sun names is Stuart Fish, who has since retired. The Sun didn't bother asking him for a response, or if it did, it hasn't bothered printing it. The Daily Mirror did. He said:
To be regarded as unduly lenient would be a big surprise to one or two people I know are doing 20 years, two at 17, three at 15 and a 74-year-old man doing 12 years. It's a matter of balance.
He has a point. The Sun in most cases is only pointing out one sentence which it regards the as being lenient. The judge may have been involved in numerous other cases in which he may have unduly harsh, especially if it later turns out that the convicted is innocent, but that's something the Sun isn't going to crow about. This is why the pointing out of one sentence without knowing the full background is a road to disaster. The criminal justice system and judges are on the whole doing an incredibly difficult job reasonably well. Such campaigns only sow disillusionment and make people feel that they are being failed, whether they are or not.
The Sun's campaign then is based around the following:
TODAY, The Sun demands...

# Suspension for bad judges

# 'Name and shame' lists of judges suspended or disciplined published by the Government

# Abolition of Court of Appeal double jeopardy rule

# Increased deadline to appeal against a lenient sentence to three months

# Judges are made to tell victims they have the right to appeal a soft sentence

# Elected public prosecutors and community judges
What exactly makes a bad judge? How is he judged so to speak? Once that is sorted out, there should be no problem for that point to be put into practice. Name and shame lists are typical of the Sun - they make for easy sledgehammer journalism. The names of judges who are suspended or disciplined are usually published anyway - although if there are concerns over a judge in a certain area of crimes in which he deals, they are occasionally "barred" from presiding over those cases. In those circumstances it would be better if they were not named. The abolition of the double jeopardy rule, as described by the article, should rightly be got rid of. Ditto for the deadline. It is not the judges' job to inform victims of the right to appeal - that should come down to either the police or the prosecution lawyers, as they are also likely to know whether the sentence is "soft" or not. The judges' job is to preside and sentence, not advise victims. The Sun does not explain why elected public prosecutors or community judges are necessary, so I can't comment on that point.
The Sun's leader, as usual, is full of straw men and bilious outrage and little else. The article by the political editor is by contrast well-argued. This is just pure crap:
HOW many more rapes, stabbings, shootings and assaults must there be . . . before judges understand they are there to protect the law-abiding public, not the ruthless criminal?
The same old, often brought up argument. Tony Blair has often talked of re-balancing the criminal justice system, and such talk is dangerous talk. The criminal justice system is balanced - it protects both sides equally, or it should do. If it doesn't at the moment then something must be done. Just arguing from one side of the fence, demanding that the courts only protect one side helps nobody.
Why do they never impose a maximum sentence — even for offences like child rape that make the blood run cold?
The maximum sentence is life imprisonment, and in the case that the campaign was started on that was the sentence given. Judges also give a recommendation of how long someone should serve before they can come before a parole board - which is what so angered the Sun when the judge in the baby rape case decided 6 years. The man would have to have made it through 6 years in prison to start with as the lowest of the low, then have to make an application to the parole board, who would have to decide whether to even see the man before he actually came before the board. Maximum sentences would mean that the prisoner would have to be freed after that time has been served - even if he is still a threat to society. This is why the government has brought in the indefinite detention part of the criminal justice act - which can dangerous prisoners locked up. The Sun ignores this.
Even worse, some judges seem to be lenient towards the most abhorrent criminals in society.

And why has Lord Chancellor Charlie Falconer refused to suspend arrogant beaks who think they are a law unto themselves? The last time it happened was back in 1983.

As things stand, these cosseted M'luds are utterly unaccountable to the public at large — or even the Government.

The only way a High Court judge can be sacked is by a long Parliamentary process and with the consent of the Queen.

We now know more than 200 of our so-called "top judges" have been rebuked for giving an easy ride to very nasty criminals.

Between them they delivered 339 duff rulings which were rightly challenged by Attorney-General Lord Goldsmith and branded "unduly lenient" on appeal.
The Sun willfully gets the figures wrong here. 339 "duff" fulings were referred to the court of appeal, but of that number 109 were considered harsh enough. 220 were lengthened. The judges are accountable to the public - as the fact that sentences can be referred to the court of appeal to be lengthened shows, as does the Sun's naming and shaming. The judges cannot respond, but that doesn't matter when it comes to selling newspapers and the Sun's ideological attacks. The Attorney General has been critical of judges giving low sentences to those convicted of sexual offences against children, but that isn't good enough or harsh enough for the Sun's liking.
They include short jail terms for perverted attacks on children — the nastiest sex crime of all.

Yet out of 2,000 complaints against individual judges, just 28 resulted in disciplinary action.

It is true one reason for short sentences is overcrowded prisons — but that is because the Government refuses to build new ones.

And even the nation's only prison ship scandalously lies empty.
The Sun doesn't say whether those complaints were made either by those convicted of crimes or those who had cases brought on their behalf by the crown - but I suppose any statistic will do to further the point. All those complaints were no doubt investigated - although it does make you wonder if only 28 resulted in action. Then we come on to the old chestnut which is the building of new prisons. The Sun doesn't seem to want to discuss where these prisons will be built, how much they will cost or who they'll be run by, it just wants some up sharpish. This is ignoring how long they take to build in the first place, which is at least a couple of years.
Oh, and the prison ship, the favourite of the Sun's anecdotes which makes the government look soft. The reason it "scandalously" lies empty is because it was condemned by the chief inspector of prisons back in 2004.
Anne Owers says HMP Weare, which is moored at Portland, Dorset, is "literally and metaphorically a container", and although notionally a training prison it has no space for workshops, and not enough for exercise or education.

The chief inspector says that significant money needs to be spent just to keep it seaworthy. She says that the prison ship, used as a troop ship in the Falklands war, and then a floating prison in America, was a temporary solution to what was envisaged as a temporary problem.
The ship was meant to be a "temporary overcrowding measure". As a result of continuing draconian criminal justice campaigns, it was in use for 8 years. Weare was replaced when a private-run prison in Peterborough was opened.
It is also true that judges must administer the law as laid down, sometimes bizarrely, by ministers.

Nobody, for instance, understands why sentences are automatically halved for good conduct or slashed in return for a guilty plea.

Or why hardened villains are put in open prisons — only to flee.
Again, the Sun is being willfully stupid here. Sentences are halved for good conduct because what point is there behaving and taking part and work and education once in jail if the prisoner gets nothing back in return, except for the small wage given for work? They are also slashed for guilty pleas, and not always in all cases, because it saves the taxpayer the cost of a full trial, involving lawyers and additional police work, as well as the time of witnesses and the jury. Why else would those who stubbornly refuse to admit their guilt when they are clearly guilty decide to plead that way? As for hardened villains being put in open prisons - only those usually reaching the end of their sentences, or those convicted of offences where they are considered of little risk to the public are placed in them. Anyone who does flee is usually swiftly caught - and has their sentence extended and moved to a closed prison for their trouble.
Above all, why should a prisoner whose sentence is increased on appeal receive a discount for the "trauma" of re-sentencing?
This I don't disagree with.
But judges have plenty of leeway when it comes to sentencing.

Look at the shining example of Judge David Calvert-Smith. He locked up the killer of John Monckton for 36 YEARS.

More must follow his example. Today The Sun vows to go on naming and shaming the judges who let down victims and their families.

We demand harsh punishment for judges who favour thugs and their own liberal consciences – while failing our society.
Indeed, judges who favour thugs should obviously lock-up all criminals for life, or 36 years. That's a nice round number, isn't it? The Sun would have a lot more credibility if instead of demanding name and shaming and constant punishments actually considered that prison fundamentally doesn't work, that most crime has been falling for a decade, according to both Home Office figures and the British Crime Survey, and that community penalties are often the best option for non-violent offenders. Those who does use violence or commit sexual offenders do deserve harsher sentences - but they should be proportionate to the crime and to the circumstances surrounding it. The Sun's demand that sentences just be harsher ignores the nuance and differing nature of each case. Prisons at the moment are full of those who are mentally ill, who would be better cared for in hospitals, but there are no places for them. Those who have drug problems or addiction are sent to prison but can't always get on rehabilitation programmes. The Sun's campaign amounts to wanting the government to interfere in something which it should only issue guidelines for. Judges need to be accountable, but newspapers do as well.
And on that note,
in line with the post on Friday
, there is no mention today in the Sun of the suicide of the 3 men at Guantanamo Bay. More bad news buried.