Mahzer Mahmood: Up to his old tricks; Protest at News of the Screws.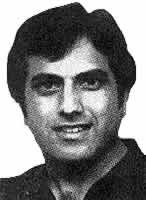 Hat tip to the void.
Obsolete's old friend, Screws' "journalist" Mahzer Mahmood has been up to his old tricks. His latest hilarious wheeze was to pretend to be a mini-bus driver, picking up "migrants", only to take them to the Colnbrook detention centre. Sounds like kidnap, doesn't it? Rather than inform the authorities of these supposed illegal migrants, the News of the Screws takes the law into its own well oiled vigilante hands (printing photographs of alleged paedophiles will never be forgotten, or forgiven) and delivers them to a centre
where those who have found it their temporary home have been on hunger strike in protest at their conditions.
He's also allegedly exposed some east London solicitors who were "coaching" their clients into how to convince the immigration authorities that they are legitimate asylum seekers. After being exposed by Galloway and by blogs which in solidarity published his photograph, it seems Mahmood has been left to pick on even more vulnerable people who are unlikely to be able fight back. Even so, the detainees at Colnbrook have written to the Screws:
Dear Mr. Mahmood,

We, the detainees of Colnbrook Detention Centre think that you are a gutless, incompetent bully, and together with your editors and newspapers pick on foreigners because they are a soft target. You do not represent the real views of the common UK nationals, but rather, you have been misleading the general public with your unfair, ill-informed partial news for years. You have influenced the way this government perceives it should deal with refugees and asylum, by presenting it as incompetent, to make it adopt inhuman policies against people who have fled their countries of origin for one reason or another. This has led to refugees not seeking asylum with the authorities, for fear of being detained and removed to countries where their lives would be in danger. This has in turn pushed those refugees to provide for their survival by being exploited to work long hours for very low pay (such as the ones you helped catch), for those very fears.

From your name, I can tell that you are a descendant of immigrants. In your quest to further your career, to please your bosses, to embarrass the government, and for whatever other selfish motives you may have in taking advantage of foreigners in the UK, we wonder how you sleep at night. You should reconsider your position by educating yourself on refugees, asylum seekers and immigrants' issues before you unfairly target them. You should go back to your roots and stop thinking that you are better than any other foreigners just because you hold British citizenship.

Well done for doing none of your business, and encouraging vigilanteism. You would be very much at home with the BNP and Migrant Watch, Mr. Mazer Mahmood (News of the World) for your Nazi-like work of spreading hate and kidnapping people to detention centres ( UK concentration camps). Print this in your hate paper if you have the spine!

Read below and enlighten your ignorant self.



Victims of Intolerance! - 'Asylum Madness' in the UK

'The Sun, Daily Mail, Daily Express, Daily Star and their three Sunday stablemates - *News of the World, Mail on Sunday and Express on Sunday,' slammed by UNHCR report


"Ill-informed or sloppy journalists or editors are one thing: they can always be better informed. A media organization that deliberately pursues an agenda which is applied to all its contents - not just the editorials and opinion columns, but also the news coverage - is something altogether more deadly."


UNHCR have published their quarterly 'Refugees' magazine, this issue 'examines the phenomenon of intolerance in many parts of the world and exposes the myths and misperceptions that give rise to it.'

António Guterres UN High Commissioner for Refugee in the introduction says: "In some countries, deliberate attempts to dehumanise asylum seekers are continuing, always presenting them as menacing statistics, as criminals and bringers of disease, or as some other form of generalised abstract aberration that is easy to hate,"

"In an increasing number of countries, asylum seekers - and the refugees among them - have become a tool for political demagogues, or have been turned into faceless bogeymen by an unscrupulous popular press. "

The report devotes two pages to the media in the UK, reprinted below:

http://www.unhcr.org/cgi-bin/texis/vtx/publ/opendoc.pdf?tbl=PUBL&i
London No Borders is additionally organising a protest outside the Screws' offices:
KEEP OUR STREETS SAFE FROM BOGUS JOURNALISTS!

DEMONSTRATE OUTSIDE THE NEWS OF THE WORLD THIS SUNDAY - 11TH JUNE AT 11am, 1 VIRGINIA STREET
(off The Highway, nearest tube Tower Hill - District & Circle, or DLR Tower Gateway)
Obsolete can't be there, but there is something you can do if you also can't attend. Ever wanted to talk to Mahmood or one of his lackeys? The Screws' helpfully published his email address and phone number at the end of his last story. His phone number is 020 7782 4402 or you can email him at maz@notw.co.uk