"Dr" John Reid: An insult to intelligence.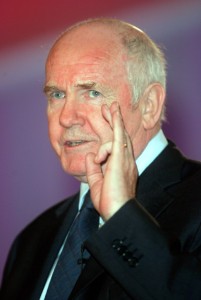 Whenever New Labour is in trouble, Blair calls on his most pugnacious and hard-nosed cabinet member. Say hello to "Dr" John Reid, Labour's useful idiot.
The defence secretary, John Reid, today warned the media and legal professions not to undermine the morale of the armed forces, in the wake of the row over footage of British soldiers allegedly beating unarmed Iraqis.

In a combative speech Dr Reid said soldiers were now operating under an "uneven playing field of scrutiny", with actions liable to be caught on "one mobile phone" on one hand, and a perception there was a "legal culture" back home ready to sue them.
Right, it's the media and the legal professions who are undermining the morale of the army. Keep reminding yourself that this isn't the army which had serious misgivings about the war in the first place and demanded that the Attorney General give his opinion that the war was legal. He did, after Blair made him. This same army which is being undermined by the media is the same army in which thousands of soldiers have had to buy their own equipment and body armour because the army's is either crap or they don't even have any. This is the same army which is being amalgamated into bigger regiments by the defence secretary ("Dr" John Reid) to the great opposition of current servicemen and past soldiers. This is the same army which is now being deployed in huge numbers back to Afghanistan because the Americans no longer want anything to do with the place, and because the troops need to back home in time for the mid-term elections. This is the same army which is increasingly facing more threats in the south of Iraq as a result of the US/UK invasion, local anger and threats from jihadists. "Dr" John Reid wants you to forget all that, what is causing the real drop in morale in the army is the media and a tiny number of lawyers who have only acted when men have either been unlawfully killed (of which only 3 cases have been brought) and when prisoners have been abused (simulated sodomy photographs, beatings.)
One mobile phone on one hand? Maybe so, but that mobile phone was taking pictures of prisoners being beaten with a commentary laughing about it and egging on those who were doing the beating. This was recorded by Iraqis, this was recorded by a UK soldier himself. Yes, they were facing rioters at the time. This still doesn't excuse the beating they gave to their captives, in the same way that a police officer over here who beats up someone who had broken a law, repeatedly kicking them or otherwise would be excused. Yes, the footage may have been oversold and hyped, mainly thanks to the fact it appeared in a Murdoch rag which needs to exaggerate all of its stories. The soldiers still need to at least apologise. It's also been reported that some of the rioters are now facing attempted murder charges.
Dr Reid said terrorists were now using the media in attempt to undermine national morale, in remarks immediately backed up by Downing Street.

Mr Blair's official spokesman told reporters: "We need to be aware that the terrorists we are up against do use the media to manipulate public opinion, not just in Iraq but also in this country.

"It is quite right and proper for John Reid to paint in that whole picture."

As billed in advance, Dr Reid called on the media to view any allegations of abuse in the context of 1,000s of unreported acts of "lives enhanced and good done by our forces", and called on the press to be "a little slower to condemn and a lot quicker to understand".

Going on to say many of the problems of perception of the armed services came from ignorance - pointing out that it was now 45 years since the last conscripted soldier left the forces - Dr Reid cautioned both the press and the legal profession.

Turning to lawyers, Dr Reid said that soldiers "have been left confused and unsettled by the perception that human rights lawyers and international bodies such as the international criminal court are waiting in the wings to step in and act against them".

"And they believe that there has been an exponential growth in the numbers of lawyers actively looking for cases to bring against British troops by promising potential clients significant compensation payments."

He adds; "The legal profession can't always grasp the significance [soldiers' fears] because they have no experience of being in those situations."

In the same speech, Dr Reid referred, obliquely, to the ongoing row over the mobile phone footage of British troops apparently beating Iraqis.

Today it was reported that two Iraqis will be charged with attempted murder in relation to the riots which precipitated the attacks at al Amarah in 2004. The claim came in the Daily Mirror, but a spokeswoman for the ministry of defence said it was a matter for the local Iraqi police.

Dr Reid told an audience of students and defence experts that "one observer, with one videophone, or today even one mobile phone, standing in one square metre of a vast and hugely complex theatre of operations can convey an oversimplified and sometimes misleading picture with an impact that is incalculable."

"Real time media scrutiny of war, on a scale and a level of intrusiveness inconceivable only a few decades ago."

He develops that argument to say that al-Qaida "sees the free western media as a virtual battleground in itself - where the swaying of public opinion away from support for our campaigns, can be the path to a swift victory, a quick way of undermining our public morale."

"The terrorists have become adept at using the media to their ends. It is the media's responsibility to ensure that in reporting the facts, which it can and must do, it does not fall victim to this campaign."

Dr Reid concluded that it was the "very exceptional nature of the offences which make them headlines. But wouldn't it be nice, wouldn't it be fair, if the contribution of the 100,000 good and brave acts and beliefs were given equal prominence to the offences of the few."

In an unscripted remark, Dr Reid even suggested that if Lord Haw Haw, the Irish propagandist for the Nazis, were alive today, he would be given a weekly column in the newspapers.

Dr Reid's speech was given full endorsement by Number 10. Mr Blair's spokesman said: "John Reid is in no way saying that we should condone or that we do condone abuse."

"Equally, however, what he is saying is that we should keep those cases in perspective. The fact is that in Iraq there are five allegations of abuse. That is five cases too many, but given the number of troops, that is the perspective it should be seen in."
Which terrorists are using the media? Where? Please show me where terrorists have written in the western media advocating September the 11th type attacks. The only places they have has been in small quotes from speeches given, usually to show how outrageous their rhetoric is. The perception that human rights lawyers are ready to step in is exactly that - a perception. They have only stepped in where it has been felt necessary - and the government in those cases has usually sanctioned those investigations. It was the government that authorised the trial against a number of soldiers on trumped up charges with the Iraqi witnesses and accusers out to get the compensation. al-Qaida doesn't need to use the western media when our soldiers and governments either abuse those who they are meant to have liberated or drop bombs on villages where they think there's a possibility there might be a terrorist. We do all their work for them. No one is denying that our soldiers have done on the whole a magnificent job in difficult circumstances in Iraq. The point is that should never have been there in the first place, nor should they be there any longer. All the justifications for remaining there have now run out. "Dr" John Reid's speech is just a smokescreen for keeping the troops there even longer, at the same time preaching "our" propaganda against "theirs".
Then of course we have the favourite comparison and historical illusion of all those who want to see this so-called war in wider terms. Apparently Lord Haw Haw, the Nazis Irish propagandist would now have a job as a columnist on a newspaper. He doesn't mention which newspaper he thinks he'd have a job on, although I think we can probably guess. Instead what the government really wants is no criticism of their foreign policy at all. They want all the media to cheer on our boys in the way the Sun does, unrelentingly and against every single "foe" which might be out there. That the media is resisting government pressure and continues to report "unhelpful" stories should be celebrated. It's what's called a free press, and this New Labour government seems to be increasingly at odds with it.