Front-page watch: Just how much crap can you stand?
I seem to be having something of a crap theme so far this week, but the tabloids have a crap theme every day.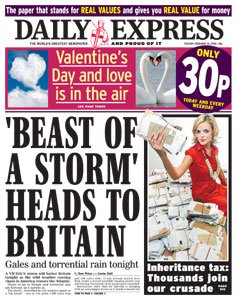 So let's start then with the Diana Express, that warns that a huge storm is on its way to Britain tonight. A quick check of the BBC Weather site reveals the following:
Tuesday night
A band of cloud and rain, accompanied by strong winds will sweep across the country. Clearer conditions with showers, will follow across many places, away from the far south and southeast by the end of the night.

Wednesday
Any rain in far south and southeast moving away. Then all parts seeing a mixture of sunny spells and showers. Showers heaviest in west, and wintry over northern hills. Windy, with temperatures above normal.
So uh, this huge storm seems to be just some not very strong winds. Good job the Express cleared the front page for it though, because you never know when a Michael Fish moment is going to happen again. Or maybe it's just another example of a tabloid panicking and trying to get its readers into a constant state of angst.
Speaking of angst, the Daily Star still can't get over the fact that two very boring ordinary people are now outside a house were they were just ever so marginally more interesting. To illustrate this we have a picture of gorgeous, pouting Chantelle, half naked of course, and a great pun. Hans off! Geddit?!?!? Hans, because he's German?! Yes, I laughed too. Thank the Lord for the Daily Star.
Compared to the front page of the Mirror, the Star looks like the International Herald Tribune. Not one, not two, but three "celebrity" stories! The Mirror breaks the incredible story that Ron Atkinson, occasional football manager and commentator, at least until he called one of the players a "fucking lazy nigger" when he thought he was off air, nearly lost his leg from a bug bite. I don't know what I would have done if I hadn't know about this horrific incident.
Finally then to the Daily Wail, which is severely agitated over the introduction of "chip and pin", even though it's been operating in most shops for months, and that signs have been up in those same shops telling everyone about the change from tomorrow for at least three weeks. Not being able to take advice well, the Mail also takes umbrage at being advised by banks to take cards and cash just in case. An obvious suggestion you might think, but not to the brains which design the biggest selling mid-market tabloid. I'd say that it might be more down to the Mail's resistance to almost any change to anything at all, but that would just be sour grapes.
The only tabloid that even mentioned the vote on ID cards on its front page was amazingly enough, the Sun. That's why it's not featured here today. Um, keep it up, Rebekah?