It's the end, why don't you admit it?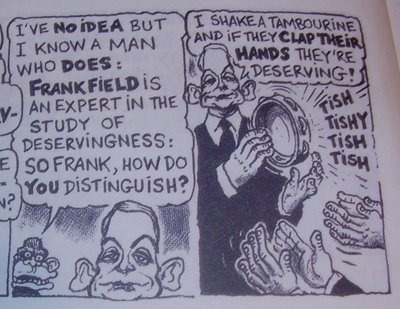 According to "Dr" Cliff Arnall,
today is the most miserable day of the year
. Despite this not having any basis in fact whatsoever, seeing that Cliff Arnall has already been exposed
by Ben Goldacre as a corporate whore
, it seems that New Labour really does want it to be the day when you're most likely to think of doing a Saddam. Nothing could be more apparent than the continuing attempts of ministers both to questioning the police for so much as daring to question Ruth Turner, as well as the Blairite's continuing belief that only the "super-marginals" matter.
Let's start with Frank Field, who has written what can only be described politely as an "interesting" comment piece for CiF:
A successful terrorist attack on London could make part of the capital uninhabitable for decades and make Britain permanently poorer.
New York, despite having the two tallest buildings in the city demolished without warning, managed to be back up and running within weeks, although whether the dust created by the collapsed buildings will turn out to be a long-term health hazard remains to be seen. Unless our suicide bombing loving friends manage to explode a nuke, there's not much that could make the capital "uninhabitable" for decades.
This is only part of Field's first paragraph. This is where it gets really "interesting":
Yet, while London awaits its fate, Scotland Yard is fiddling away on an enquiry into the alleged sale of honours. How can the Metropolitan commissioner defend this enquiry as the best use of scarce police resources?
How can the Metropolitan commissioner defend investigating kids getting mugged for their iPods? How can the Metropolitan commissioner defend sending officers out to arrest people caught shoplifting 2 or 3 chocolate bars? How can the Metropolitan commissioner defend apprehending burglars?
This is quite possibly the most pitiful argument that an MP could ever possibly come out with. Believe it or not Frank, the police have different departments to investigate different crimes. See, there's the Counter-Terrorism Command, there's a Economic and Specialist Crime Command, and gasp,
John Yates has set-up his own team of six detectives to investigate the "loans for peerages" affair
. And you know what, the Met are even kind enough
to provide a web page with all the information on each different department of the force
. You could have seen it there.
In criticising the Metropolitan Police commissioner for a serious misuse of police time I have not assumed that there is no case to answer on the honours front. No 10 has at the very least been sailing close to the wind. The whole saga is tacky, to put it mildly.
Tacky. Prostituting the party to huge corporate sponsors because no one else was willing to stump up the cash at the last general election, possibly selling honours as a sweetener on the deal, and then deliberately hiding what had been done by exploiting a loophole in the very law which Labour brought in, and Field only finds this tacky, to put it mildly. I'd call it as bad as some of the worst sleaze which the previous Tory government indulged in, and seeing as Neil Hamilton received money in brown envelopes for asking questions and Jonathan Aitken prepared to have his daughter lie for him in court, that's quite an achievement.
The way that the police have conducted the enquiry suggests to the media that it is the PM who is in the frame. But where did those senior Labour party figures who run the party, particularly in the run-up and during the election, believe the £18 million spent on the election came from, if not from wealthy donors? When the small group of top Labour officials, including the prime minister and the chancellor, mapped out the campaign, did they all believe that the £18 million or so they were committing to election campaign grew on trees?
Maybe, just maybe Frank, they thought that the funds had been properly donated, all above board, keeping in line with the very measures which Labour introduced. They didn't have any reason to be suspicious, so they didn't ask.



What is the financial control structure in the Labour party that allows the treasurer to claim that he had no idea of the source of the £18 million? Does not the Labour party have an audit committee to ask such elementary questions before money is committed?
From what we know, Labour was so desperate for money that Lord Levy had to go out glad-handing, begging and bribing. Neither Jack Dromey, the Treasurer, or Jeremy Beecham, the head of National Executive Committee, knew about the loans until the papers exposed them. In fact, Dromey was so concerned that he was going to end up being the fall guy, that he then he made clear that he had, to paraphrase Manuel, "knew nothing". This didn't spare him then being attacked for not being inquisitive enough when he had no reason to be. John Prescott, and it has to be assumed, Gordon Brown also didn't know about the loans.
According to the Independent, only Blair, Levy and the then party general secretary, Matt Carter knew about them
. This is what is known as shifting the blame. Even if the treasurers had been aware of the loans, would they have been able to persuade Labour to either forgo them or convert them to donations? It seems unlikely.



These are some of the very important questions the Labour party leadership needs to answer. They are not questions which have so far been put in public debate. But we shouldn't have to turn to the police to gain answers to questions which tell us something pretty fundamental about how political parties are run in Britain today. That a full scale police enquiry was put in hand raises not for the first time the judgement of Ian Blair the commissioner.
Much as Ian Blair has to answer for, this is nothing to do with him. Sure, he has ultimate say over the investigation, but once a complaint has been made, the police have a duty to thoroughly investigate it, which is exactly what they have done. Much as Field would like for it not to have been turned over to the police, the very reason a complaint was made was because there is a suspicion that the law as it stands very well may have been broken. There have been claims in recent days of the Yates' inquiry
discovering a "smoking gun"
, which may well be the other reason why New Labourites of all shades have taken it upon themselves to question both the police's remit and their tactics.
The commissioner has found himself in choppy political water recently and it was obviously easier for him to allow the enquiry to advance than to defend that with all the issues facing the Yard, the honours for sale fiasco was no where near the top of his agenda. But the easy option is, in this case, a negation of leadership.

During Ian Blair's watch the nature of the terrorist threat to Britain has fundamentally changed. Irish terrorists were about destroying buildings, usually after giving a warning. The nature of the threat posed by Islamic extremists is carried out by suicide bombers. What none of us know is when the next outrage is going to occur.
And your point is what, Frank? Are you trying to suggest that Ian Blair is negating his duties in countering-terrorism? Blair is more than open to the charge of being all mouth and no trousers,
since he's more than happy to exaggerate the true level of the threat and to demand even more draconian powers
, but surely he can't be accused of lacking leadership over tackling it, especially over an investigation that involves only six detectives.
Speaking of scaremongering, here comes Frank "I'm shitting bricks" Field's take on what the evil terrorists could possibly do to London:
Nor is the threat, awful as it is, confined to such horrors visited on innocent individuals. An explosion of a dirty bomb could make parts of London uninhabitable for decades or more. Such an explosion would bring down more than the surrounding buildings. Twenty per cent of Britain's income comes from the financial services sector. A dirty bomb would see much of this industry leave our shores. At a stroke our national income would be reduced from being at the top of the league of advanced countries, to the bottom, with huge repercussions for income and employment levels.

Likewise, bombing the Thames barrier at a record high tide with strong incoming winds would not only flood Canary wharf. Such an attempt would result in a pack of financial lemmings scuttling from our shores with the same devastating effect on national prosperity as a chemical or dirty bomb attack.
Field has then came up with two nightmare scenarios, and that is exactly what they are, nightmares. As a commenter on the thread notes,
the studies into the threat posed by dirty bombs have all played down the threat
,
or rather, have concluded that there is a threat but that it's nowhere near the fevered imaginations
of some of our politicians and other defense "experts". The real threat posed, as has been made all the more obvious by the 21/7 bombing trial, is from jihadists preparing their own bombs with easily available materials. A more realistic nightmare scenario would be multiple suicide bombers attacking multiple cities and multiple targets in a co-ordinated attack. That doesn't however pose the same horror as the use of nuclear material, or flooding the city through bombing the Thames barrier.
It is against the need to try and prevent a catastrophe on this scale for our country that I continue to question the use of police time over the alleged sale of honours. I know it's much easier for the police to chase a somewhat old fashioned crime as the alleged sale of honours than to try and foil the next, and then the next, terrorist outrage.
Right, so apparently our police have suffered so much under Field's own government that they can't do two things at once. He must realise that this is a completely false argument, so completely ludicrous that you almost do wonder whether he actually does realise that. Have you finally lost it, Frank?
The commissioner has put what we are told is his most gifted senior policeman onto this task but it is these very gifts that we need to employ trying to keep ahead of the new terrorists. Given the choice between ruffling some feathers of the smaller creatures at No 10 for perverting the course of justice or reinforcing the unglamorous daily grind of trying to protect the security of our country, Ian Blair's judgement looks eccentric, to put it mildly.
And so this litany of disingenuous garbage finally comes to the end. Is this is what Labour has now been reduced to? Faced with a police inquiry right at the top, a government that has given the police nearly every single new power they've wanted, all of sudden the supporters of Blair come out to question the very same organisation they've time and again defended to the hilt. Field doesn't just question the police's actual reason for existing, to investigate allegations of breaking the law, he has to bring in terrorism, the new catch-all for justifying anything and everything to cover the backside of the current occupier of 10 Downing Street (
see today's ruling on Brian Haw for another example of this
). It'd be easier to understand if a rabid Blairite had written this pathetic, new low for a Labour MP, but Field isn't, and never has been.
Which brings us neatly to
Hazel Blears
. She too believes, like
Liam Byrne and Bill Rammell
that the next election will be won through targeting the "super-marginals".
New Labour came to power with its belief in the "third way", that left and right politics no longer applied and that such labels were obsolete. It now even seems that vacuum has been thrown out of the window, in favour of anything that pleases a few select people. Gone is the belief in any broad narrative, that's so 20th century. Instead, we are all consumers and we're all going to choose what we want. Blears however, unlike Liam 'n' Bill, seems to know what the voters want; while Liam 'n' Bill think aspiration will win the day, Blears thinks that what the people are interested in are what she wants to talk about i.e. the police, the NHS and education, rather than foreign policy, civil liberties concerns or immigration.
All this though is just a waste of breath on their own concerns. Blair's downfall, Field's attack on the police for doing their job and Liam, Bill and Hazel's ideas are all connected. All of them are doomed. All of them are on their way out. It's the end for Blairism. Sure, it might be about to replaced by a slightly lesser form of Blairism in Brownism, but they're finished. It's the end. They just can't admit it.
Labels: fisks, Frank Field, Hazel Blears, loans for peerages, the end of Blairism