Three horsewomen of the apocalypse.
After having performed her essential role as little more than a fluffer for her husband, but for which she was given the sort of praise and coverage that most politicians would kill for, Sarah Brown went across the pond with Gordy and attended a women-only dinner for the White Ribbon Alliance, "aimed at improving the health of mothers and babies around the world". This was the result: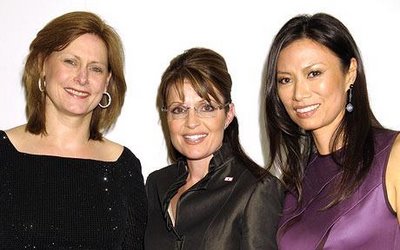 For the uninitiated, that's Wendi Deng, aka Mrs Rupert Murdoch, on the far right. Also in attendance
according to the Telegraph
, was Queen Rania of Jordan (
where women can be taken into "protective custody" to protect them from "family violence
", rather than offering voluntary shelters), Elle Macpherson, and the Duchess of York.
With friends of mothers and babies like those, who needs enemies?
Labels: argh, Sarah Brown, Sarah Palin, someone fucking kill me, Wendi Deng