Cameron, the broken society and the wider left.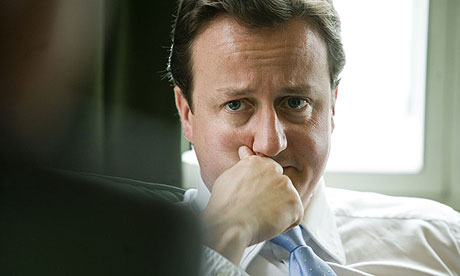 Reading the
Grauniad's interview
with David Cameron and
the accompanying article
, it's very difficult not to become depressed that after 10 years of Blair, within a couple of years we're going to be under the thumb of his very real heir, and with not just the Labour party but the entirety of the left raising barely a whimper of defiance.
Cameron's broken society gambit is almost certainly the one detail that makes me despair the most. He knows it's not true, we know it isn't true, the government knows it isn't true, even the Times, whose sister paper has done the most to perpetuate the notion
knows it isn't true
, and yet I don't think I can recall a single politician, whether they be Labour or Liberal Democrat who has directly challenged Cameron to provide some real evidence that British society is any sense broken. Here's Cameron's incredibly weak case for it:
He denies he is giving a false picture of Britain by talking of a broken society, saying: "There is a general incivility that people have to put up with, people shouting at you on the bus or abusing you on the street, or road rage. There is a lot of casual violence; and I think it is important to draw attention to it."
It doesn't seem to matter that I somehow doubt Cameron himself has been on a bus in years, if ever, but this isn't a picture of a broken society. It may be a picture of an uncivil, rude, selfish society, but what it is not is a broken society. This is anecdotal evidence writ large: I reasonably regularly travel on buses and I've never seen people shouting at each other, let alone shout at me; more likely is that everyone will be ignoring each other or desperately hoping that the few noisy ones that are stop talking so loudly about their sex lives. I've seen bus drivers themselves try to cause trouble by picking people up when they don't say please and thank you (incidentally the one who did this only picked up those that also happened to be black) but again, not random shouting and slanging matches. I have been on occasion abused on the street, but that's the sort of thing you have to put up with when you're four-eyed and an ugly bastard; as on the previous post, some people either to need to grow a backbone or get over themselves. Road rage, as someone recently pointed out, didn't exist as a term back in the late 80s, and what's also developed since the late 80s is the congestion and delays which so often prompt it. Then there's the casual violence that according the BCS has dropped by 40% since 1995.
Cameron, rather than being compared to Blair,
likes to be compared to Obama
. The difference is that if either Obama or McCain tried to claim that America is a broken society, a claim that probably has more merit than the notion that ours is, considering the crushing inequality, far higher crime rate and pitiful minimum wage, not to mention an even more pervasive notion of individualism, then they would be absolutely crucified for not being patriotic about their own country. Thankfully we're not anything like that here, but what we are instead is intensely cynical, incredibly self-critical and with a tendency for self-loathing. Those are all qualities that I myself have in abundance, so I'm not pointing the finger. They do however lead us to exaggerating and making out that things are far worse than they actually are. Cameron's broken society rhetoric can be directly linked back to Blair's own "tough on crime" soundbite, even if it was created by Gordon Brown. That itself was connected with the James Bulger murder, which despite being a horrific one-off was enough to set us back on the "prison works" road which hasn't altered for over a decade. Cameron is now working off the back of the rise of knife crime to claim that society is broken. It's just as dubious then as the notion that prison works was, but because it's so current and can't be argued against because of the immediacy of such terrible crimes, it's difficult to argue against.
Labour's response to all this is to claim that David Cameron is a PR merchant who doesn't have any policies. For a time this could wash: he is the former while he didn't have the latter. That simply isn't true any more. He remains the PR merchant with a spin doctor in Andy Coulson behind him to rival Alastair Campbell, but the Tory party does now have policies. Not brilliant ones, but they're enough, just as Labour was suitably vague prior to 97. What's more, they instantly appeal even if they fall apart after a moment's study: their fuel escalator idea is a fantastic concept, easy to understand but which is completely out of step with their so-called green credentials; locking up yobs with knives is populist and difficult to argue against while being a terrible idea; and his broken Britain stuff is brazen and defining but empty.
What's more is that he's combining it with the ruthless streak that such politicians who crave power have. He's also already compromising, hence letting it be known that the Tories may have to raise taxes before they can cut them because of the huge borrowing debt and the black hole in the public finances, whilst looming over Boris in the Mayor's office like Blair would have liked to have done over Ken. He already has the sort of public image which Blair gained, and which Brown would kill for, with decent popularity ratings, and his performance over the last year has won over the doubters in the Conservative party itself.
As far as I can see it, the left has two choices. Either the Labour party picks itself up out of its desperate misery, viciously goes on the offensive against Cameron and completely challenges them over every little detail, over whether we have a broken society, over public spending pledges, over what their foreign policy would be, and the left joins in with it, even if deservedly detached, or the left has to disconnect completely from Labour now. You see it on Comment is Free and elsewhere, how the left, despite its complete disengagement and resentment in places with Labour is getting all the blame for what's gone wrong and none of the credit for what's gone right. The real danger is that the left and its causes get dragged down with Labour, and out of not just power but out of any influence for another generation.
This is why it makes me so despondent when rather than challenging the Conservatives and potentially forcing them to improve their plans, the left seems more concerned with such petty, ridiculous and banal matters as
whether or not we should use the word "chav"
. Yes, a tiny minority of individuals are stupid, wear awful clothes, listen to terrible music and act like imbeciles; if some people want to call them chavs let them get on with it. There are more important things to be concerned with. If the last 10 years have taught us anything it's that someone with charisma is an incredibly dangerous thing. Unhinged by even the slightest disagreement amongst backbench supporters, Cameron has the potential to be far more destructive than Blair ever was. We're almost certainly going to have at least five years of Tory rule, so let's at least ensure that there's some sort of opposition, shall we? Or we can go and shoot ourselves now. There, comrades, are the options.
Labels: broken society, broken society bullshit, Conservatives, David Cameron, death of Labour, left alternative, our new overlords, politics, where do we go from here, wider left