The riddle of Mahmoud al-Mabhouh.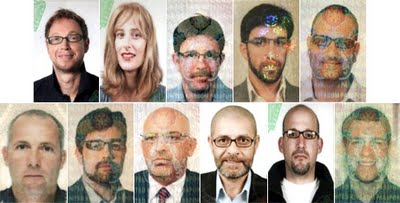 There's nothing quite like a good old fashioned assassination, is there? As the Western world ties itself in knots over whether or not torturing alleged terrorists is permissible or not, you can always rely on the Israelis, those paragons of morality, to just get on with the job. My personal favourite has to be
the execution by Hellfire missile of Sheikh Yassin
, the spiritual leader of Hamas, which if you want to dig in the seedier side of the interweb you can find photographic documentation of. Yassin was undeniably a bloodthirsty anti-Semite who justified suicide bombings, but he was also a nearly blind quadriplegic. Politicians often call terrorists cowardly for targeting the public rather than any symbol of the state or a military installation, but I don't think there's an attack which more fits that description than murdering a myopic disabled man from a helicopter gunship with a guided missile and then openly celebrating what you've done.
The assassination
of
Mahmoud al-Mabhouh
, for which Mossad is almost certainly responsible, is an just the latest kind of other targeted murder which Israel has routinely carried out in the past. By their usual "high standards" however, as exemplified by the bombs which killed
Yahya Ayyash
and
Imad
Mughniyah
, this one seems likely to go down as a prime example, not perhaps of incompetence, as the killing itself went off without a hitch, but instead of hubris, with an intelligence agency imagining that it could do such a thing without leaving any trace being proved sorely wrong. Whether the images released of the "11 suspects" actually show Mossad agents or not is impossible to know, and if they do they you can be certain that Israel has already given them new identities and probably even a swift trip to the plastic surgeon, but it's the sheer, well, chutzpah of the entire operation: the CCTV footage of the man going into the toilet bald and emerging with a full head of hair and glasses smacks more of Dan Brown than it does the most ruthless and feared intelligence agency of a democratic country.
The only thing that makes you wonder just slightly about this being a Mossad operation is the use, not of false passports, which they've abused repeatedly in the past, most notably in their failure to kill Hamas leader
Khaled Mashal
, but the stealing of the identities of actual residents in Israel, even if they've retained the British citizenship. That just seems bizarre: did they seriously imagine that the relatively friendly Dubai authorities wouldn't put much effort into their investigation, or publicly release the names of those it wanted in connection with the killing? At the same time however, there just doesn't seem any rival organisation which has the resources or people to carry out such a hit, certainly not Hamas itself, and while Iran could have, there's been no motive put forward for why Hamas' itself or its erstwhile allies would have wanted to get rid of him. Al-Mabhouh was a weapon buyer and seller, which carries with it its own risks, but why would someone who wanted him dead authorise an operation involving so many people when one man with a gun would have been so much easier and also less expensive?
Israel has form in treating those who it considers to have acted traitorously extraordinarily harshly,
as Mordechai Vanunu has found
. What did these six do though to deserve such a fate? Those whose identities they stole may not be actual Israeli citizens, yet why put them at such a risk of reprisals, to not even consider the difficulties they're now going to face in travelling almost anywhere. Again, you would expect they'll be compensated or given new identities, but why not simply create them in the first place for the hit? Admittedly, that's far more difficult than simply taking one, but it seems that's what they did at the moment with those who travelled under false Irish passports.
The diplomatic row with London will swiftly blow over; after all, considering
what our own courts disclosed just last week
, our blessed intelligence services are hardly free from blemish. The point remains though that this was an especially reckless operation, conducted against a minor player in Hamas for no obvious material benefit, and one which has once again brought into focus the fact that Israel remains a nation prepared to authorise what others might well term acts of state sponsored terror. Does it hint at desperation within Israel at the current state of the peace process, or rather show just how out of control Mossad is becoming? Either way, the only losers in this are those that Israel is meant to be dedicated to protecting: both its own citizens and its sympathisers.
Labels: assassinations, foreign affairs, Hamas, intelligence agencies, Israel, Mahmoud al-Mabhouh, Mossad