Green and a very suddenly established police state.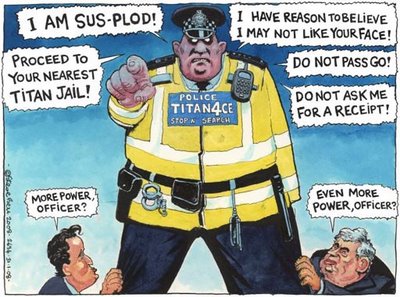 The arrest of Damian Green
is understandably raising major questions about how much the government knew and when it knew it, but far more pertinent from my perspective is both what it tells us about the power of the police in today's Britain and how some of those who have given the police such power react when they find themselves under scrutiny.
As long as it turns out that both the police and the government are telling the truth, in that ministers were not informed of what was taking place until it was taking place, then this is not something that is yet truly unprecedented. Extraordinary and deeply troubling yes, but not unprecedented. Examples from decades past have already been regurgitated to show that leaks and governments both knowing and not knowing are hardly new:
Churchill in the late 30s
,
Sarah Tisdall and Clive Ponting in the 80s
, right up to
Katherine Gun
and
David Keogh and Leo O'Connor
this decade. Keogh and O'Connor's case was especially politically lead, with utterly disgraceful evidence
given against them by government officials
.
More analogous to Green's arrest though was the 6am raid on the home of the fragrant Ruth Turner,
which the Labour party complained bitterly about
. Noses were put out of joint throughout Whitehall over the police investigation into cash for honours, which many thought heavy-handed, even while the rest of the country smirked. It's with Turner in mind that we ought to, for now, accept both the accounts of the Metropolitan police and the government that there was no warning given to ministers over what was going to happen until it happened. We have to assume not that just one side is lying, that but both sides are lying, which would in itself suggest open collusion between the two sides. However friendly some of the discussions between government and the police are, for the Met to suddenly start acting as Labour's personal leak stopping organisation takes a lot of swallowing.
The other point that suggests that open governmental knowledge of the arrest is unlikely is that there is absolutely nothing to be politically gained by having a front-bench opposition spokesman subjected to a stay in the cells of Knacker of the Yard. As soon as it became news the fingers were being pointed and the knives were sharpened. The government might be stupid, venal and corrupt, but is it really that stupid, venal and corrupt? I would hazard not. Are, on the other hand, the police either so full of themselves or flushed with power that they now think that arresting MPs for passing on leaked information to the newspapers is something which they can both brazenly do and ultimately get away with? I would hazard yes. Until some substantial evidence emerges of government knowledge, other than that the Speaker of the House knew and that Boris Johnson knew, or that ministers must have known because Diane Abbott/Michael Howard/etc/etc say so, the latter seems the more reasonable assumption to go with.
In actuality, none of the above examples regarding leakers or arrests really fits properly to the arrest of Green. The one case which is very similar
was coincidentally settled today
: that involving Sally Murrer of the Milton Keynes Citizen and Mark Kearney, a police officer who was a local source of Murrer's, as well as also for a time being her lover. Kearney and Murrer were charged with aiding and abetting misconduct in a public office, the same charge on which Green was arrested on suspicion of. Like Green, the stories which Kearney supplied Murrer with were relatively inconsequential, concerning a drug dealer and a local footballer, as well as one about an inmate at Woodhill prison boasting about becoming a suicide bomber, which was not actually printed. These charges however seemed to be the cover for getting at Kearney over his knowledge of the bugging of the MP Sadiq Khan when he visited an old friend from his school days, Babar Ahmed at Woodhill prison, of which there was a
highly unsatisfactory government inquiry into
. Thankfully for both Murrer and Kearney, the judge has concluded that because of the inanity of the stories which Kearney supplied Murrer with,
there was no justification for bugging Kearney or Murrer
, which directly breached Article 10 of the Human Rights Act, the right to freedom of expression. Tabloid newspapers condemning the HRA for introducing a privacy law via the back-door should take note.
Similarly then, would the police have acted in such a heavy-handed, arrogant way against Green if this really was just about the leaking to him of documents about illegal immigrants working in the security industry, an illegal immigrant working in the House of Commons, a memo from Jacqui Smith concerning how crime is likely to rise during a recession and a document which speculated on the MPs which would oppose 42 day detention? All we have to go on is that a civil servant was suspended from the Home Office 10 days ago and also arrested, and that a complaint to the police was made by the Cabinet Office. Is it possible that Green has been supplied with something far more explosive, perhaps potentially involving the police, which he was yet to share with the media, hence the heavy-handedness and the involvement of what was Special Branch, even if this was strictly being dealt with under common law? We simply don't know. What we do know is that no one is talking about why the police might have acted as they have, simply how they have acted as they have.
And it has to be admitted, their behaviour in this instance is even by the standards by which we are becoming accustomed little short of extraordinary. Yes, whistleblowers have been arrested and persecuted down the years for supplying us with information most certainly in the public interest, but for police to arrest an actual front bench opposition spokesman, hold him for 9 hours, raid his office in parliament, as well as his home, and take his personal effects is on a whole different level to what has come before. As others have pointed out, despite the involvement of anti-terror officers, this as yet does not have anything to do with actual anti-terrorism laws, but what those anti-terrorism laws,
such as Section 44 have done
is imbue the police with the confidence they need to be able to act almost with impunity. Even whilst we complain that they often can't seem to be bothered to keep actual small town stations open than more than a few hours at a time, or to attend burglaries, they find the time to monitor political demonstrations while recording footage of all those taking part, just for "their records". They, along with community support officers, have routinely stopped photographers from taking shots of almost anything, on the various grounds that either those doing so could be taking part in reconnaissance missions or that they could be taking pictures of children. When it comes to actual terror raids, such as the Forest Gate fiasco, those who dare to criticise the police, of which politicians themselves very rarely if ever do, find themselves under attack for impugning on those carrying out such a dangerous job. In the name of stopping knife crime,
blanket searching of those deemed likely to be carrying one has been authorised
, with the forms which officers have to fill in
when they stop and search someone likely to be scrapped
,
with even the innocent who were stopped being photographed
. Even the Conservatives, opposed to 42 days,
appear to support giving the police other powers of surveillance
, also likely to be abused just as every other new power has been and will be abused. It is however far too over the top to suggest that we are living in a police state. We are though an undoubted surveillance society, and New Labour, through both its anti-terror laws and authoritarian crime policies has put into place the building blocks of one.
It therefore takes some chutzpah for David Davis, whose stance I have deeply admired,
to say he now believes we are living in a police state
because one of his own has been raided. When other individuals have said similar things, such as one of the men wrongly arrested in connection with the Birmingham beheading plot,
who said that this country was now a police state for Muslims
, they have been shot down, especially by politicians. Politicians themselves after all have no one other than themselves to blame for the power the police now have and routinely wield. Only the Liberal Democrats have anything approaching a decent record on opposing the almost yearly measures brought in in reaction to tabloid demands. Like others, they don't believe that it could happen to them until it does, and when it does, they sure as hell don't like it up 'em. If you dislike it happening to you, then think how others who routinely undergo the same thing feel. Politicians have long imagined that they are above the law, but as today has shown, they clearly are not. It would be nice to think that once we truly get to the bottom of why Green has really been arrested, or why the police thought such a sledgehammer approach was appropriate, that it might make some of them think twice before inflicting yet more legalisation on us that further reduces the police's accountability while at the same time making them ever more powerful.
Labels: Damian Green, hypocrisy, leaks, Mark Kearney, Metropolitan police, police state, politics, Sadiq Khan, Sally Murrer, terror laws, whistleblowers