A tale of two tragedies and different police responses.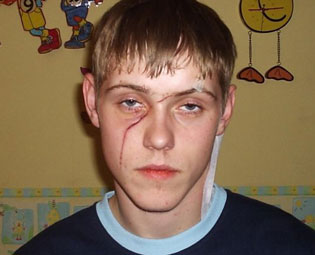 Peter Woodhams
- Murdered by Bradley Tucker after a seven-month campaign of terror was waged against him by a gang of youths. Despite being previously slashed across the face and stabbed in the neck, the Independent Police Complaint Commission's findings were:
Officers failed to bring in forensic experts




No photographs were taken of the scene




A proper record of the attack was not made in officers' pocketbooks




Officers failed to contact the Woodhams family for more information




Anonymous phone calls identifying several suspects were not followed up by police




Two sergeants did not adequately manage the scene of the attack
As a result, a detective sergeant and a detective constable have been required to resign.
Jean Charles de Menezes - Brutally murdered by a member of the SO19 firearms unit, shot 7 times at point-blank range in the head after being "mistaken" for one of the men who had attempted a suicide bombing on the tube the day before.
Despite two highly critical IPCC reports
, one of which still yet to be publicly published, and a prosecution against the Metropolitan police on health and safety grounds,
which is currently
detailing the amazing
incompetence
and
negligence of the Met
on July the 22nd, no one has so much as been disciplined over de Menezes's death. In fact, quite the opposite has happened:
Cressida Dick, the woman in charge on the day, has already been promoted to deputy assistant commissioner
. Despite the second IPCC report into the police's response after de Menezes had been shot, which identified that Assistant Commissioner Andy Hayman had known that it was likely an innocent man had been shot as early as 16:00 the same day, he instead continued to brief the media that the assumption was that it was one of the bombers who was dead. As for Sir Ian Blair, despite seemingly everyone apart from him hearing the rumours that an innocent man had been killed, he didn't learn of the deadly mistake until the following morning. Neither have been disciplined, let alone felt the need to resign.
For Peter Woodhams, justice has come far too late. For Jean Charles de Menezes, it seems unlikely to ever come. It seems that those in the front line are expendable, while the responsible commissioners are untouchable.
Labels: injustice, Jean Charles de Menezes, Metropolitan police, Peter Woodhams