The more things change, the more they stay the same, Liberal Democrat style.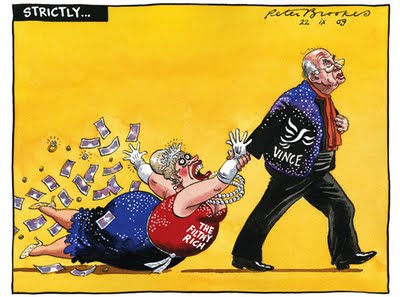 It's a theme or cliché I've depended upon in the past, but sometimes the more things change the more they stay the same. A year ago some optimistic sorts thought that the banking crisis might lead to either the downfall of capitalism entirely or at least a softening of its edges; instead we've decided that socialism for the rich is here to stay, while the public sector and poor taking the pain is the order of the day. Likewise, some thought it was a historic opportunity for the left, the long-awaited crash which so many had predicted; instead the right is in the ascendant everywhere, with the exception perhaps of America where "change" came and went rather swiftly. Earlier in the year with the expenses scandal a few talked and hoped of a "new politics"; instead we're entering conference season and even though the theme of across the board cuts might be new, everything else is as tattered and torn always.
Hence I looked back
at what I wrote last year about the Liberal Democrat conference
. With a few slight edits and changes I could post it back up and I doubt anyone would be the wiser, not least because no one reads this toss anyway. The main difference is that Nick Clegg seems to want to establish his own motif of the times; he thinks, bless him,
that this is a "liberal moment"
, although whether that's liberal with a lowercase or capital is not clear. A look at the polls suggests that this is in fact
a begrudging Conservative with a capital C moment
, with Cameron and pals now enjoying a 17-point lead over Labour. Last year I wrote that the Lib Dems were flat-lining at under 20% in the polls, and lo and behold, the Lib Dems are still flat-lining at under 20% in the polls a year later.
Politics, probably even more than life itself, isn't fair. If it was, then surely the Liberals would be doing better. Even if this isn't a "liberal moment", Vince Cable still shines as brightly as he did a year ago, and Clegg himself, while still hardly Charlie Kennedy, is making a much better fist as leader than previously. While the other parties bicker about what is to be cut, and don't even begin to broach the even more toxic topic of what taxes are going to have to rise, Cable and Clegg have set out to be both radical and upfront, something you would never accuse either Brown or Cameron of being. That doesn't however necessarily make them right, or even popular within their own party:
while Clegg waxes lyrical to the Graun about how "savage" cuts
are going to be necessary, the party's base is the one which is most resistant out of the three to those very cuts, instead preferring tax rises.
This not knowing the party's own support, or even directly attempting to alienate it seems puzzling at best. Ask someone with a little politics knowledge what the Lib Dems' three main policies are or were, and they'd probably tell you a 50p in the pound tax on those earning over £100,000 a year, the abolition of tuition fees and opposition to the Iraq war. The first is now long gone,
the second is to be "delayed"
, and the party doesn't seem to know what to do over Afghanistan.
Clegg's article with Paddy Ashdown in last week's Graun on the subject
was a worthy effort, but "just a little more time and a desperately needed change in strategy" is hardly a vote winner. While locally the Liberal Democrats can trade on being themselves, nationally they are overly dependent, in England at least, on student populations which were more than easy to rally on both fees and Iraq. With the party now unclear on just what it will do on the former and equally opaque on foreign policy, they might have to trade on the fact that they're simply a better prospect than either Labour or the Tories, not the worst reason to vote for them, but not exactly a intellectual position.
The result seems to be that they're trying to please everyone, with the predictable result that everyone is instead slightly annoyed.
Why after all should public sector workers have to suffer a pay freeze
because of the failures of the private sector (
the armed forces will apparently be exempt
, interestingly, while they claim that only the pay total will be frozen, meaning that they'll be some redistribution presumably)? Why, just because the private sector is abandoning final salary pension schemes because they're only interested in the short-term, share prices and dividends (while the bosses of course still sit pretty) should the public sector have to follow suit? The idea that everyone should have to share the pain is repugnant. Then there's, much unlike the Liberal Democrats generally,
the apparently not thought through
at all "mansion tax"
, which although superficially attractive will undoubtedly breed resentment just as inheritance tax does, and also doubtless further prompt those who can to abandon their pads here and become non-doms rather than pay up. If the Lib Dems have in the past served as a place where policies are first thought up and then stolen by either Labour or the Tories, this one seems destined to be left well alone.
The main criticism which can be levelled against the Lib Dems in general though is that they seem to have no overall view of society as a whole. This seems to be less to do with woolly liberalism and more to do with how the party has concentrated for so long, first on tax and spend and Iraq, to now economics in general, with home affairs and the "spiritual" health of the nation taking a back seat as well as how they've been "embarrassed" in the past about conference debates on reducing the age at which you can buy pornography. For better or worse, we know that the Tories supposedly believe that society is broken, even though their solutions would probably atomise it even further. As far as I can recall the Lib Dems have made little to no response or criticism of this view, even when they are by far the best placed to do so.
The Liberator
,
as noted by John Harris
, summarises this beautifully:

"What is missing is a distinctive vision of the good society. This is a prerequisite for any successful political strategy. And it is imperative at an historic turning point such as now."
In fairness, such a vision is notoriously difficult to perfect. Thatcher managed it, even if she didn't create one or believe in it. Blair managed it. Brown has failed to, while Cameron is making an attempt. If Clegg and the Liberal Democrats could start to define one and then proselytise it effectively, they might able to paper over all the over cracks in their facade. They still remain the party which deserves to be given a chance, even as the spectre of a hung parliament begins to fade.
Labels: conference season, Liberal Democrats, Nick Clegg, policy, politics, Vince Cable