Man disguised as bird nest attempts escape, news at 11...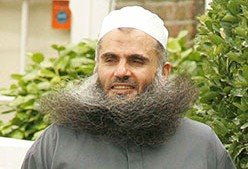 It's hard to take seriously the idea that
Abu Qatada was somewhere even close to slipping his onerous bail conditions
and fleeing to the Middle East, possibly Lebanon. Under his 22-hour a day curfew, he must have been one of the most watched individuals in the country, with doubtless if not MI5 sitting outside his door watching his every move, some similar poor sod from what was Special Branch or the Met doing exactly the same.
He wasn't like the individuals on control orders who successfully fled
, who were apparently so poorly monitored that it's tempting to suggest that they weren't considered that much of a threat; he is now, with Hamza in Belmarsh and likely to be deported to the United States to serve out the rest of his days in one of their living hell prison facilities, the most well-known and supposedly dangerous Islamic extremist in the country. Losing him would have been unthinkable.
Similarly unthinkable is the supposed idea that Omar Bakri Muhammad was the "mastermind" behind the endeavour. It's interesting of course that both Qatada's re-arrest and
now Bakri's role have been leaked to the Sun
, the paper which has done the most to exaggerate and overplay the terrorist threat whilst supporting measures such as 90-days detention without charge, around the only newspaper that did so. Views differ massively on Bakri:
some agree with his own claim that he's a harmless clown
, a loudmouth with only a tiny and dwindling band of supporters, not helped by the revelations in of course, the Sun,
that his daughter is a poll dancer with plastic tits paid for by Bakri himself
, while others believe
that his sects and cells, if successfully closed down, would destroy the majority of the threat overnight
. As with most opposing views, the reality is probably somewhere down the middle. Bakri is the almost cuddly jihadist who can be relied upon to make a fool of himself whilst the attention given to him furthers the impression that many Muslims hold similar views, but his groups and followers have in some cases moved on from words into deeds.
The Sun claims that Bakri, in an audio recording you would have to suspect was intercepted by the security services or at least passed on to them, said:
"There are two ways to help (Qatada). One is maybe try to help him against the kuffar (non-believer) to remove all these restrictions. Or by smuggling him outside the country if you can find a way."



"Try to help him financially or socially – whatever way you can."
It wouldn't be surprising if this was as far as the supposed plot to get Qatada out of the country might have went. After all, Qatada's release on bail, even on such restrictive conditions,
was a huge embarrassment to the government
. We still don't have any idea just why Qatada can't be prosecuted when there is such a copious amount of material available on him that could be used against him; additionally, like with Hamza and Bakri, we also just don't know how far security service involvement with him personally went.
Allegations have been openly made that Qatada was a double agent
, hence perhaps why we have been so determined to deport him and be rid of rather than chance the possibility of such evidence coming out in our rather more transparent justice system than Jordan's equivalent.
In reality, Qatada's sending back to prison solves absolutely nothing except removing the embarrassment of more photographs appearing in the tabloids of
Qatada merrily going out to the shop to buy kitchen roll and Diet Coke
. It keeps him out of the public eye, but the chances of the House of Lords overturning the Court of Appeal's ruling that he can't be sent to Jordan to stand trial because the evidence against him is tainted by torture are minuscule at best, as they should be. He can't be kept locked indefinitely forever, however much that would be what both the government and the security services would like; either they need to come clean over his role prior to the breaking down of the unwritten covenant where he and other extremist preachers were allowed free reign as long as Britain itself was not a target, or they need to introduce intercept evidence which would help in the bringing of a prosecution. However vile a person is, or how reprehensible their views are, keeping them either in prison without charge or under a control order without charge indefinitely is just as offensive as the possibility of his escape. A decision one way or the other has got to be made.
Labels: Abu Qatada, Abu Qutada, jihadists, Omar Bakri Mohammad, Scum-watch, Sun-watch, terror, terror laws, terror suspects