Scum-watch: The dumped IVF twins who weren't.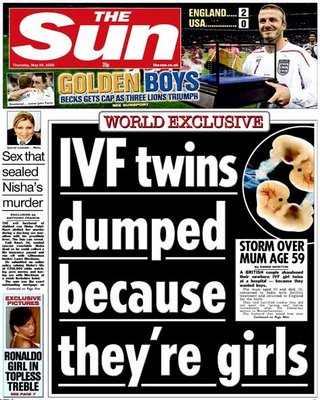 If there's ever been a quicker reverse ferret in recent tabloid newspaper history, then the Sun's about turn on the IVF twins born in Wolverhampton to an Indian couple must rank up there with among the fastest.
Yesterday the paper ran a front-page story claiming that the twins, which were conceived using fertility treatment in India but which were born in this country after the couple returned, had been to all intents and purposes abandoned because they were girls. I can't go into full detail because the story already seems to have disappeared down the memory hole, which suggests that either the family has made a formal complaint or that the paper has realised just how wrong the story seems to have been. It did however claim that the twins had not been visited by the parents since their birth, something which seemed odd to begin with because the babies had already been moved to a hospital in Birmingham to be closer to the parents' home, having been delivered by caesarean in Wolverhampton as the maternity services in the Birmingham hospital at the time were all in use. More details of what the article alleged are outlined here:
The parents, who were born in India but are British citizens, reportedly told doctors they did not want the "wrong sex" babies immediately after the children were born by Caesarean section at New Cross hospital.





The newspaper said the husband then asked medics how long it would be before his wife was fit enough to fly back to India for more IVF treatment in the hope of getting a boy to continue the family name.





It was reported the twins have been transferred to a central Birmingham hospital, where they have not been visited a single time.
Added to the article was a leader which also commented on the story, in the traditional highly outraged tone.
As
reports since
have made clear,
it seems obvious that there were problems with the Sun's story which its journalists ought to have investigated before rushing to publish. In any case of apparent abandonment, social services would have quickly been alerted. They had not been. Similarly, they were also not aware of any attempt by the parents to put the two baby girls up for adoption. Then there's the other glaring problem: considering that the mother is 59, her pregnancy would have been monitored extremely closely. If the couple had been as desperate for boys or a boy as the paper had made out, it seems odd that they hadn't made an attempt to ascertain the sex of the children at any of the ultrasound screenings the mother would have had, as can now be easily done. While it could have been too late to seek an abortion once the sex of the foetuses had been identified, it still appears strange that they didn't reveal their apparent true feelings until the birth.
From claiming that they had been abandoned because of cultural reasons, the Sun's story today has a rather different tone:
WE DO LOVE 'EM, SAYS IVF FATHER
. The article, going out of its way to give both the father and the babies' half-brother's side of the story, claims that it was all a misunderstanding because of the father's poor English, and how they made a "show" of visiting the babies yesterday. That this "show" might have been nothing of the sort except for journalists, attempting to follow up the Sun's "world exclusive" being in attendance, as the hospital's statement made clear that the parents had been "attentive" to their needs, doesn't seem to be necessary to relate to the Sun's readers.
It could of course have been all a misunderstanding. Perhaps there was something lost in translation with the doctors getting the wrong end of the stick; perhaps the mother's non-attendance at her babies' side because she was still recovering from the surgery was construed as them being abandoned; and IVF treatment at such a late age for both the father and mother is rightly highly controversial. It's hard not to detect however more than a hint of xenophobia, if not outright racism in the Sun's story. If the paper has put two and two together and made five, as it seems to have done, it also jumped on the possibility of it all being because the couple wanted a boy to continue the name. The very fact that the father err, already has a son, albeit with a former wife who passed away in 1981, seems to have been completely ignored. Their ethnicity shouldn't really have entered into it: if they were abandoning their children or putting them up for adoption because they were girls, that was a story in itself, especially after seeking IVF treatment in the first place.
This being the news environment we now inhabit, the story had already gone around the world before the Sun pulled it and before other media groups had inquired and found it wanting.
Google News tracks 182 separate reports
. In addition, the Sun's forum for discussing news has a thread on the story. Among some of the choice comments are:
These parents if they are in this country should be locked up, And every thing they own sold to pay to some one to look after these two lovely little girls, I would personaly give the father a kicking that he would remember to his dieing day





THIS GOVERNMENT STANDS FOR THE THREE CARD TRICK





TWO OLD AGE PENSIONERS, a mum age 59, and dad 72, after receiving IVF treatment returned to England from India for the birth, after the birth the parents originally from India,




told horrified medics they did not want the twin girls because they wanted a boy to carry on the family name? And they want to go back to India to start the treatment again?





KNOWING THE WAY THIS GOVERNMENT WORKS, THEY WILL BE OFFERED THE MONEY IN BENEFITS FOR THE AIR FARE AND TREATMENT.





For someone to take care of the girls Until they reach 18, will the selfish BAST#ARDS be presented with a monthly bill?




THATS IF THEY LIVE THAT LONG?





NO, IT WILL BE LEFT TO THE HARD WORKING TAXPAYERS TO PICK UP THE TAB.





It's not religion persay Lousie...it's their traditional culture..... Alien and horrible to us.





Yes Gwenny...uncivilised is the word. It's not that many years since India outlawed the practice of Suti.....where a wife was burned alive on the funeral pyre of her husband!





Vile backward monsters.They should be prosecuted to the full extent of the law. What the hell is this IVF all about?





WHY DID THE NHS ALLOW THIS TO HAPPEN? AND WHY ARE THEY NOT BEING PROSECUTED FOR CHILD ABANDONMENT.




I AM SO ANGRY I HAVE JUST STARTED A GROUP ON FACEBOOK TO GET THESE THINGS NAMED, SHAMED AND PROSECUTED PLEASE JOIN.




#####//####facebook.com/group.php?gid=15961478162





WELL DONT TO THE SUN FOR GETTING THIS STORY OUT INTO THE PUBLIC DOMAIN AND IT WONT BE LONG BEFORE SOMEONE IN THIS HOSPITAL SPILLS ALL THE BEANS IM SURE. THE SOONER THE BETTER



There is also this one however:
Hmmm. Did no-one else see that this story has been rejected by other sources as being false, including the local police and NHS services?





I notice also that The Sun seems to have pulled it from its front page online here. Does that make anyone wonder whether the witless wonders at The Sun have actually made a huge error here and that the story is actually wrong/ made-up/ spurious* (*delete as applicable).





Ah well, I'm sure they'll be running a full front page apology tomorrow if it does turn out to be false...
Quite so. The Sun is so apologetic about the story that beneath its follow-up today it's still allowing reader comments, such as:
YEH RIGHT, THEY LOVE THE TWINS. YES NOW THEY LOVE THEM BECAUSE, THEY NOW KNOW THE OUT CRY IT HAS CAUSED. IF THEY HAD JUST LEFT THE TWINS WITH THE AUTHORITIES, THEN WHEN THEY WENT BACK TO TRY AGAIN TO GET HER PREGNANT THERE WOULD HAVE BEEN ANOTHER AND BIGGER OUTCRY. IF THEY AGAIN FAIL TO PRODUCE A MALE THE SAME THING WILL HAPPEN. I HOPE THE TWINS ARE MONITORED SO NOTHING HAPPENS TO THEM, LIKE THEY DO TO FEMALE CHILDREN BACK IN INDIA.
CANNOT BELEIVE THAT NHS WORKER CAN CLAIM"THEY ARE ATTENTIVE TO THE BABIES NEED" HELLLLLOOOO THEY HAVE NOT IN ANY WAY SHOWN THE MORALS OF GOOD PARENTS 1)THEY WERE'NT HAPPY THEY WERE GIRLS 2)THEY LEFT THEM FOR TWO WEEKS 3)DID THEY EVEN THINK WHO WILL BRING THEM UP WHEN THEY'RE GONE LETS FACE THEIR NOT YOUNG 4)THEIR ALREADY GOING BACK TO TRY FOR A BOY THIS IS ONE FOR SOCIAL SERVICES BUT THAT WON'T HAPPEN THEY'LL BE KNOCKING MY DOOR CAUSE MY CLEAN LOVED AND CARED FOR DAUGHTER FELL PLAYING IN THE GARDEN ! ! !
And finally, just to show how sorry it is about getting the story so apparently wrong, Lorraine Kelly dedicates her column in Saturday's paper to just how selfish the parents are in any case:



After some confusion it transpires that she and her 72-year-old husband

DO

want to keep their babies after all, but at their time of life I think it all reeks of utter selfishness.





They returned to the UK to have the babies and first reports claimed they "abandoned" them simply because they were girls.

I could not believe that any mother or father could be so cold and heartless — and was immensely relieved when family members claimed it was all a misunderstanding and the little girls were only left in hospital because they needed special care.
There is of course no mention that the confusion and misunderstanding was on the part of the very newspaper in which she was writing. Indeed, the paper has already moved on to its next target, as Saturday's leader column evidences:

IF ever there was a woman who should not be allowed to have babies it is junkie Michaela Mullen.
Don't be too surprised if it turns out on Monday that Michaela Mullen has never been addicted to heroin and has also never been pregnant.
Labels: abuses by tabloids, bullshit, churnalism, dumped IVF twins, racism, reverse ferret, Scum-watch, Sun-watch, tabloid stupidity