Standpoint magazine and the marginalisation of Christianity.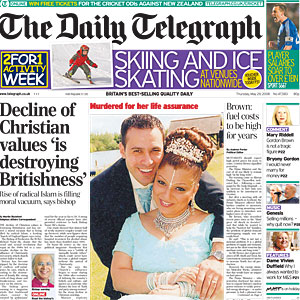 It can't be bad going for the first issue of a magazine to get one of its main articles featured on the front page of two national newspapers; it's only when you realise that the magazine in question is being published by the
Social Affairs Unit
and edited by
Daniel Johnson
,
son of Paul
, that it starts to make slightly more sense.
Before we get onto "his grace" Bishop Michael Nazir-Ali, it's instructive to read Johnson's own piece on just why we need Standpoint itself. He opens with:
"When you have a good idea, start a magazine." This, according to our board member Gertrude Himmelfarb, is the motto of her husband Irving Kristol. In a long and fruitful life, he has started three. (Their son Bill has started one, too.)
That would be the
Weekly Standard
, the neo-conservative bible published by Rupert Murdoch. It starts to make even more sense as he continues:
Ever since it folded at the end of the Cold War, many people in Europe and America have lamented the old Encounter. But it was only when a new kind of assault came from a very different quarter on 11 September 2001 that a new Encounter again became an urgent necessity. The aftermath revealed such moral cowardice and intellectual confusion on both sides of the Atlantic that the battle of ideas has sometimes seemed in danger of being lost by default. To defend and celebrate Western civilisation is not merely desirable; it is imperative.
To call this breathtaking would be to do a disservice to the first gulp taken by someone who has just emerged from a coma. "Moral cowardice and intellectual confusion" after 9/11? There was such confusion that it took just slightly less than four weeks before the bombing in response began; and less than a year and six months after that before the next stage of the response too was set in motion.
The intention of

Standpoint

is to provide a lever which can indeed move the world, by invoking the noblest ideals to which humanity has aspired. Free speech and a free press; the dignity of the individual and the family; the liberty to worship and to refrain from worship; scientific inquiry limited only by respect for human life; the rule of law; parliamentary democracy and the free market; human rights balanced by reciprocal duties; toleration of minority views and practices, but not at the price of moral relativism.
Motherhood and apple pie too no doubt. Exactly who is it that is opposing these noblest ideals? If the idea, as it appears to be, is to provide a counter-point to the left and its "moral relativism", then this is a waste of time, as it too shares all of the above. It's not too bold to suggest that the entire establishment of this magazine appears to be to fight against a straw man, the view shared by some on the right and also by what we've come to refer to as the "muscular liberals" that the left-wing bastions in both the United States and the United Kingdom are acquiescent, cowardly in the face of the new challenges posed post-9/11, i.e. Islamic fundamentalism, and almost willing to commit collective suicide in the face of this apparently ascendant new screed. It is, of course, the most exquisite of bollocks.
The thing I find most galling about this point of view is that it is so inherently contradictory. In the history of civilisation, never before has one system been so triumphant yet at the same time so lacking in apparent self-confidence. When Francis Fukuyama wrote
the End of History
, now so universally derided, he was, and still is, to an extent right. The end of the cold war did signify the victory of free-market capitalism, of human rights, of democracy. Where it fell short was in not realising that rather than there being anything to oppose such distinct hegemony, something which has still not emerged and seems highly unlikely to in the near future, was that so many of the true believers in all those values themselves could so easily become convinced that all they had achieved and yearned for could be snatched away so apparently easily. 9/11 and its aftermath was the cataclysm which they had failed to predict, but which when it happened, changed everything.
Except that it didn't. Johnson and his cohorts however think that it did. He writes:
As it dawns on us that the West is vulnerable, its adversaries gloat, while its champions often feel despondent.
How by any stretch of the imagination can the West really be termed as "vulnerable"? Jihadist violence against the West, as in innocent civilians who have died in terrorist attacks, has claimed less than 4,000 lives since 2001. Even in the most doom-mongering scenarios, an attack could not possibly destroy Western civilisation as we know; it could hardly even destroy a small-town. Just to get a inkling of this kind of thinking which Standpoint is encouraging, here's another of its lead articles, by Michael Burleigh:
In the United States, by contrast, the Senate committee on homeland security heard evidence in April about the likely effects of a terrorist nuclear attack on Washington DC. The chairman, Senator Joe Lieberman, said, "The scenarios we discuss today are very hard for us to contemplate, and so emotionally traumatic and unsettling that it is tempting to push them aside."
By coincidence, this just happens to be the same thing
which some on the jihadist bulletin boards have been thinking about.
The two things are connected: they are dreams, fantasies, which are about as likely to happen as Melanie Phillips deciding tomorrow to strap a bomb to herself and execute a "martyrdom operation" on the tube. The power of nightmares is fuelling this entire boom in such self-defeating and shockingly negative thinking from those who are meant to be pillars of strength while their opponents are so weak. We're so incalculably strong, our methods are just and our ideology is right, yet this towering, indefatigable mansion is apparently threatened by the molehill on the lawn.
Such muddled thinking runs through Nazir-Ali's piece. Its summary essentially means you don't have to struggle through
the 3,653 words
: "Christianity is central to British identity, but its marginalisation has created a moral vacuum which radical Islam threatens to fill." Straight off, it's impossible to ignore the central flaw: that Christianity is not being marginalised in the slightest. There's an huge streak of irony that runs through that idea when Nazir-Ali's warning that Christianity is being marginalised manages to make the front page of the Daily Mail and
Telegraph
. If it was, would he and his cohorts, both in the Church of England and in the Catholic church still have such a stranglehold over moral issues, as we've seen once again over the past few weeks?
Others more qualified to comment on Nazir-Ali's main thesis dispute it
here
and
here
, but I'm more interested in the thrust rather than the intricate details. The whole idea that Christianity is in decline or being marginalised while Islam is in the ascendant is not the real point here. That's just a sideshow to again, what was similarly
going on yesterday
, which is the revolt against 60s liberalism. Nazir-Ali blames Marxism, saying:
The aim was to overturn what I have called the Evangelical-Enlightenment consensus so that revolution might be possible. One of the ingredients in their tactics was to encourage a social and sexual revolution so that a political one would, in due course, come about.
This is, quite simply, garbage. The advancements of the 60s didn't come about because some homogeneous mass wanted a revolution but in the meantime was prepared to turn on fucking and social freedom while that happened; they occurred because society as a whole was changing, the economic security following the austerity of the post-war years enabling it to happen. Enlightenment values were also at the very heart of it, while the Evangelism and judgemental attitudes were being abandoned.
It's the rise of unbelief which is Nazir-Ali's real bugbear. Britain has become an overwhelmingly secular society, with even those that believe in God doing very little in actual worshipping or practising terms. Nazir-Ali, as a man of the church, regards this as a threat, as he well would. He and Standpoint as a whole seem to be mistaking this change as a sign of decadence and of weakness, somehow imaging that radical Islam is benefiting from it. They believe that we need a religious counterpoint to a threatening religious revival, which is a false dichotomy. It's the same old you're either with this or you're against us. It doesn't seem to occur that you can be for one side without going in for all of its arguments.
Jamie T calls it
curiously Stalinist
, and that seems to sum it up nicely. Stalin, the ever defining image of an iron leader, but one that was so paranoid and so insecure that he purged thousands of his own officers and politburo while murdering millions. The left is often accused of brooking no dissent and only looking to confirm its own prejudices: Standpoint and its inherent swivel-eyed looking for traitors could not more live up to that caricature.
Related post:
Dave Osler - Bishop Nazir-Ali and the collapse of Christianity
Labels: Bishop of Rochester, Daniel Johnson, marginalisation of Christianity, Michael Nazir-Ali, neo-conservatives, Standpoint magazine, Western civilisation