Where in the world is Madeleine McCann?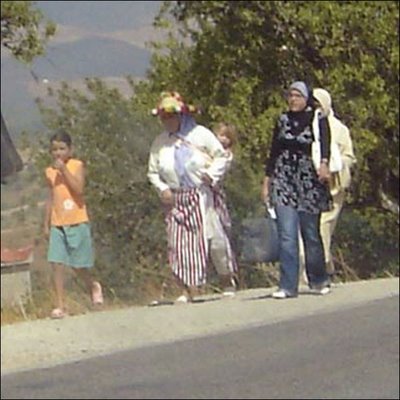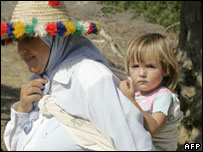 In what other country would a grainy, out of focus holiday photograph of a woman carrying a child become front page news except in one where the hacks have apparently lost not just all sense of enduring news values, but of all their collective journalistic skills?
Did it not even slightly occur to the editors
on not just the four tabloids, but also on the Times and Telegraph
, which also used the photograph on their respective front pages that, believe it or not, there are hundreds of thousands if not millions of blonde-haired little white girls out there that when not photographed directly are likely to bear a remarkable resemblance to one which has disappeared? Perhaps it had something to do with the fact that the photograph was taken in Morocco, where after all, the kids shouldn't be white, so there must be something in it.
Cue major surprise then when it turns out that the child, when seen up close,
doesn't even look slightly like Madeleine
. It's not right to blame the photographer, Clara Torres, for being suspicious though.
As Mike Power suggests
, the media greatly encourages this sort of thing, and especially when you're either emotionally involved in a case or have been affected by it in some way, you're even more likely to see something that isn't really there. I know this from personal experience: the number of times you think you've seen someone, sometimes only for a couple of seconds and not long enough to be absolutely sure is still enough for you to psychologically conclude that it is that person. Mr Power mentions Lord Lucan as well as his example of another blonde woman, and another case would probably be
Richey Edwards
, guitarist and lyricist with the Manic Street Preachers, who vanished over 10 years ago but is still regularly sighted and has been spotted as far a field as Lanzarote and Goa, even when the most likely explanation was that he committed suicide by jumping from the Severn bridge, even if his family have not decided to declare him legally dead.
That however is no excuse for newspapers to go weak at the knees when presented with such an unlikely scenario as that presented in the photograph. Is it even slightly conceivable that all those pictured would be in on the abduction of the child, as they would need to have been? It was so piss-weak that even the most naive trainee hack could have shot a dozen holes in it. The Madeleine McCann disappearance now though is not just a news story, it's become a money-making circus. It's hardly been off the front page of the tabloids ever since the McCanns returned from Portugal, even though there have been almost no new leads except for the judge deciding that they didn't have to return as yet for further questioning. Today's jolly jape will make up tomorrow's stories though, so that's that sorted. If it had been the BBC that had been handed the photograph, the tabloids would have ruthlessly attacked it for raising the hopes of the McCanns unnecessarily, while they can tomorrow instead write about how they tracked down the reality of the news story, with a nary a word of apology about their own ignorant lack of a mea culpa. Such is the parasitical nature of the tabloid media in this country, which only seems to get worse over time.
The photograph also kept the far more interesting, important and humanitarian concerns
over the
Burma crackdown
off the front pages of all but the Guardian, Independent and FT, but then monks and citizens fighting for their right to be free of tyranny just doesn't sell as well as laughable photographs of little missing white girls. (
Mr E incidentally has a number of links
for those wanting to keep up on developments there.)

Slight update: As Mellomeh points out in the comments, and eric the fish also notes, the Mail still has a poll up which even now has 53% of the vote saying that it is Madeleine.

Labels: Madeleine McCann, McCanns, media hysteria, tabloid stupidity