Utterly shameless.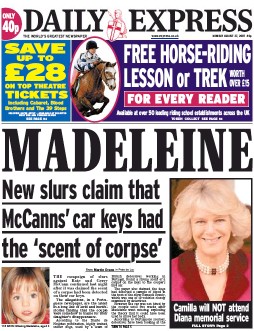 How then did the Daily Express respond to Gerry McCann's request for the media to stop bombarding the general public with images of his daughter and to scale down the coverage of the search for her? By reproducing yet more unsubstantiated reports from the Portuguese press on the front page, while somehow pretending to be outraged by their very existence, naturally.

Just how much longer is this going to go on for? In a decade's time, is the Express still going to be screaming about supposed new revelations about her disappearance? Is it going to be informing us for the umpteenth time that she really was pregnant when she went missing, honest? Or that the Duke of Edinburgh, allied with MI6, conspired to kidnap her from her bed because she was about to bring down the monarchy through a roll of film stuffed inside her cuddle cat that proved Diana was murdered? I spend most of the time here wittering endlessly and complaining about the stranglehold that the Murdoch press has over both the public and political mood in this country, but not even the Scum is so disgustingly blatant in its futile attempts to boost its circulation through lies, conjecture and downright abuse of those unlucky enough to either have died or gone missing in suspicious circumstances. It's worth remembering that Dirty Desmond was helped along in his purchase of the Express/Star titles through donating £100,000 to the Labour party, meaning we have this government to partially thank for the excuse for journalism which adorns the newsagent shelves every morning.

Speaking of disgustingly futile attempts to boost circulation, something suddenly hit me earlier, and for a change it wasn't someone who had randomly abused me for having the temerity to walk down the same side of the street as them.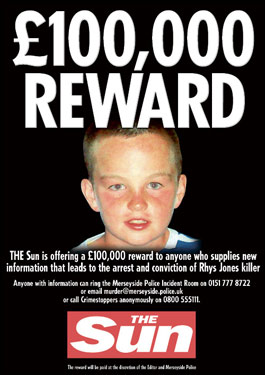 POSTERS about The Sun's £100,000 reward for information that helps catch Rhys's killer have gone up around Liverpool.

Really? In the same city where the Sun has never been forgiven, nor will it ever be forgiven for its appalling coverage of the Hillsborough disaster? Where the unofficial boycott of the paper has never been lifted? Am I being far too cynical when I think that the Sun's offering of such a reward might be more than just a selfless gesture in response to a shocking crime? If Wikipedia is to be believed, then circulation of the Scum in Liverpool was at around 12,000 in 2004, a fall from 200,000 prior to Hillsborough. The newspaper it seems has plenty to gain and little to lose from offering such a reward. After all, who would ever accuse it of having anything other than the very best motives at heart?
Labels: abuses by tabloids, cynicism, Express-watch, Madeleine McCann, Scum-watch, Sun-watch