A less than glorious Tory inheritance.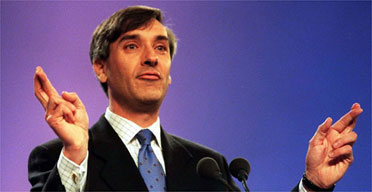 In a way, it's almost encouraging to see the
Tories finally producing something resembling a policy
, or at least one that the press and people in general will be able to latch onto. It's too bad that rather than supposedly moving on, Cameron is still just as obsessed as his predecessors at bribing the middle classes, rather than improving the lot of the majority.
Of course, we shouldn't be surprised. Despite Cameron declaring himself a liberal conservative, desperate to consign the image of the nasty party to history, he's made the strange decision of ordering two of the most important policy reviews of his premiership to be conducted by yesterday's men. First we had Iain Duncan Smith, the disastrous former leader
with his recommendations on how to mend Britain's "broken society"
. His solutions were all too familiar: get the single mother back into work as soon as possible, regardless of the effect on her own family, offer tax breaks to married couples and clamp down ever harder on those noxious illegal substances. Today we're treated to John Redwood's report,
titled "Freeing Britain to compete"
, and it follows more or less the same lines; while its length doesn't quite touch Duncan Smith's 6 volumes, it still fills up 211 pages.
The attention grabbing recommendations then come as little more than a damp squib. For years we've witnessed the Daily Express and Mail complaining about the inequity of inheritance tax, nicknamed the "death" tax. In recent years they have started to have something more of a point: with the housing market getting more and more out of control, ever more estates have started to fall under the £300,000 threshold, which itself was raised recently. This though has never been an argument for the complete abolition of the tax, it's been one for redirecting it once again at those it was meant to fall upon: the ultra-rich and the handing down of the vast amounts of cash and property which their children have often done very little to either earn or deserve. While Labour is meant to be raising the threshold within the next year to £350,000 and according to official figures it still only touches 6% of estates, the best way to counteract the calls for complete abolition is to raise it to at the very least £500,000 and maybe to even £750,000. While this may encourage even more of those it's likely to hit to evade it, this would still lift the grievance held by some in middle England, and make it harder for journalists with their own well-off parents to make their readers' feel sorry for the awful plight, one of the main factors behind the calls for its end.
The other pledge aimed directly at the middle classes
is the proposed raising of the 40% higher rate of income tax, which currently kicks in at £34,600. There again might be a case for raising it slightly, but it's worth remembering that the average yearly wage remains mostly static at around £22,000. This is why the case for a higher top rate of tax for those earning £100,000 a year or more has always been so persuasive, some would say easy to support, but there is of course nothing in this report at all suggesting that the ultra-rich are getting away with it, with the poor paying disproportionately more in tax those at the very top of society. Indeed, the report also recommends that those hard-done by large businesses getting an even further cut in corporation tax, already announced by Brown to be cut from 30p to 28p, with Redwood suggesting a 25p rate.
Perhaps the report's main prerogative is set out in the "Our vision" section, one full of holes apart from its typically Tory rhetoric :
A more enterprising Britain will be a more caring Britain: as incomes rise, so tax revenues rise and charitable giving flourishes.
But this is a fallacy based on the trickle down theory: in the last 20 years we've seen the rich get richer while the poor have remained poor. Rather than Britain becoming more caring in that time, we've almost certainly seen it become crueler, and you don't have to just point to the rise in deception and unethical behaviour in popular culture to reach that conclusion. Besides, should we really take advice from a committee that comes up with such laughable solutions to the problems of the rail network, when it was the Conservatives themselves that brought it to its knees through privatisation? Maybe we really did need that reminder from the BBC of one of John Redwood's previous most notable achievements.
Labels: Freeing Britain to compete, inheritance tax, John Redwood, tax, Tories