Cabinet resnore part 2.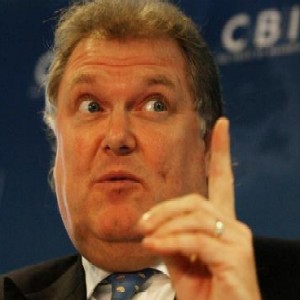 There's only thought which comes to mind when examining Brown's full reshuffle. Christ, if this is a government of all talents, then what would a government of no talents look like?


Let's begin with the elevation of a true cunt of capitalism, "Sir" Digby Jones, former head of the Confederation of British Industry, as well as a former director of
iSoft
, the company which has so comprehensively failed to deliver the National Programme for IT either on time or on budget. It's not his fault though, and neither should he have known about the accounting irregularities at the company, because "there is a limit to what independent directors can know." He'd also rather that no one had ever found out about those problems in the first place:
he dispatched legal letters to the Grauniad suggesting that the paper's enquiries were damaging the company
. More recently, despite being the supposed skills envoy,
he proposed the rewriting of the dictionary definition of a McJob
, because McDonalds argue that err, a McJob isn't a McJob and it's also "insulting". Certainly a noble cause.


Still, he'll doubtless be a revelation as trade minister. According to the BBC:



He said Labour would "increasingly" become less "in thrall" of the unions, who he hoped would "get into a 21st century agenda".




As in roll over and die. Those expecting even the slightest improvement of the relationship between the government and the workers can therefore go hang.


Next up we have Lord Stevens, who's going to become Brown's adviser on international security matters.
Judging by his fine body of work as a News of the Screws columnist
, this will mostly involve blaming the Muslims and saying they've got to sort it out rather than anyone else. David Davis seems to be highly optimistic in suggesting that his appointment will somehow result in a "more measured" response.


Of the other "outside" appointments, two Liberal Democrats have ignored Campbell's eventual decision to deny any of his actual MPs joining the cabinet, with Baroness Neuberger (who?) advising on volunteering (why?) and Lord Lester giving his thoughts on constitutional reform. Mark Malloch Brown has been talked up as an Iraq-war critic,
and the Scum has denounced him as anti-American
,
but as his profile on the Grauniad notes
, he counted such quite wonderful people as Paul Wolfowitz and Elliot Abrams as friends, even at the time as that other delightful personality John Bolton was condemning him. A surgeon you've never heard of, Prof Sir Ara Darzi, has become a health minister dealing with patient care, and another heavily titled military man, Admiral Sir Alan West, has become a Home Office minister for security.


The rest of the junior ministerial appointments have been delayed by the discovery of the car bombs, with only a few other jobs announced, but with
Jim Murphy, another execrable Blairite
keeping his job, there seems to be little to get excited about.
Jon Cruddas may additionally disappoint some people by apparently turning down a job
, but he may well have more of an influence campaigning outside the ministerial tent rather than having to compromise inside it.
Labels: cabinet reshuffle, Digby Jones, Gordon Brown, government of all talents, Lord Stevens