One gone, another moving in?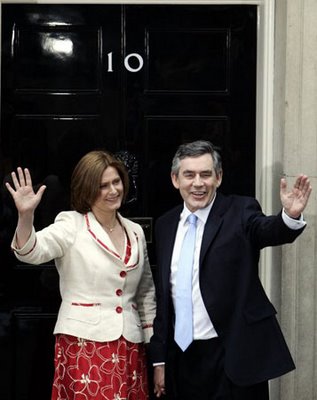 Rejoice
? That ought to have been the primary emotion now that Blair's long goodbye is finally over, only for the fact that it's gone on for such an interminable period that the only one I feel is a weariness, with regret that the bastard's leaving with his head held high, going into a job where he's meant to be bringing peace to a region where he has only delivered war and empty promises.
Should we rejoice however now that Brown is finally in the job that he has coveted for so long, a real Labour prime minister after ten years of a phony one?
Last night's
Newsnight
did a good job of showing just how open Brown really has been to the public and to questioning during his tour of the country - shut out at every opportunity by press officers modeled on Alastair Campbell and by security men and police influenced by the same behaviour meted out to Walter Wolfgang. If that's the changes which Brown's promising, then we're getting out of the fat and heading into the fire.
It's probably worth a slight cheer
that the dross is getting cleaned out
, although we won't have the full details of Brown's new cabinet until tomorrow. Patricia Hewitt and Margaret Beckett, united in being completely out of their depth in their respective jobs, are at least finally put out of their misery. John "not a single shot" Reid has already announced his departure, as has Lord Goldsmith and another Blairite apparatchik, Hilary Armstrong. If Hazel Blears, Tessa Jowell, Lord Falconer, Lord Drayson and Liam Byrne follow suit then Brown might just mean a certain amount of what he says.
He should be similarly judged on just how far his familiar talk of a new politics is. It needs to involve a full, independent inquiry into the Iraq war - involving both how the intelligence was presented by the government in the build up to war, how apparently the planning for after the invasion was either ripped up and ignored or how there was none in the first place, and as Lord Goldsmith has already suggested, how the mistreatment and torture of detainees came to be both accepted and even encouraged, with predictable results. A similar inquiry into the 7/7 attacks wouldn't go amiss either.
Next Brown needs to set out just how soon the troops in Iraq are to be brought back - they are,
as General Dannatt said
, simply making the security situation in the south worse. Enough blood has been spilt, both Iraqi and British. Handover in the other provinces formerly controlled by the British has already taken place with only minor problems. The majority of troops could be back home within 3 months, with a complete withdrawal within a year easily being achievable.
Reid and Brown have already hinted at a new attempt at reaching cross-party consensus over anti-terror legislation. The introduction of intercept evidence, rejected so far, needs to be reconsidered, despite the concerns of the security services. The disappearance of those being held under control orders has only proved what the critics said they would be: both illiberal and ineffective. Rather than derogating from the article 5 of the ECHR, those being held under them should be either prosecuted or set free, it's that simple. Brown is meant to support up to 90 days detention without trial: he could signal a new approach to civil liberties by deciding that 28 days is in fact more than enough, especially combined with offences not yet used that make it illegal to withhold encryption keys.
Putting into action the leak at the weekend of the possibility of the lifting of the protest ban within a mile of parliament should also be one of his first acts in office
. Scrapping ID cards and reexamining the need for both the
children's database
and
"the Spine" medical records database
, indeed the whole
National Programme for IT
would also be more than welcome.
Columnists have talked of Brown wanting to make considerable constitutional changes, even as potentially radical as either a bill of rights or an actual constitution. If we're to have either, then the bollocks about "rights and responsibilities" has to be dropped. We have rights: we don't need to be reminded of our responsibilities while exercising them, especially in any document, which is the way the ludicrous debate has been going. Potential electoral reform, also hinted at, would also be welcome. Almost every other election going is now under a form of proportional representation, whether it be for the European parliament or the Scottish/Welsh votes, so let's at the very least have the alternative vote system at Westminster, if not full PR.
This is without even going into the NHS or further education reform, on which Brown's ideas/plans have also not looked particularly promising. If he means what he says, then full consultation, rather than top-down enforced for the sake of it change must be the order of the day. There's next to no chance that he'll reconsider the huge wastefulness of his pet PFI projects, especially considering how they've helped keep him from breaking his so-called "golden rule" by keeping the costs off the public balance sheet, but it's a scandal waiting to happen, and he ought to act first.
There's much much more, on criminal justice, immigration and the environment which could be discussed, but this ought to be a more than adequate basis on which his promises to be different should be eventually considered. An election sooner rather than later would also be a welcome step, if he's to firmly cement his mandate which not even Labour party members were called on to confirm. A year should be more than enough time to consider whether he's been true to his word. If so, rejoicing then might be in order. I'm not holding my breath.

Related post:
Chicken Yoghurt - Bye then

Labels: Gordon Brown, handover of power, New Labour. changes, new politics