Scum-watch: More "political correctness" gone mad bullshit is, err, bullshit.
I missed the original article in this case, and for once it seems to have been removed from the archive (
unlike the fantasy Muslim yobs story, which is still freely available and uncorrected
) but here's today's suitably buried correction and apology for another completely untrue report: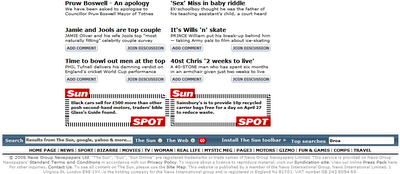 We have been asked to make clear that Councillor Pruw Boswell, Mayor of Totnes, Devon, did not order a ban on prayers at the town's council meetings for fear of offending other religions, as we reported on January 11.

Prayers continue to take place at the start of each meeting, although in a different format, after a decision taken by the entire council.

The Sun regrets any confusion and apologises for the distress caused.
A similar article remains uncorrected and without an apology on the Daily Mail's site
, and as it's from the day before, it seems likely that the Sun ripped it off, likely taking even more liberties with the non-story, as per usual.
Labels: political correctness gone mad bullshit, Pruw Boswell, Scum-watch, Sun-watch