The war against twat.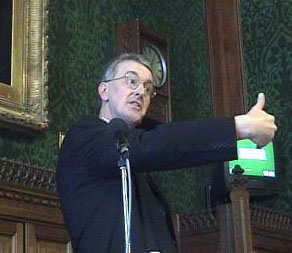 We've become so used to the Labour party's servile attitude towards the Bush administration
that when a minister like Hilary Benn makes an obvious but decent point about the general vacuity of the phrase "war on terror"
, it comes as a welcome refreshment.
From the beginning, the whole idea of a war on an abstract noun has been rightly sneered at. While in response to 9/11 it did have a certain ring of truth around it, as long as you believe that the war on Afghanistan was to remove the training camps and not to create a satellite state more receptive to Western interests, it's since become a grotesque simplification of the actual situation, whatever the particular situation it's being applied to.
Any remaining credibility the term had died once "shock and awe" started descending on Baghdad. While the war was never sold here as a direct part of the "war on terror", one of the justifications Blair did use on occasion was that Saddam could, for some bizarre, suicidal reason, decide to hand over his non-existent WMD to terrorists. In America, the inference was far clearer, whether down to the sycophantic media coverage which made a decent proportion of viewers believe that Saddam was behind 9/11, or down to the attempts to link al-Qaida to Saddam, all of which have been proved to have no basis whatsoever in fact.
One of the greatest ironies of the war in Iraq has been that where there were no terrorist groups, or in the case of
Ansar al-Islam
, one which was based in the semi-autonomous Kurdish north, there are now at least a dozen jihadist groups operating in and north of Baghdad. This failure of the US/UK invasion has in fact turned into a useful self-fulfilling prophecy for both the Bush administration and Blair. Blair claims that British troops are remaining in Iraq in part to fight "terrorists", while Bush says that failure in Iraq will mean terrorists bringing the carnage of Iraq to the streets of America. That the invasion has only helped exacerbate the threat from jihadists, giving them a further grievance, as well as helping to radicalise some of our own population is the unspoken and angrily denied elephant in the room.
The threat now posed by jihadists, while exaggerated, is still far worse as a result of the Iraq war than it was beforehand, as MI5 indeed warned it would become. This is where the phrase the "war on terror" becomes so laughable: we cannot drop bombs on our citizens, we can't shoot them in their homes without at least smearing them afterwards, and we can't make all of them disappear through the extraordinary rendition system. As Benn argues, the war at home cannot be a war. We have to understand why our own citizens have become both so alienated and radicalised that they're willing to strap bombs to themselves and kill their next-door neighbours, and dismissing them as being brainwashed or after 72 virgins in paradise just doesn't suffice. The winning of hearts and minds can also only go so far. This isn't just a battle between competing ideologies, as Blair has tried to argue in the past, it also involves removing the legitimate grievances which are held. Confrontation and demonisation, which are inherent in any war, whether it's a war of ideas or a war involving weapons, are not only helpful, they're counter-productive. Yes, we have to condemn the barbarity of the suicide bombers in Iraq and the ideology spreading it, but not without realising that doing so is only a means to end, rather than washing our hands of our role in creating the culture that has led to the exact situation.
Benn is right that the whole phraseology has meant that murderers have been able to pose as "soldiers". Mohammad Siddique Khan's chilling, childish, churlish finger-wagging martyrdom video was the purest example you could come across. You only have to read the
"press release" blog of the self-proclaimed Islamic State of Iraq
to see how they regard themselves as the soldiers of God himself. By dignifying these people as warriors rather than what they really are, which is indiscriminate killers, we help them create their own mythology, where spilling blood is something desirable rather than despicable. Denying them their status as heroes can be one of the first steps in breaking the wider hold they have within their own subculture.
If you wanted a further example of why Benn needs supporting, and how vital this change of stance is, then here's the Scum's editorial on the matter:
Except there is no coalition, and there is no al-Qaida "guerilla" war on the West. The whole emphasis on bin Laden's group has led to the setting up of franchises which have no real link to his organisation, the latest being the changing name of the
Algerian Salafist Group for Prayer and Combat to Al-Qaida's Committee in the Islamic Maghreb
. They're fighting their own disparate wars for various different causes, and through our desire to see everything through the prism of war against the West, they've decided to take us on at our game. We're not up against al-Qaida, we're up against the ideology which led to the 9/11 attacks, which thanks to our reaction to it has been spread far further than bin Laden himself could ever have imagined. Defeating and downgrading that ideology is the real struggle, not destroying al-Qaida itself.
Labels: al-Qaida, Hilary Benn, Scum-watch, Sun-watch, terror, war against bullshit