Scum-watch: Sickening speculation.
Message to the media: The only thing from which the press should save me is the eternal lies about my person, the false interpretations, the we-know-better mentality and the lack of respect toward me.

A more than reasonable request from Natascha Kampusch. After spending 8 years with only the company of her kidnapper for comfort, you'd think that the media would be kind enough to let her try to rebuild her life in peace. No such luck.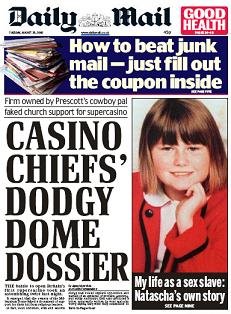 First up then we have the Daily Mail, with quite possibly the most sickening and misleading front page they have had in a long time. Not content with trying to sell newspapers through lurid voyeurism, with the picture of her as a 10-year-old and not one taken after her escape, they completely distort her statement. She repeats twice that she doesn't want intimate matters to be discussed, as they are quite rightly nothing to do with anyone other than her and those who will be treating her.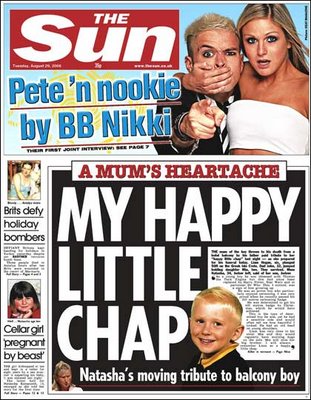 Far from acknowledging that the trauma of escaping and readjusting to normal life is likely to be even more stressful than being captured in the first place, the Sun similarly decides to freely speculate and lie through its teeth. The first paragraph sets the tone for the rest of the article:
SEX-slave schoolgirl Natascha Kampusch told for the first time yesterday about her eight years in a pervert's cellar — and stunned the world by insisting it was not all bad.
The article then goes on to speculate that she's pregnant, despite also quoting her insistence that intimate matters stay private.
As so often happens, what was once satire eventually becomes reality.
In the Brass Eye paedophilia special
which attacked the hysteria surrounding media coverage of paedophilia, a section of the show has the presenter asking one of the fictional paedophile's victims to demonstrate his perversions; she does so, while Chris Morris narrates with "Someone who agrees to rub their breasts on television is undoubtedly inexcusably disturbed". This is exactly what the tabloids are doing today, slavering, salivating, waiting for all the horrible details to be told to them, only for their victim to refuse to do so. This leaves them with the only other option in the circumstances: make it up instead and speculate wildly. That they're using the victim as an object almost as much as the original kidnapper did doesn't seem to make them any less ashamed of their actions.
Adding insult to injury, the Sun also dedicates part of its leader column to the unfortunate Natascha:
THE horror of being kidnapped for eight years does terrible things to the mind.

Natascha Kampusch describing captivity as almost a blessing is extraordinary.

The 18-year-old is grateful for not mixing with a bad crowd or experimenting with fags and booze.

Natascha's comments show her journey back to reality will be a long, difficult process.

We wish her well every step of the way.
And if you'd like to change your mind about telling the world the horrible minute details of your horrendous experience, News International will be there to pay you a huge amount of money and use your pain for sales purposes.