Daily Star/Sky-watch: To shock or not to shock?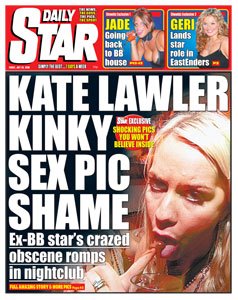 Today's Daily Star announces on its front page that it has snatched/been sold pictures of Kate Lawler (she was in Big Brother) in "crazed obscene romps in nightclub", while the photograph of said gorgeous pouting Lawler shows her putting a brown substance (Mark Oaten denies all involvement) into her mouth. Incredible news, you're probably thinking, but who gives a shit?
Well, it seems that Sky News does. On their daily front page review, it says the following of the Daily Star:
The Star carries a picture of former Big Brother contestant Kate Lawler and promises more "shocking" shots of Kate in "crazed obscene romps". But if you buy the paper beware: the pictures aren't that shocking.
This public service message wouldn't have anything to do with Sky News sharing the same proprietor (R. Murdoch) as the Sun, would it? The Sun also fights for the same downmarket demographic as the Star, although the Scum does at least attempt to feature some news, whether plagued with its right wing bias or not.
You might also remember some recent shocking photographs that were featured in the Sun, or in this case, not quite featured.
The Sun somehow came to the conclusion that there was "WORLDWIDE OUTRAGE" over the photograph of Princess Diana being helped to breathe as she lay in the crashed Mercedes.
According to their sources, Wills and Harry were "sickened and appalled". All this was happening on the same day as dozens of Lebanese citizens were being killed by Israeli airstrikes across the country, but strangely that wasn't felt to be a "WORLDWIDE OUTRAGE". Probably because the Sun were more concerned with convincing its readers that what was actually happening was a
"terrorist war on Israelis".
Cast your mind back a bit further, and you might recall the
"shocking", "depraved" and "revolting" pictures of Heather Mills which they printed on a number of consecutive days.
Like Sky says of the Star's shocking snaps, the supposed "hard core porn" shoot Mills' was involved in wasn't up to much either, but that didn't stop them splashing numerous amounts of them all over the paper and website, despite the Scum screaming that many were "too explicit to print".
Mr Pot, are you acquainted with Mr Kettle?