Sun editor smacks husband, released without charge.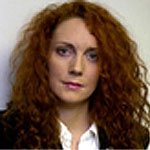 There are some stories that on hearing about them you think that they're too good to be true. Probably the funniest thing to happen in the media world since Kimberly Quinn became known as the slut of the Spectator, Sun dominatrix Rebekah Wade was today arrested for presumably hitting her husband Ross Kemp (Grant Mitchell in EastEnders) and cutting his mouth.
Rebekah Wade, the editor of the Sun, was released from police custody at lunchtime today after being arrested for alleged assault on her husband, EastEnders actor Ross Kemp.

A spokeswoman for Scotland Yard confirmed that Ms Wade had been freed after questioning at a south London police station and no further action will be taken. "A woman who was arrested this morning has been released and no further action will be taken by police," she said.

According to police, Mr Kemp refused medical treatment for a cut mouth when the officers attended the couple's Battersea home at 4am today.

Wade and Kemp are understood to have started the evening at a cocktail party hosted by PR guru Matthew Freud and his wife, Rupert Murdoch's daughter Elisabeth. They then moved on to dinner with David Blunkett, who resigned as the work and pensions secretary yesterday.

Wade made a "low profile" return to the Sun's offices this afternoon, according to a well-placed source. Rupert Murdoch, the proprietor, has indicated to Sun staff that he is treating the issue lightly. It seems that Wade's position is secure for now, although the paper has been receiving emails from readers hoping they will "read the full story" in the Sun tomorrow.

One senior source said the paper was expecting to run a double-page spread on the story, which will include a statement from Ms Wade. Mr Murdoch and Les Hinton, the News International boss, plan to take Wade out to dinner tonight, possibly at One Aldwych, one of their favourite restaurants.

News of Ms Wade's arrest will prove particularly embarrassing for the Sun as Mr Murdoch is in London for tomorrow's BSkyB annual general meeting.

Ms Wade and Mr Kemp, who became a household name playing hard man Grant Mitchell on the BBC soap, were married in a ceremony in Las Vegas in 2002. She had been due to attend the Women of the Year lunch today at the Guildhall.
It's going to be very interesting to see what the Sun and Times publish tomorrow on this story (if anything, as they seem to often shy away from internal matters for some strange mystical reason) and Private Eye and the other tabloids especially are going to have a field day. Even more amusing is the friendship which Wade seems to share with David Blunkett, and how the page 3 models at the Sun seem to have curiously sympathetic views on the matter, as
Bloggerheads
has pointed out. I wonder if the model tomorrow will comment on how women are putting their best fist forward.
It's always nice to see a pathetic propagandist and all-round nasty figure get their just desserts, just as Jonathan Aitken, Jeffrey Archer and Piers Morgan have before her. It would all the more sweeter if Murdoch see fits to sack her.