The drugs can work.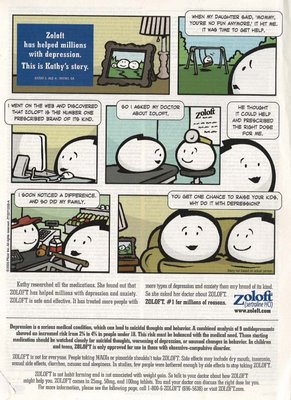 Whenever there's a new major scientific study released, especially one that hits the front pages of most of the so-called qualities, it's always a good idea to see what the crew over on the Bad Science forum think, both of the report itself and of the subsequent summaries of that report in the press.
Their verdict
(Ben Goldacre's own is the last post on
page 3
), especially on the
Guardian's report
, isn't especially encouraging.
The Grauniad article opens with this statement:
Prozac, the bestselling antidepressant taken by 40 million people worldwide, does not work and nor do similar drugs in the same class, according to a major review released today.
Except the study,
which is itself a meta-analysis of the 47 studies which the researchers obtained from the American Food and Drug Administration
doesn't come to that conclusion at all. It instead finds that
Prozac
(fluoxetine, an SSRI),
Seroxat
(Paxil in the US, paroxetine
,
SSRI),
Effexor
(venlafaxine, an SNRI) and
Serzone
(Nefazodone, neither an SSRI, an SNRI, an MAOI or an older tricylic anti-depressant, and which is no longer prescribed in the US because of links with liver damage) actually do work, or at least up to a point. Compared to placebo, the study finds that the drugs do in fact have a slightly higher clinical effect, but for mild to moderate depression it's not significant enough under the NICE criteria for them to be considered cost effective (
Endofphil has an MS Paint diagram example
).
Where the drugs are considered effective and perform far better than placebo is on those with severe depression, and which in any case is what doctors are meant to only be prescribing them for. For mild to moderate depression
doctors are pointed towards offering counselling or "talking therapy"
, up to cognitive behavioural therapy or interpersonal psychotherapy. This though is often unavailable in certain NHS trusts, and even if it is the waiting list tends to be a mile-long, leaving doctors with little option other than recommending the almost cliched exercise, talking to friends or getting out a bit more. Many people who feel they're at their wits' end go and see their GP and beg for anti-depressants, something that most will most give in to, even if they don't appear to be severely depressed. The figure banded about for anti-depressant prescriptions is 16 million written a year, but that of course includes repeats.
Seeing as I have something approaching "experience" in this area
, my path towards getting help was roughly as follows. After summoning up the courage to see my GP, he referred me to a psychiatrist. By the time my appointment with him was coming up, my situation had declined considerably and I was taken to see the psychiatrist at the local A&E, whom prescribed me
Lustral
(sertraline, Zoloft in the US, an SSRI). I then saw the first psychiatrist whom also prescribed me an anti-psychotic (first
Zyprexa, olanzapine
, now
Seroquel, quetiapine
) and introduced me to the psychiatric nurse, who I've been seeing for almost roughly 5 years now every month or so. In between then I've been referred to various individuals, among them a psychologist, with whom I underwent interpersonal psychotherapy, a youth worker who I basically just poured my heart out to, a group on overcoming depression, which started off with around 10-12 people attending and at the finish with around 4 of us, and probably some others I've missed out. I certainly can't say the NHS hasn't bent over backwards to help me, that's for certain. Out of all these things, what I do think has helped the most? To get over the initial bad period, I have very little doubt that the drugs helped immensely; after which, I think the interpersonal psychotherapy was the most rewarding, challenging and effective.
The main problem with anti-depressants is that some have the impression that they're a panacea, and this isn't just down to being ill-informed, but rather because the drug companies, big pharma or whatever you want to call them lobby and advertise furiously that this is indeed the case (see above advert). Because of both the NHS, the advertising laws and otherwise, we don't have the drug companies directly advertising their wares to us in this country, or at least the ones that are prescription only. In America however they do, and they don't just recommend the SSRIs in them for depression, but also for a whole assortment of other mental disorders, some for which their efficacy has been uncertain at best. This is partly why this study is important: it contains reports submitted to the FDA but which weren't officially published, for the simple reason that the study didn't find the drug to have the beneficial effects the drugs company claim they do. This is
publication bias
, and it buries the results which don't chime with what the company funding the development of the drug wanted to hear.
The other problems with the SSRIs are well-documented. Since Prozac, the first SSRI to be mass-marketed arrived, there have been claims suggesting that in some cases the drugs have actually contributed to suicides or in some rare occurrences, homicides. As a result of further research on the use of SSRIs in those under 18,
they were highly recommended not to be prescribed to the young as some
, and the accusations against Seroxat were the loudest, were found to actually increase the risk of suicide. This could potentially not be down to the drug itself, which take around a month to six weeks to start to work in most people, but rather due to the depression not reaching its apex when the prescription was first written, although the decision is certainly sound. Getting on the drugs is usually fine: I was sick for a couple of days when first going on them and suffered from dry mouth for about a week, then both went away. It's the getting off them that's incredibly hard,
as the withdrawal symptoms
, which often ironically resemble the symptoms for why you went on the drug to begin with, can be incredibly severe. Effexor, which is also considered one of the most powerful and is apparently most used in mental hospitals, is especially notorious for its withdrawal symptoms, while GlaxoSmithKline, the makers of Seroxat have had class-action lawsuits brought against them in both the US and UK because of the withdrawal those on them have suffered. I can't say I'm looking forward to eventually getting off either of the drugs.
The above are exactly why anti-depressants shouldn't be available on demand. We're an increasingly hypochondriac society, and it doesn't just affect those that read the Daily Mail and one day are told something's good for them and the next day that it's bad, all via press release and competing studies where their funding is obtuse at best. Neither should the drugs be dismissed in the way that some of the reports today have done; it's well and good lauding CBT and the rest of it, but the very need for it has increased because of our increasingly fractured and atomised lives. We don't feel that we can take anyone into our confidence, and the friends that we do have and do think we can talk seriously to we then think don't want to be burdened down with our own personal misery, and in most cases we'd be right. At its core, the idea of the anti-depressant is one bound up in both consumerism and materialism; a magic pill that takes away the blues. Like consumerism and materialism, it's a myth and one perpetuated by the exact same forces. It can help, but that's all. It's only when we open up and are honest with ourselves and everyone else that we might directly help each other, and it well might be that goes most against the very nature of our modern living.
Labels: anti-depressants, Bad Science, depression, drug studies, media reporting, personal shit, psychiatry, SSRIs