Skewed priorities part 3.
Yesterday was, as the BBC informed us, quite possibly the most momentous and historic day in a century in Northern Ireland. Against all odds, and after 30 years of terrorism and indiscriminate violence, Ian Paisley and Martin McGuinness, the least likely bed-fellows since, well, ever, are now respectively the first and deputy first ministers in the devolved Northern Ireland assembly, the never surrendering Democratic Unionists and the never forgetting, let alone forgiving Sinn Fein sharing power and apparently determined to make it work.
What then, you may ask, did the two middle-market tabloids decide to splash on their front pages this morning? Surely celebratory pieces that a previously thought intractable war was finally at an end, that talking to terrorists can work and that Blair, despite all his other legion of failings, has at least one thing that will in future years be looked back on as being worthy of the highest praise?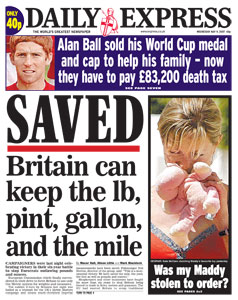 No such luck. For there was a far more important story, one which everyone except the most anal, tedious anti-European had forgotten about: the European Commission
has finally, predictably
, came to the conclusion that the imperial system of measurement can be continued to be used alongside that of the metric system. The back-story to this is that selling in imperial measures only was outlawed in 2000 - but as long as you put the metric equivalent price on the label/ticket, you could continue to do so. From 2009 it was proposed that we should go metric only, 9 years after the event and,
as Nosemonkey points out
, decades after the policy itself was originally proposed and agreed upon. This was however an obvious outrage and a Brussels diktat that had to be resisted. How dare those Euro-loonies demand that we change over to a measurement system that actually makes sense and which children have been being taught in schools now for who knows how many years?
So there we are. Instead of headlines about peace in our time, we have the Daily Mail informing us about having an ounce of sense and the Express telling us that obsolete measures have been saved. I, meanwhile, am off to drink a yard of battery acid.
Labels: European Union, Ian Paisley, imperial, Martin McGuinness, metric, Northern Ireland assembly