Put it under your bed in a Northern Sock.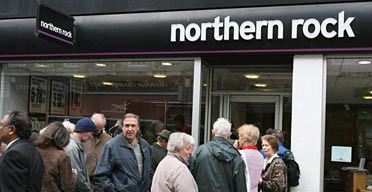 As Mike Power also suggests
, it's not often that I can find something to agree with the Scum on. Today's leader on Northern Rock, or at least the latter part, has it entirely right:
Here are the facts: Northern Rock will not collapse — the Bank of England will not let it. And now the Government has guaranteed all your savings.

So there you are. Whether you continue to panic is up to you.
The real threat to Northern Rock was not probably in actual fact from its temporary lack of liquidity, which the Bank of England provided help with on Thursday evening, but from its savers who rushed to take their money out at the first sight of banner headlines and and the 10 O'Clock News's exclusive. Who could possibly have blamed them though? It's very easy for those of us with little in our own bank accounts to point the figure and either laugh or imitate the crying of fire, but who could begrudge those with their life savings potentially under threat acting prudently, if not rationally? Many of those questioned why they didn't trust what Darling/Brown were saying mentioned Iraq, and again who could pass denunciation?
Speaking of prudence, there was very little of it on show
when Alistair Darling made his statement that the government would underwrite not just the deposits of savers in Northern Rock
, but any bank affected by the current "financial instability" kicked off by the sub-prime mortgage crisis in the United States. It was probably the right move in the circumstances,
but was the equivalent of a kick in the face for those who lost their pensions whom the government have refused to reimburse
, at far less the potential cost of bailing out NR or the other banks' if it comes to that. You could caricature it as a panicked reaction to err, a panicked reaction and you might have more than something of a point, but faced with rows of those most likely to vote Labour queuing outside their local branches (especially considering its base in the north) and that bastion of knee-jerkers, the city, losing their nerve in the usual fashion, there was little else they could have done, and the other political parties have been critical more over the time it took than it was done at all.
While it's absolute nonsense
that the last few days have been anything like "Black Wednesday
", especially seeing that no one except shareholders in NR and those subsequently mugged/burgled of their money on the way home has lost anything at all, it's the first real major dent in Labour's previously uncrackable economic facade, and for what exactly? Essentially, what Labour has done is not just a sign a blank cheque, but informed the banking sector that they can continue to take on vast amounts of debt and that if it all falls apart, it'll be alright because the taxpayer will pick up the pieces for everyone affected, including
chief executives
paying themselves £1.4 million a year
. We're not just living beyond our means environmentally, but also fundamentally economically as well. To come full circle, it's also not going to be very often that I agree with the Burning Our Money blog, but Wat Tyler's right:
we're going to be the ones paying for it all.
Labels: Alistair Darling, debt, economics, Labour, Northern Rock