Iraq week - how one picture defines a war.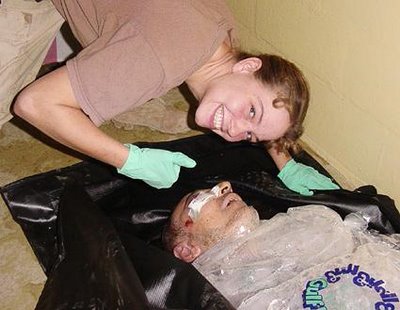 One image, more than any other, defines the Iraq war. A war with noble aims, to remove a tyrant from power whilst ensuring that the will of the international community was followed through, with the country disarmed and any threat from it removed. Iraq would then become a democracy and a beacon of hope in the Middle East.
Forget the shock and awe. Forget Falluja. Forget Haditha. Forget Baha Mousa. Forget the hundreds of thousands of dead. The idea behind the Iraq war died with the publication of the photographs of the torture and humiliation that US soldiers carried out at
Abu Ghraib prison
. Here were soldiers themselves who had liberated Iraq for the Iraqis, not occupying the country with humility, but descending to the level of inhumanity which Saddam Hussein had ruled and terrified by. Not even he however, for all his cruelty, posed with a dead countryman while smiling and giving a thumbs up.
The man in the photograph was
Manadel al-Jamadi
, and he died while being subjected to
"Palestinian hanging"
. He was arrested in connection with a bomb attack on the Red Cross offices in Baghdad which killed 12 people. Like those in the CIA rendition programme,
he was a "ghost detainee", who technically didn't exist
. If the photographs had never been published, he would never have existed. Just as if he had been dumped in Orwell's memory hole, he would have forever been a non-person.
Ordinary Iraqi citizens, who for whatever reason had entered the prison system, treated like the worst of the worst "terrorist suspects", not because of "a few bad apples", but because of executive orders handed down to the soldiers on the ground, such as Sabrina Harman, pictured with al-Jamadi. She was sentenced to six months in prison. Those ultimately responsible will undoubtedly never have to answer for their actions.

Other blogswarm posts:
Chicken Yoghurt - A child called 'It' and War p0rn
Tygerland - Iraq
Flying Rodent - Monopoly - Iraq edition
Ten Percent - Withdrawal, Reparations, Prosecutions
Labels: Abu Ghraib, blogswarm, Iraq, Iraq disaster, Iraq week, Sabrina Harman