Americans not getting irony shocker.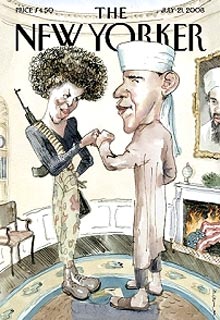 The cliché is official then - Americans really don't understand irony, or at least, B
arack Obama's campaign team doesn't
. You can perhaps imagine why their campaign might not like the New Yorker's front cover because some of those who don't get the joke (or who do, but will cling to it as a propaganda tool) might use it against them, but to call it "tasteless and offensive" seems to show that the ones who don't get it are also those whom it was meant to appeal to.
Labels: Barack Obama, irony, New Yorker, US presidential campaign