Goodbye so soon?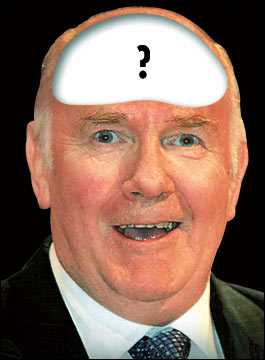 Good riddance then to John Reid. Even by the standards set by recent Home Secretaries, and we have the Safety Elephant, Shagger Blunkett and Jack Straw's ignominious reigns to consider, he was most certainly the worst. No sooner had he entered the job than he was immediately caving in to numerous campaigns that the Sun had started,
interfering in the Craig Sweeney case
and
as a result ensuring that he didn't receive a tougher sentence
. He went along with the Sun's ludicrous, idiotic and inhumane plan
to turn old Ministry of Defence bases into prisons quick sharp
,
only to find that the local residents weren't much enamored
with the solutions of everyone's favourite daily tabloid.
He recently delivered some of the most inflammatory and downright dangerous rhetoric on immigration
, thinking only of how it might reignite the passion that the tabloids had originally felt for him,
only for it to have evaporated
when the prison overcrowding crisis kicked in.
Historically, Reid is going to be seen as the bruising straight-talker who said that his new department was "not fit for purpose", further demoralising the very people he needed to get on his side. Within a year of taking the job, he's ripped it up and effectively started it again: this week will see the creation of the Ministry of Justice, with its Orwellian overtones highlighted by how it's going to be run by the unelected, ex-flatmate of the outgoing prime minister.
Reid's decision to return to the backbenches, according to him purely because of a desire to "recharge his batteries" and enjoy his family and football more, means that his reforms will go on without the person who has brutally pushed them through being there to take the blame when they inevitably turn sour. This is in fact only the last act in such a pattern: Reid has spent the last 10 years in 9 different ministerial jobs, and in at least the last couple he's moved out before he could take the flak for his own changes.
His short stint as health secretary has come in for heavy criticism for the way he characteristically acted like a bull in a china shop, ordering ever more reforms and
being involved in the new pay contract for consultants
, which recently came under fire after the National Audit Office found they had been paid more for doing less work than they were when the deal was signed.
As defence secretary, supposedly his ideal job, he announced the deployment of thousands more troops to Afghanistan, while claiming that their itinerary while there involved only reconstruction and that he'd rather that they return home with firing a single shot. Nearly two years on, and dozens more body bags have returned, while the Taliban has regrouped and increasingly adopted the tactics of the Iraqi insurgency.
Quite why he's really decided to resign now is more difficult to work out. We know that he and Brown loathe each other in a way only two rival Scots can; yet Brown was apparently prepared to stick with the thug, maybe because it would mean that one of his pals wouldn't have to carry the can when the next scandal arrives. Even so, it doesn't seem possible that there isn't some sort of maneuvering going on here. Reid might well be thinking that Brown is doomed to failure, and that he could be the man to pick up the pieces when Labour is turned out at the next election, but this seems improbable: the party would almost certainly turn to someone younger, probably Miliband, not an old bruiser like Reid who would antagonise the party and grassroots rather than unite it.
There are several other theories worth considering. Reid could be in effect taking one for the Blairite team, sacrificing himself so that Brown is forced into keeping some of the dead Blairite wood he would have otherwise cleared out. Most people thought that Tessa Jowell, Patricia Hewitt and probably some others are almost certainly going to be out on their hides, and many would think not before time. Reid's move could cause Brown to reconsider. Alternatively, Reid might have jumped before he was pushed, thinking that he would have gone no further and he's now free to plot and snipe as much as he likes, whatever he says to the media now. Or he could simply, however unlikely it seems, be telling the truth.
In any case, not only are we getting rid of Blair, we're getting rid of another bastard at the same time. If that's not worth a mild celebration of some sort, I don't know what is. We can at least take heart that the next home secretary can't be any worse. Can they?
Labels: Gordon Brown, John Reid, Ministry of Justice, resignation