Scum-watch: First things first, smear the enemy.
Generally, when you think that you're on the moral high ground, you don't resort to cheap dirty tricks to further prove your point. When you're the Sun newspaper however, or indeed, any part of the Murdoch empire, the first not the last resort is to smear, slander and lie about today's common enemy.
Before the news came through of the shooting of Rhys Jones, the Sun's front page had a banner headline reading "KILLER'S VILE BOASTS". Even after the story has been confined to the inside pages, it still contains the same highly questionable content that's all too familiar of a hatchet job.
THE thug who murdered headmaster Philip Lawrence JOKED about the brutal stabbing, a man who served prison time with him revealed last night.

Learco Chindamo BOASTED of his wicked crime and swaggered around jail with a gang of fellow killers, handing out beatings to other cons.

Ex-thief Mark Brunger said: "He didn't give a toss about killing Philip Lawrence, he used to laugh about it with everybody."

Mark, 28, hit out after a tribunal blocked Chindamo's deportation on his release — despite Home Office warnings that he is still a threat.
Oh, so this happened in prison did it? Err, no:
Mark, who met Chindamo at Swinfen Hall Young Offenders Institution in Lichfield, Staffs, said: "To say he is reformed is a joke.

"He is a violent, dangerous man. He would kill again."
Just for a second, let's accept Brunger's account of events at face value.
Swinfen Hall
caters for young adult prisoners between the ages of 18 and 25
. Seeing as Brunger is now 28 and Chindamo is 26, Chindamo's swaggering, boasts and beatings must have occurred between either 3 and 8 years ago. The Sun naturally doesn't mention when this actually took place - and the leader only refers to it occurring in the recent past. Without wishing to turn into an internet detective, a quick MurdochSpace (someone with a Facebook/Bebo account could do searches there if they so wished) search for Mark Brunger turns up just one entry in the UK, a 28-year-old currently living in Bristol. In his about me section:
UNDERSTAND OR WISH TO UNDERSTAND ITS PEOPLE!!!!!!!!!!! IM FED UP OF BEING TOLD WHAT I CAN AND CANT DO BY A GOVERMENT WHO JUST WANT TO EARN MONEY OF MY BACK AND WOULD PIMP ME OUT TO THE HIGHEST BIDDER IF IT COULD GET AWAY WITH IT!?!?!?!?!?! BUT WATCH THIS SPACE CAUSE THEY ARE MORE THAN LIKELY TRYING TO WORK OUT A WAY TO DO IT AS WE SPEAK. STAND UP FOR OUR RIGHTS!!!!!!!!!!!!!!!! CACHU WIWAR............07794771713
Someone with more guts than me might want to ring that number and ask him whether he's one and the same as the Sun's source. He also has what seem to be a couple of
Friends
Reunited
accounts, both of which list the same school as the MySpace page, one of which suggests he's just started a university degree in counselling.
Even if we decide that Brunger is telling the truth, we have the word of a fellow ex-prisoner, one who could be talking about an event up to 8 years ago, to put against the testimony not just of a deputy governor of Ford open prison, but also that of an unnamed female officer at the jail that had helped to prepare Chindamo for day release.
According to today's Independent
, the Home Office attempted to suppress their evidence which contradicted its own, only allowing them to submit it once the governor of Ford had himself intervened, and even then they weren't allowed to give their account of Chindamo's rehabilitation in person, where their arguments could have been cross-examined in detail. To quote from their panel's judgment:
"Of particular significance was what was said by Mr Hughes, the deputy governor of Ford Prison, in his letter to the appellant's solicitors of 8 March 2007. He had been in the Prison Service for 30 years and had dealt with numerous offences. There were only a small minority who had demonstrated a change for the better and gone on to lead lawful and purposeful lives and he strongly believed that the appellant was a changed person who had realised the gravity of his index offence and if given a chance would prove himself worthy of trust. All the reports on him had been very positive and the parole board had been very impressed."
It's little wonder then that the Sun has set out to do everything in its power to try and prove that Chindamo is still a brutal, evil thug, especially when his ruling means it can further attack both the EU and the "hated" human rights act. Taking its cue directly from Mark Brunger's helpful intervention:
LEARCO Chindamo should not be deported. But only because he should not be released.

The idea that the savage, cold-blooded killer of headmaster Philip Lawrence is a reformed character is a joke.
A joke to a newspaper
that doesn't believe in forgiveness, it's true
. Not however to prison staff themselves, who are not very often bleeding heart liberals.
We now learn that this "model prisoner" swaggered around in jail boasting of his appalling crime while leading a ruthless gang of other young killers who ruled E-wing through violence.

This was in the recent past. And the Home Office still considers him "a genuine and present risk" to us.
Quite true, but the Asylum and Immigration Panel rejected that conclusion, a
nd the Home Office's argument was purely on the basis that the press coverage of his release
might make him difficult to settle in a particular part of the country. The Scum has been more than happy to make that observation a self-fulfilling prophecy, as its readers' comments continue to show:
Let´s hope someone is waiting for him when he gets out.

Posted_by: mrcrocker
His face should be shown in British Papers and TV News every day from now on. Like this, when he gets out, everybody will recognize him in the street and turn his life into hell!! He will then be the one eager to leave the country!!!

Posted_by: joh123
Chindamo told other inmates he expected to serve at least 18 years. When he comes up for parole next year, the board must ensure that prediction comes true.

Instead of swallowing any claptrap about him being a changed man.
Considering the reverse midas touch that the Sun
has recently had when it's previously intervened in judicial decisions
, it perhaps ought to have known better than to order the parole board around. No such luck. One can only hope its bad luck continues.
P.S.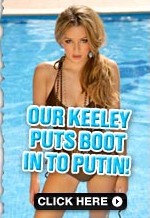 For those fascinated by the Sun's front page splash on "OUR KEELEY PUTS BOOT INTO PUTIN!" (geddit?!) it's another example of the Sun putting its own thoughts into the mouths of its page 3 girls,
something that Rebekah Wade instituted when she became editor
. Gorgeous pouting Keeley,
who previously bawled when an explicit sex tape of hers was leaked onto the internet
, despite getting her tits out for numerous publications (probably something to do with not getting paid for it), says:
"They have a ruddy cheek spying on us from these monster planes. It's just a pathetic signal that they are investing in their armed forces again. So what, our RAF heroes will see them off every time."
For those not so interested in Russia's attempt to regain its superpower status and create a multipolar rather than a unipolar world once again, the Sun asks its readers whether Keeley's sacks of fat are better than Russian Kristina's, apparently the top page three girl of Russian daily "Tvoi Den". Yes, it's official, the disease is spreading.
Labels: Keeley, Learco Chindamo, Mark Brunger, propaganda, Scum-watch, smearing, Sun-watch