The Palestinians of Gaza - not human enough, obviously.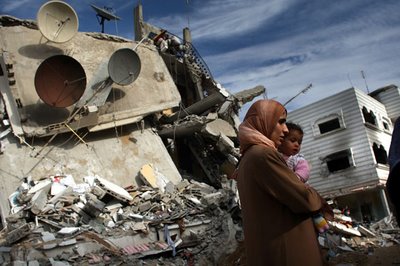 This is shocking:
The BBC has refused to broadcast a national humanitarian appeal for Gaza, leaving aid agencies with a potential shortfall of millions of pounds in donations.
In other words, the BBC have given in to those just waiting to grasp at the slightest hint of bias before they'd even had a chance to. It wasn't as if this was just going to be on the BBC; the other channels would have carried it as well. They've in effect decided that the Palestinians of Gaza are not as human or as equal as those who have been victims of natural disasters; it seems it would take something far worse than the man-made carnage Israel visited upon Gaza for the impoverished and hungry citizens of a tiny, cut off piece of land to be treated the same as everyone else.
I didn't think that the BBC's coverage of the assault on Gaza was that bad, or certainly not as terrible as some of those on the fringes of the left thought,
judging by there being another protest outside the BBC this Saturday
before the march heads to Downing Street. You get the feeling that if the BBC doesn't change its minds about this tomorrow that they'll be a hell of a lot more there than there otherwise would have been.
Labels: BBC, BBC idiocy, Gaza, Gaza blockade, Gaza December 2008 raids, Hamas, Israel, Israel boycott, Israel-Palestine, Operation Cast Lead, US military war crimes in Iraq