Express-watch: Distorting a government report? Surely not?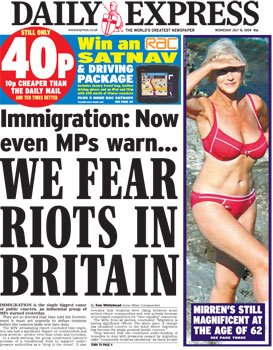 Let's keep this one relatively brief, as I have no intention of giving the Express any more hits for their blatant rabble rousing. You might recall last year that
the Express distorted a Sheffield council report
which was a plan for averting possible tensions in the city into a "ethnic baby boom crisis" which was due to precipitate "race trouble".
They've done much the same thing today, albeit on the front page,
with it screaming that even MPs now "FEAR RIOTS IN BRITAIN"
.
The report which the Express is referring to is from the Communities and Government Committee,
available here
, entitled "Community Cohesion and Migration". Not once in the entire report is the word "riots" used. Nowhere in the report do the MPs responsible so much as suggest that they fear riots or even mass disturbances will break out as a result of a failure to integrate. About the closest they get is here, in the conclusion:


The continued under-funding of migration pressures at the local level increases the risk of community tensions escalating, particularly given that the majority of people in the UK already believe that some groups, such as immigrants, get unfair priority access to public services.

The Government needs to take immediate action to address public concerns about migration, and to defuse tensions before they lead to disturbances.

The report incidentally debunks that immigrants get unfair priority access to services, something the Express didn't see fit to mention. The committee then suggests that tensions need to be defused before they lead to "disturbances"; not that they fear riots are going to break out. It for instance states this:


Some degree of tension between individuals is not necessarily problematic and can be seen as an indication of a healthy democracy. The problem is when tensions escalate to a point where they negatively affect community cohesion. Open disturbances between migrant and settled communities are rare. Thankfully, to date no disturbances have occurred on the scale of those which took place in Burnley, Bradford, and Oldham in the summer of 2001 between settled Asian and white communities—though there have been localised disturbances in areas such as the Caia Park estate, Wrexham, and Boston, Lincolnshire.





Although they may not be widespread, we are still concerned about tensions between migrants and settled residents, and how through addressing the underlying causes of these tensions disturbances may be prevented from arising. Our evidence, particularly from our visits, indicated that there are many tensions relating to practical issues and fears over the changing nature of communities, and the pace of that change, as well as concerns about the pressures placed on public services from migration.
Again then, they're concerned about tensions which may lead to disturbances, they don't fear that riots are about to break out. The Express is engaging in blatant scaremongering.
Let's go through the Express report in a little more detail:


IMMIGRATION is the single biggest cause of public concern, an influential group of MPs warned yesterday.
Actually, they didn't. Directly above the report introduction, they quote a MORI poll from January 2007 which found that 1 in 5 were most concerned about migration, above even crime and terrorism. To suggest this might now be slightly out of date would be stating the obvious: the current hot concerns are the economy and knife crime, with immigration having taken a back seat, especially as there is ancedotal evidence that suggests that there are now more Poles returning home than coming to work in Britain.
The MPs' devastating report concluded that migration has had a significant impact on communities and local services – greater even than crime and terrorism.
Again, it doesn't. That's quoting from the MORI poll and not the conclusions of the report at all. The closest in comes is in these two nuggets:


Public concerns about the effects of migration cannot simply be dismissed as racist or xenophobic. Tensions often arise on real practical issues, such as the proliferation of Houses in Multiple Occupation (HMOs). (Paragraph 16)



The rapid pace of change experienced by many communities has led to increased local public concern about migration and can negatively affect community cohesion. (Paragraph 24)
The Express:
It also revealed that tensions were rising between some settled ethnic communities and new arrivals because of increased competition for "race equality" resources.
The report:
The Community Development Foundation (CDF) told us that it was aware of new patterns of racial prejudice and hostility between settled Asian and Caribbean communities and new ethnic minorities, who MAY (my emphasis) resent the increased competition for 'race equality' resources.
There are of course problems, as the report makes clear, in some communities where migration has suddenly exploded where previously there was little to none. The Express though for some strange reason doesn't mention that of two of the three places visited by the committee which have experienced problems with migration and tensions as a result, both Burnley and Barking and Dagenham have a large British National Party presence.
The BNP have four seats on the Burnley council
, while they have 12 in B&D. The BNP might have moved in on such fears, but they could also have helped them to spread through their campaigning. Still, isn't it nice to see the Expresss doing its own bit for community cohesion?
Labels: Communities and Government Committee, Community Cohesion and Migration, Daily Express, Express-watch, immigration, racism, scaremongering