Scum-watch: The continuing inability to tell the truth.
Just a quick one today on the Scum's continuing inability to tell the truth:

TALK about mixed messages.

First cannabis is virtually legalised, encouraging thousands more people to try a puff.
BONG! I realise that it says "encouraging", rather than motivating or making people think it's OK to try it, but the reality is the opposite. Rather than encouraging thousands more to try it, the British Crime Survey's drug usage chart (from
this PDF
) actually shows a consecutive fall since it was was downgraded in 03/04 (you'll need to click it):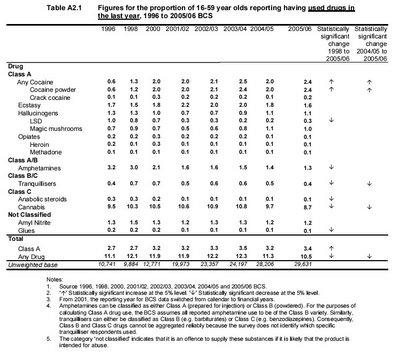 Cannabis usage has then effectively fell 2% since it was downgraded. Just slightly undermines the Scum's contention.
Now, as thousands of youngsters pay a high price in mental illness, it is to be outlawed once more.
Not unless the government ignores the advice of the Advisory Council on the Misuse of Drugs, which is almost certain to come the same conclusion it has three times in the last five years.
Perhaps to deflect criticism, Home Secretary Jacqui Smith leads a charge of SEVEN Cabinet ministers who confess they once smoked dope.





They were wrong. They were stupid. They were typical.





Now they're grown-ups.





Years ago, plenty of people in all parties thought cannabis was harmless fun.





Years ago a lot of people thought cigarettes were harmless fun.





Now everyone knows better.
Except that err, cigarettes are still legal. Cannabis has never been. No one claims either is harmless, just that they should be treated on an equal footing; on a day after the British Crime Survey
identified alcohol as being to blame for most violent offences
, the continuing illegality of cannabis looks ever more unjustifiable.
Labels: Britsh Crime Survey, cannabis, Scum-watch, Sun-watch