Rambling about the Naked Rambler.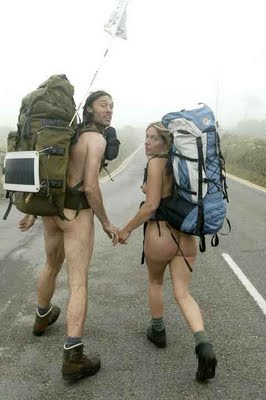 At the very best of times it's difficult to get a bearing on the workings of the criminal justice system. Without coming over all Daily Mail, there certainly are cases at times which result in cautions or very minor penalties that clearly deserved harsher punishment; to balance that out though there are often also trivialities dealt with in the courts which should have never got anywhere near coming up in front of a beak. One such case is that of Roger Day,
prosecuted under the Army Act of 1955 for pretending to be an army vetera
n after he took part in a Remembrance Day parade in Bedworth wearing medals which he clearly could not have earned himself.


Day thankfully only received a relatively light community service order for his crime of fantasy. At the opposite end of the scale is the continuing stand off between
Stephen Gough
, better known as the Naked Rambler, and the Scottish authorities. Having walked from Land's End to John O'Groats on two occasions completely naked, both times being arrested repeatedly, and most often north of the border, Gough has only experienced freedom for a matter of minutes since 2006
after he was arrested for exposing himself on a flight
between Southampton and Edinburgh. Since then Gough and the police have been involved in what is probably best described as the Pete Doherty shuffle, so named because of the police's constant pursuit of ex-Libertines drug addict: each time Gough finishes serving his last sentence, for either breaching the peace, contempt of court (for appearing naked in the dock) or public indecency, they immediately arrest him for once again stepping out into the open air wearing usually only socks, boots, a wristwatch and a backpack. Gough's latest arrest came after being released from Perth prison on the 17th of December.
He was warned yesterday
that he faced life in prison if he continued to refuse to put on clothes, with the same process continuing over and over.


Quite why the Scottish magistrates are allowing this charade to continue is unclear: it's obvious that this long stopped being about Gough and his belief that he has a right to be naked, and has instead become a battle between Gough and the authorities over their consistent re-arresting of him within seconds of him leaving custody. It's all about who's going to blink first, and for the moment it doesn't seem like either side is going to back down. Gough for his part continually argues that nudity in itself is not harmful or indecent, which it isn't. It's arguable whether nudity can be alarming, as suddenly come across a naked person certainly can be, but never has it been argued in Gough's case that his motives for remaining naked have been sexual in nature, nor has anyone made any complaint in that regard. Having undergone psychiatric examination, it's also fairly certain that Gough is not mentally ill, nor does he suffer from a personality disorder. His persistence in remaining naked seems to be based on completely rational justifications,
as his letters to supporters suggest
.


The cost of all this is difficult to estimate, but some have suggested that including his legal aid, his room and board at Her Majesty's pleasure and the successive prosecutions, he's run up a taxpayer-paid bill of around or over £200,000. All because the Scottish authorities seem determined to ensure that one man can't possibly be allowed to wander around naked, even for 30 seconds, lest someone be alarmed at a very shrivelled and tiny male member. The obvious solution would be to let him get on with it, but that seems beyond the comprehension of a system which can't seem to let someone who is determined to keep making a fool of it get away with it, even for as long as a minute.
Labels: criminal justice system, idiocy, naked rambler, Stephen Gough