Just give me a black mask.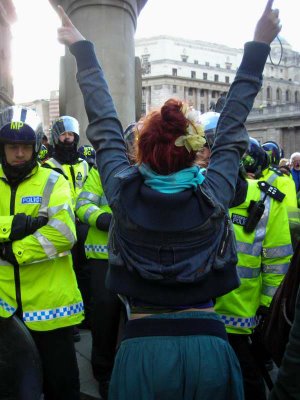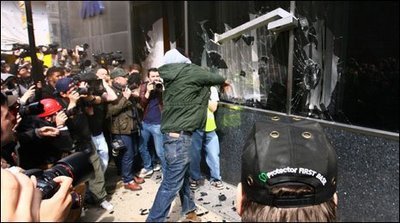 Two images sum up the G20 protests:
the first superb one from HarpyMarx
, and the other flashing all over the place showing the photographers lining up to snap the guy smashing the window of the handy local RBS building. Class them as hope and cynicism, if you like.
For the media got their riot, if you can call what was instead more of a skirmish along with the rather counter-productive looting of a bank a riot. The police and media warned for nigh on two weeks that the protests were potentially going to be extremely violent or very violent, with black flag brandishing anarchists from abroad coming to smash up our British streets. There was violence no doubt, but most of it was the police cracking the heads of crusties and assorted malcontents rather than the great unwashed stringing up bankers from the lampposts. Just as there are those on these protests that go along intent on causing trouble, there are some police officers who also live for these marches; most no doubt loathe them and wish that they were doing some proper police work like filling in paperwork back at the station, but there is a distinct minority who are overjoyed at the prospect of whacking jumped-up hippies and others whom they intensely loathe. It's not a new thing: it's been going on for decades, whether during the miner's strike, the poll tax protests or even the more recent pro-hunting demonstration where some officers showed that when it comes to protests, it doesn't seem to matter what the actual issue is, it's a wonderful opportunity to get your baton out and swing it through the air satisfyingly.
The media of course also adore it. Hence we have the by no means hysterical Daily Mail
claiming that the City had been ransacked and that hordes of anti-capitalists were rampaging
, when they were instead being mostly held against their will by the police who were intent on photographing and identifying everyone. As soon as around 20 protesters succeeded in smashing up RBS, all of whom had their collars felt, they'd got their story and started to lose interest, which was helpful,
considering the Guardian reports
which suggest that the police themselves then started some mini-riots of their own,
attacking a sit-down protest
and then sending fully-fledged riot police into the
entirely peaceful, almost tranquil Climate Camp
which was a world away from what was happening at Threadneedle street.
If I hadn't had work and then long ago had tickets reserved for the Young Knives tonight (who were as tight as could have been anticipated, even if they didn't play Counters), I might have gone, mainly to observe and perhaps shout the odd silly slogan. That seems to be what the vast majority were out to do, and also have fun at the same time as putting a message across; you can argue about the coherence of the message being sent, and also the quality of it, but both are always going to compromised when so many disparate groups and individuals join together. Fundamentally, demonstrations are for sending these messages; putting "messages" into law, as both main parties in this country are intent on doing, is not so laudable.
The Daily (Maybe)
has easily the best round-up of all the reporting and bloggage, so I won't bother doing that, except to point you in the direction of a few that he's missed, such as
Craig Murray
,
Laurie Penny
,
The Green Room
,
Derek Wall
, the inimitable
Daily Quail
,
Justin's more than humourous tweets
and
Abu Muqawama
on how to properly use a baton.
Labels: alleged police brutality, G20 protests, media analysis, politics, protests