Investing in quality journalism News International style.
Invest in journalism or die, said the ginger ninja Sun editor Rebekah Wade
on Monday in this year's Hugh Cudlipp lecture
. It was therefore inevitable that News International would do the exact opposite:
News International is poised to make a series of editorial job cuts across its tabloid and broadsheet newspapers in the next two weeks and cut the rates it pays some agencies for stories.

Production staff are likely to be heavy casualties as the Sun, News of the World, the Times and Sunday Times seek to further integrate subbing in print and online, MediaGuardian.co.uk understands.

It is believed that the cuts could affect as many as 200 staff, 10% of News International journalists. However, other sources say the number could be far lower, with fewer than 100 jobs expected to be at risk.

Sources close to the plan say that the Times could bear the brunt of the cuts, while the more profitable Sun will see more protection.

...

Further savings are also expected as the publisher reduces the amount it pays some independent news agencies for stories and pictures.
Press Gazette explains what the new rates are going to be:
Paying less than in 1993 does indeed seem a lot like disinvesting in journalism rather than supporting it, but then the Sun always has confused things like journalism with propaganda and quality with bullshit. In fairness to Rebekah Wade she's currently on a piss-up with Murdoch at the World Economic Forum, so isn't responsible for today's completely supreme front page splash: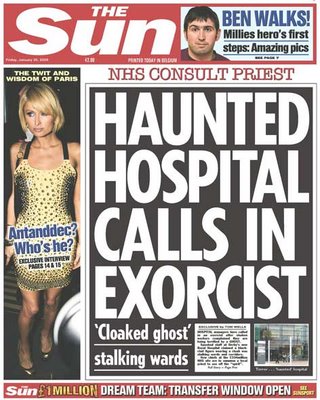 That's an interview with a cunt, a story about a man walking, and a sub-Daily Sport story about a hospital being haunted. Still, you have to give them some credit: at least they're not currently being as extraordinarily contrary as the Daily Mail,
which is supporting a heroin addict over a couple of gay men
.
Labels: journalism, media analysis, News International, Rebekah Wade, Scum-watch, Sun-watch